Bella Rico #1 - Bukkake
She may remind a Hollywood star to someone but hey, not so fast. :) At first this amazingly adorable pornstar wannabe comes to PB for her first in the life bukkake! Bella Rico - a gorgeous young Spanish babe starts sucking the dicks with an unexpected professionalism and sensuality..
Bella Rico #1 - Bukkake - First Camera
Guys don't make them wait and cum huge. Bella just smiles and opens her mouth towards the incoming white spurts. She's got a really good mood and shows the cum in her mouth before gulping.. She looks at the guys when they cum into her mouth and it makes them cum fiercer!
Bella Rico #1 - Bukkake - Second Camera
After 45 swallowed loads, Bella puts her face under the thickest prepared jizz streams and accepts a dozen facial cumshots more. Her vivid mimic is fascinating and arousing, she gets a really warm welcome here and it seems she's capable for more. Do you think she's worth another chance? ;)
Rebeka Brown #2 - Interview before Bukkake
Adorable Rebeka Brown tells us about herself and it turns out she's an insatiable cum addict who loves sperm and has a great expectations from the upcoming bukkake! She distincts the cum taste nuances and with no hesitation goes for a sip from an offered bottle and finish it in just two gulps! What a start!
Rebeka Brown #2 - Bukkake - Behind The Scenes
Stunning young Rebeka shows all her juicy tits and tight ass when posing for a photo session.. She's so serious and tuned up for her upcoming bukkake so she gets relaxed only after the first sudden cumshots that spot on her from all the sides.. She accepts and swallows them with a smile..
Rebeka Brown #2 - Bukkake - Behind The Scenes
After bukkake Rebeka goes taking a shower and gets a licking sperm cleanup surprise from another naked girl. She takes a shower and removes all traces of cum, making her ass and pussy clean too.. She goes out from the bathroom and dives into even more cumswallowing action as she's a true cum lover! :)
Rebeka Brown #2 - Bukkake
Well, gentlemen, you asked and we delivered - Rebeka Brown is finally having a bukkake today! She's a bit nervous as she's so young and naive but after just a few seconds of her consideration she throws herself into cock-sucking action! Rebeka stuffs herself with the dicks and gets ready for cum flow..
Rebeka Brown #2 - Bukkake - First Camera
Rebeka tries very hard to give pleasure to the guys and they spurt their loads into her mouth in return.. She tries to scoop the cum into her mouth and helps herself with the fingers, awaiting for a command to swallow.. She happily gulps twice and smiles, obediently expecting for more cum..
Rebeka Brown #2 - Bukkake - Second Camera
After swallowing 45 cumshots, Rebeka puts her beautiful face under the jizz streams and has it fully covered in thick white semen.. She takes out the rest of cumshots from her cum bowl with her fingers and merely eats it! Being cum-glazed, she gets a couple finishing cumshots and gulps them with a smile!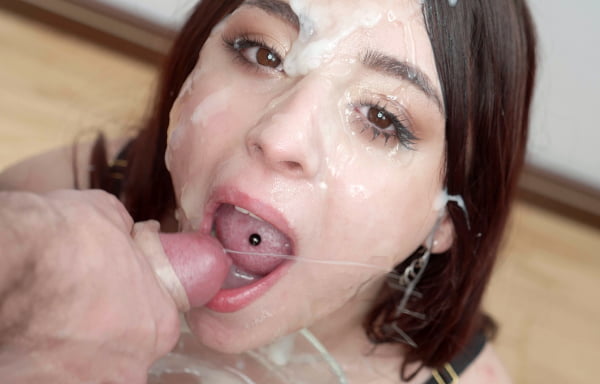 Jessy Jey #1 - Interview before Bukkake
Jessy Jey has come to us from Germany and tells us about her bukkake innocence - by her age she's trying so much sperm for the first time! Jessy's theorizing on her future bukkake performance and tells some intimate things about herself. And then she tries her very first cumshot in Madrid to get started!
Jessy Jey #1 - Bukkake - Behind The Scenes
Beautiful Jessy poses for her photo shooting and shows her gorgeous body from various angles, bending around and putting her pussy in front of camera. Guys can't wait and push their dicks to her mouth trying to unload their cumshots first - Jessy accepts three at a time and swallows instantly..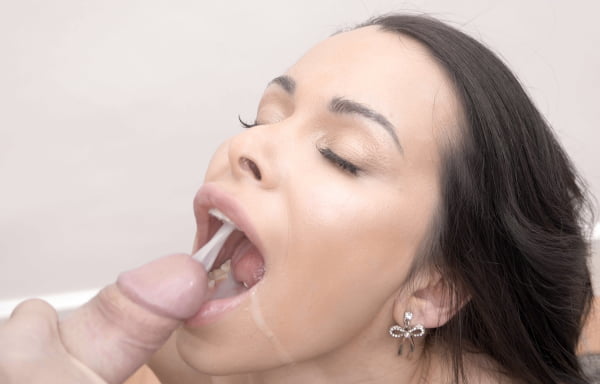 Jessy Jey #1 - Bukkake - Behind The Scenes
Being with a thick layer of cum on her beautiful face, Jessy tells how hard it was for her to accept such a lot of cum and goes to the shower where she gets overtaken by a bunch of late guys who spurt their cum leftovers to her face.. It was a tough bukkake for Jessy Jey but she did it well!
Jessy Jey #1 - Bukkake
This may be one of the best bukkake this season! Jessy Jey, an experienced brunette bombshell from Italy, comes to Madrid for testing her limits for cum resistance. She's dressed as an office lady and it suits her so much! She starts with energetic blowjob and the first 7 huge loads go in easily..
Jessy Jey #1 - Bukkake - First Camera
She continues getting loads from both sides and just after a couple more dozens she already feels amazed by the amount and properties of cum that she never tried before. She gulps and licks her fingers after helping to scoop the cum into her mouth but it doesn't even seem close to an end now..
Jessy Jey #1 - Bukkake - Second Camera
Jessy Jey is totally overwhelmed by the huge sticky cumshots she receives today. She manages to get over 94 loads when she feels enough and filled up to the limit. The guys have more unused jizz for her and fiercely flood her face with thick dense white jets. Her life will never be the same again!