Annie Reis #1 - Bukkake
The new girls always trigger our attention and here we have Annie Reis who says she loves sperm but still has no experience in bukkake. That's why Rebeka Brown comes to show how to accept cumshots before Annie takes her seat as the main guest. Rebeka transfers the cum to Annie and she makes the first gulp..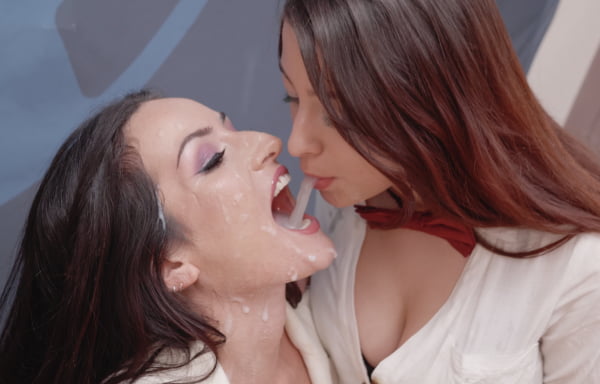 Annie Reis #1 - Bukkake - First Camera
Annie continues getting cumshots with a smile and seems she's indeed enjoying it! she swallows fully relaxed with her eyes wide open and Rebeka behind her just collects all the cum from her face so Annie could gulp it fully. The guys are generous today, providing 78 loads before switching to her face seriously..
Annie Reis #1 - Bukkake - Second Camera
Rebeka sits down nearby and while Annie is being flooded with cum upon her face, she collects a bunch of cumshots to save again and transfer to Annie so she could swallow them too! Annie Reis looks to be one of the strongest cum-swallowers we've seen as a whole hundred loads don't make her blink an eye :)
Silvia Dellai #2 - Interview before Bukkake
The first tests may be how quite fun so they can be sexy af. Silvia Dellai brings her marvelous sister Evelin Dellai to help her during the bukkake and they catch the first couple cumshots together, finding the best position in front of the camera. Silvia confirms she loves cum and she gulps easily!
Silvia Dellai #2 - Bukkake - Behind The Scenes
Silvia is a bit nervous before the start of the main action but her pro posing skills make her feel set for the show ahead :) She's dressed as a sexy secretary and as soon as she kneels down, the guys around don't miss and drop their cumshots slowly into her open mouth. Silvia swallows on command..
Silvia Dellai #2 - Bukkake - Behind The Scenes
We have a very interesting interview where both twins sit next to each other and answer some provocative questions - the frank reactions of the girls are merely priceless :) Silvia gets a shower and gulps her last couple of cumshots, feeling relaxed after a really tough day. But hey, she may return ;)
Silvia Dellai #2 - Bukkake
Silvia Dellai has already tried one bukkake and it was a surprising experience for her. Now she's well more prepared and has taken her twin sister Evelin Dellai to help her collect all the cum! Two blonde girls look amazing and while Silvia catches the cumshots, Evelin scoops all the cum into Silvia's mouth..
Silvia Dellai #2 - Bukkake - First Camera
The guys have been saving the cum for several days, so some cumshots are simply giant and the girls can't even catch them properly when they land suddenly into the eyes of Silvia. She uses the cum bowl and slowly climbs over 40 loads with wholesome 4 big gulps, when she feels she's enough.
Silvia Dellai #2 - Bukkake - Second Camera
Despite that, Silvia submissively puts her beautiful face under the cum streams and it looks like the guys merely aim into her eyes and compete with each other, resulting in a sticky while layer of jizz on Silvia's face. She accepts a few more loads, makes the final gulp and looks proudly into the camera!
Sherezade Lapiedra #2 - Interview before Bukkake
Slim and beautiful Sherezade simply loves white color, that's why she chooses a bride dress and today's outfit ;) You can see her explaining her excitation from the previous bukkake and telling how she likes jizz in reality. She has to admit that she started to love it :) And does a small warmup :)
Sherezade Lapiedra #2 - Bukkake - Behind The Scenes
Sherezade knows she's cute but doesn't skip a chance to look prettier :) After applying makeup, she poses on her knees for the photographer when some random guy comes and drops a strong load into her mouth. The taste seems very strong for the girl but she continues and undresses, showing us her tits..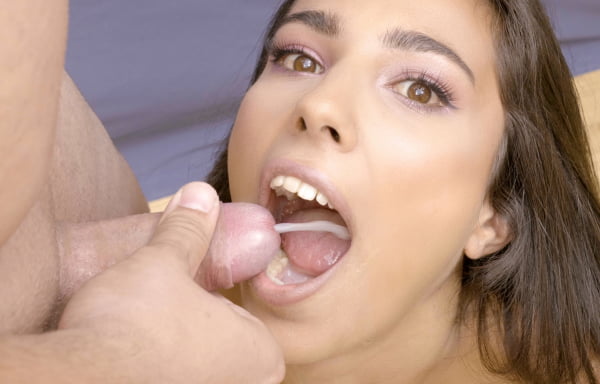 Sherezade Lapiedra #2 - Bukkake - Behind The Scenes
She gets fully nude and shortly gets back on her knees as the guys can't stop unloading their cumshots into her mouth! Sherezade becomes acquainted to some local traditions and so after the shower she awaits for the goodbye cumshots - gulping a couple of them, she freely goes away ;) Will she ever return?
Sherezade Lapiedra #2 - Bukkake
Our new cum addition Sherezade Lapiedra is no longer a naive amateur, she wants more jizz and more Spanish guys not only to feed her with their well-prepared cumshots but also to fuck her in a beautiful two-way gangbang after she gulps her first 22 loads and then has to suck the dicks and to enjoy them from behind!
Sherezade Lapiedra #2 - Bukkake - First Camera
Sherezade continues and takes her cum bowl which she uses to collect the excessive cum. The spurts land on her face and hair but a cum-scooper girl helps her to direct all the sperm in her mouth ;) Sherezade swallows a lot as no drop is lost and she has to sip from her bowl to surely having a mouthful..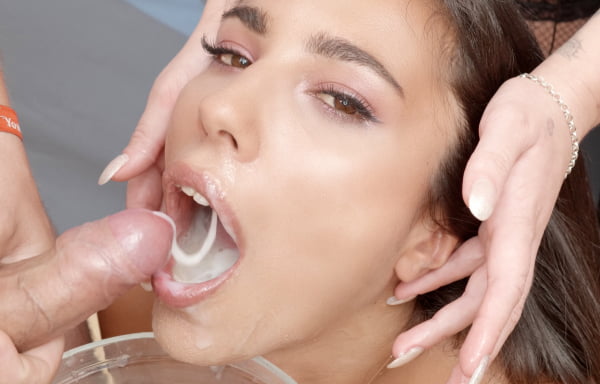 Sherezade Lapiedra #2 - Bukkake - Second Camera
Having swallowed around a 70 cumshots, beautiful naked girl stays on her knees and puts her marvelous face under the dense and tight jizz streams, keeping her eyes open and accepting cum this magnificent way. With cum on her face, she makes her final gulp and finishes the bowl. She outdid herself!