Scarlett Lapiedra #3 - Interview before Bukkake
She's a playful girl, that Scarlett Lapiedra. As she says herself, she looks like an angel, but she prefers to dominate over men and doesn't like to submit. Yet it's even more interesting to see a thin power play she passes through before her second bukkake. Besides, she gulps two more loads, one better than the other :)
Scarlett Lapiedra #3 - Bukkake - Behind The Scenes
It's a pure pleasure to watch Scarlett Lapiedra getting made up. She's so happy about her hair and new look and can't believe she's so different to how she looked before entering the studio :) And when she enters the scene, the guys get shocked by her outstanding image..
Scarlett Lapiedra #3 - Bukkake - Behind The Scenes
One of them can't stand his great desire to unload his cumshot to her alluring mouth when he sees Scarlett naked and does that, spurting out a huge load. She just flirtatiously gulps it. After the bukkake Scarlett feels enough cum for today and hurries to the bathroom. We can see her taking a shower relaxedly.
Scarlett Lapiedra #3 - Bukkake
Scarlett Lapiedra, a long-legged Venezuelan brunette with plumpy lips and a nice tight ass, is back for her second bukkake. She knows what to expect and dives into cock-sucking with all her passion, gagging herself and grabbing the dicks with both hers small hands. The guys clearly enjoy and spurt their loads at will.
Scarlett Lapiedra #3 - Bukkake - First Camera
The first cumshots come from both sides as the guys have been saving the cum for a long time and wish to unload quicker. Scarlett patiently collects a huge mouthful of 18 loads at a time and swallows with vivid emotions, squinting a bit of the taste. She looks straight to the camera when collecting further loads..
Scarlett Lapiedra #3 - Bukkake - Second Camera
She looks so naive you can't believe she is an avid cock-sucker but every time she swallows, it's an effort for her, as the gulps are giant, she collects more than 20 loads at a time! However, after swallowing 50 loads she has to take a short break as she feels enough. Nevertheless, it's a great second bukkake of her!
Queen #1 - Interview before Gloryhole
So that French amateur babe is getting ready for her first gloryhole and she claims she loves sucking dicks and swallowing sperm, despite she's never tried gloryhole! Where did she learn all that? We might know this in the future and for now Queen casually tastes a bottle of jizz and assures she loves it!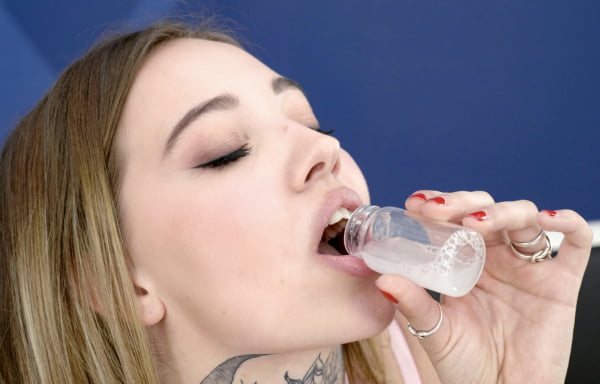 Queen #1 - Gloryhole - Behind The Scenes
Our newcomer Queen has got a great body and she knows that and tries to show it from the very favorable sides during her photo session. She has a nice ass and firm tits and exposes her body fully. The guys on the stage approach her and unload their saved cumshots to her mouth. One of them holds her head..
Queen #1 - Gloryhole - Behind The Scenes
And she obediently accepts his giant cumshot which goes over her face. Queen swallows everything and licks all the cum from her face. She might be a real jizz lover hey! After the gloryhole she admits that's true and she had no issues during the gloryhole. She can't skip her goodbye cumshot and does it nicely.
Queen #1 - Gloryhole
Today we have a new babe - Queen, just Queen ;) She's a hot blonde from France and she's eager to try her cum-swallowing abilities today and starts with a gloryhole! She slowly enters the box and smoothly starts sucking the dicks, slowly, gently but effectively. So the cum starts to flow quite quickly.
Queen #1 - Gloryhole
She misses the first cumshots but learns fast on the go and collects further cumshots properly in her mouth, even saving a few of them to gulp at once. Queen looks like an experienced cock-sucker and it doesn't seem the cum kicks in anyhow hard for her. She gets hot and removes her clothes, naking her ripe firm boobs.
Queen #1 - Gloryhole
Queen clearly enjoys the process and swallows on command. She barely has the time to process each cock as the next one pops into the hole. Although, she sucks them all and leaves no jizz out of her mouth, helping herself with fingers and licking them afterwards. That's a nice start for an amateur babe!
Chloe Heart #2 - Interview before Bukkake
Chloe Heart is a real 18 y.o. girl and during the interview, while she's just being prepared for her first major event, we all can see the naive beauty of her. How she feels a bit nervous but answers promptly with her soft voice on how she likes to swallow cum.. She can't miss a test couple of loads though..
Chloe Heart #2 - Bukkake - Behind The Scenes
Our beautiful girl becomes a sexy lady when she gets her makeup applied but it looks like she could get go without it at all. She feels relaxed before entering the stage but concentrates on posing when sees the camera. A guy with a curved dick notices her and unloads his huge cumshot to her mouth. She gulps.
Chloe Heart #2 - Bukkake - Behind The Scenes
Chloe poses further and gets nude, so you should have some great photos soon! After the bukkake she doesn't speak a lot and just goes to the shower. She's a bit shy but we still can peek her during her intimate procedures.. Do you think she deserves one more visit to PB? Vote in the member area!