Jessy Jey #2 - Bukkake
Gorgeous Jessy Jey returns for PremiumBukkake for more cum and she's happy about that! She can't wait to start receiving jizz but sucks a few dicks at first to warm herself up :) The very first loads surprise her with their taste so much she has to gulp right after the 5th load. But she goes on..
Jessy Jey #2 - Bukkake - First Camera
Jessy obediently accepts cumshots and has to gulp in small portions as she still can't get acquainted to the taste of cum. We can see Jessy trying to keep her mouth filled and open and it looks to be not an easy task for her today..
Jessy Jey #2 - Bukkake - Second Camera
Eventually Jessy gets undressed and the incoming cumshots become more intensive. Jessy feels every nuance of the taste of guys' cum loads today and shows it on her face. However, she manages to swallow all the cum prepared for her and adds 58 huge loads to her gulp counter. Well done, Jessy, want more?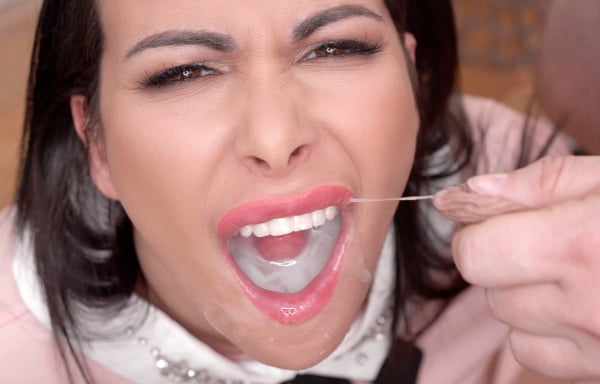 Adelle Sabelle #2 - Bukkake
Actually this is the real first cum encounter for Adelle Sabelle. She is a totally naive newbie in terms of cum swallowing for the moment :) She's a bit nervous, so after just a few minutes of blowjobs, Adelle opens up her mouth and prepares herself for the first jizz loads..
Adelle Sabelle #2 - Bukkake - First Camera
Adelle's first loads come in with some emotions as she doesn't expect her organism to be rejecting cum at once but she continues. She uses a cum bowl to save the residual cum and starts sipping from it right at the beginning. This way she swallows her first 10 loads and feels ready for more..
Adelle Sabelle #2 - Bukkake - Second Camera
Adelle barely holds this tough bukkake experience for her but she shows an extreme will power and swallows almost 60 cumshots with a smile on her face! Her emotional reactions may not be that vivid but when you see her gulping cum, it won't leave you indifferent for sure!
Asia Vargas #2 - Interview before Bukkake
Asia Vargas shares her feelings about her first bukkake and gets prepared for the second one. She's optimistic and seems to want it harder than the last time. No problem, Asia, as you wish :) She also swallows a couple of loads to warm herself up before the main action..
Asia Vargas #2 - Bukkake - Behind The Scenes
Behind the curtains we can see Asia smiling when she poses for a photo shooting. She welcomes a couple of guys that loitering around and drop their loads into her ready mouth. She gulps and wants more :)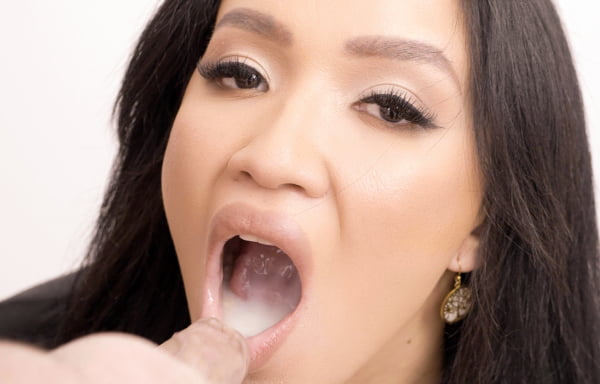 Asia Vargas #2 - Bukkake - Behind The Scenes
After bukkake is over, Asia goes to the shower and we can see her washing herself despite she's a bit shy about that. Just before leaving she's stopped by the last couple of horny guys who wish to unload their cumshots so she would swallow them.. Will she ever want to come back? You never know..
Asia Vargas #2 - Bukkake
Wonderful Asia Vargas is back! She is glad to return and welcomes the guys with a warm smile. Getting on her knees, she doesn't bother much into blowjobs and gets ready to accept cum as the guys have been waiting for her. She uses her cum bowl as a precaution measure and actually refers to it quite often..
Asia Vargas #2 - Bukkake - First Camera
The loads that Asia receives are quite big and the bouncy cum streams land on her face eventually, despite she tries to catch them with her open mouth. Asia helps herself but some cum gets left in the bowl. She swallows without any hesitations and feels very set to gulp everything!
Asia Vargas #2 - Bukkake - Second Camera
After 40 loads being swallowed, Asia puts her calm face under the cum brooks from both sides and since that moment she starts looking totally different! She tries to keep her eyes open but it's quite hard for her. So she takes her cum bowl and being fiercely cum-glazed, finishes it till the end. Wow!
Adelle Sabelle #1 - Interview before Bukkake
Adelle Sabelle speaks some sexy Czech so she was asked a few questions using her mother tongue. She tried to swallow sperm a few times in her past but never had a good luck. She is nervous about her first bukkake but gladly tries her very first cumshot for a few years and gulps it with ease!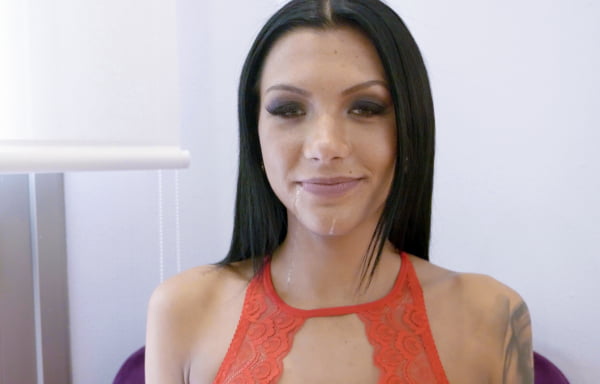 Adelle Sabelle #1 - Bukkake - Behind The Scenes
We can see how Adelle becomes even more beautiful during the makeup. She loves her body and poses with pleasure, seducing the guys around. They can't hold themselves and when Adelle gets on her knees, they drop a couple loads to her eagerly opened mouth..
Adelle Sabelle #1 - Bukkake - Behind The Scenes
She gets fully nude and we can see her great body exposed. Adelle doesn't stop and after the bukkake she goes to the shower and slowly dances, sensually caressing herself with water streams flowing off her body. She is a real seductive cat and we'll be missing her..