Esa Dicen #1 - Interview before Bukkake
Esa Dicen came to us from Colombia and now she tells us some stories how she applies jizz masks on her face. Before going for the biggest event of her life, she warms up with a couple of cumshots and swallows them with some efforts but a nice smile. She even enjoys the taste, it gives her high chances! ;)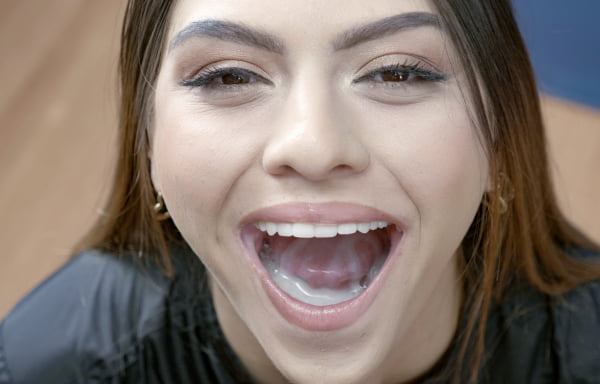 Esa Dicen #1 - Bukkake - Behind The Scenes
Esa Dicen is a beautiful girl by herself and she even was one of the Miss Colombia participants in the past. Yet those days are over but she's still gorgeous and have collected the skills not only to step on a catwalk but to gulp jizz! :) She proves that by instantly swallowing a load from a random guy..
Esa Dicen #1 - Bukkake - Behind The Scenes
As she looks gorgeous, the guys can't simply miss her when she poses for a photo session. After the bukkake she tells how she feels about all that and it looks like she likes that! She makes her last sip from the bowl and goes having a relaxing shower.. Do you think she deserves an even bigger bukkake?
Esa Dicen #1 - Bukkake
Today's babe is simply stunning. Long legs, firm body, beautiful face and a charming smile - Esa Dicen does have it all and she loves cum! This gorgeous model has came from Colombia and she already has some porn experience. When she starts sucking the dicks, the guys merely compete with each other stuff them to her mouth.
Esa Dicen #1 - Bukkake - First Camera
Surrounded by a bunch of hard cocks, she shyly smiles, trying to please all of them. But when the jizz starts landing to her mouth, she's fully ready. She accepts the first dozen like a champ and gulps with a pride smile. She winks when cum gets into her eyes but looks straight into the camera. Her face becomes messy..
Esa Dicen #1 - Bukkake - Second Camera
Esa removes her panties and stays nude, continuing to accept the incoming jizz flow. Her beautiful face greatly contrasts with the white mask that is applied onto it and the way she looks into the camera can't leave literally anyone indifferent. She manages to gulp mere 54 loads but it's worth every single one!
Lily Veroni #1 - Gloryhole
Wow, look who we have today ;) A cute hot busty Italian MILF named Lily Veroni wants to start something big in the bukkake field and she's decided that a gloryhole would be the best first step for her. Okay, sounds great, Lily! Being dressed as a slutty secretary she comes to a white gloryhole room and teases us with her body..
Lily Veroni #1 - Gloryhole
She sucks dicks quite professionally, caressing each and every one, trying to extract jizz with pleasure, undressing further and further. Eventually, the cum inflows from both sides and Lily tries to catch it, swallowing every cumshot after showing it to the camera.
Lily Veroni #1 - Gloryhole
After swallowing around ten loads, she gets hornier and undresses almost fully, still enjoying the cum loads, licking her fingers and caressing herself. Some cum spurts land on her face and she tries to save her makeup, yet not forgetting to direct every cum drop to her mouth.. Do you think she's ready for a bukkake?
Prim #3 - Interview before Bukkake
Charming Prim is getting ready for the interview and milks three guys with her hands and lips.. She enchantingly watches for the cum loads to pour into the glass. Prim has improved her body a lot with exercises and shows how she beautifully does them on camera. She catches another load from a dick directly and feels ready.
Prim #3 - Bukkake - Behind The Scenes
Although Prim has worked out with her body quite a lot, internally she's still the same naive amateur girl trying to explore her inner sinful nature and expose it to the public. She magically transforms to a sexy lady with the help of makeup and instantly catches a load from a random guy passing by..
Prim #3 - Bukkake - Behind The Scenes
After the bukkake she shares her feelings and emotions of swallowing a lot of cum for the third time and looks like she likes it again! She naturally opens her mouth when a guy approaches her during that short interview and gulps with a smile. Afterwards she goes for a relaxing shower and enjoys the end of the day.
Prim #3 - Bukkake
So, you wanted this beautiful Spanish babe to return - and she's back here - Prim is trying her third bukkake today! Dressed in a white lingerie, she happily throws herself against male dicks, sucking them with passion and devour, stuffing her mouth full! Prim, probably, has never been so lovely at doing blowjob..
Prim #3 - Bukkake - First Camera
The guys reply with thick loads but Prim is eagerly ready to accept all of them. She opens her mouth wide and swallows the first load just to meet the cum taste. She holds further loads and collects a dozen, plays with cum in her mouth and then gulps with a smile. She looks to the camera when accepting the cumshots..
Prim #3 - Bukkake - Second Camera
Suddenly some rapid spurt lands into her eye and a few more cum sprouts make her face messy.. Prim stays ready and gets further cumshots with that jizz mask on her face, totaling more than 40 loads accepted and gulped altogether. Not that much but so intense! She provides wonderful joyful emotions that are pleasant to watch.