Ohana Petite #4 - Interview before Bukkake
Ohana is a bit nervous before her fourth bukkake despite she's well prepared and she's willing to swallow more than a hundred loads. She knows everything already and can even share some short feedback about the smell and taste of the first three loads in a row while still having them in her tiny mouth..
Ohana Petite #4 - Bukkake - Behind The Scenes
Sexy Ohana knows what exactly drives guys around crazy about her body, so she knows how to present herself from the right side.. She obediently kneels down as soon as she sees guys with hard dicks around while being pictured during a photo session. The lads can't miss a chance and unload their sperm into her..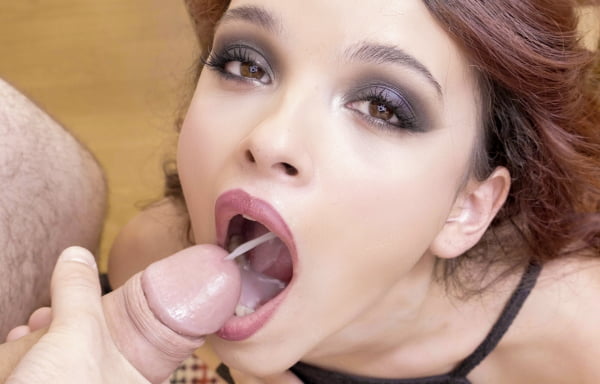 Ohana Petite #4 - Bukkake - Behind The Scenes
She feels happy about gulping all those random loads and wants more.. Right after the bukkake with cum in her eyes she admits that she's used to it already but it's still hard for her to keep the eyes open. She shows her body naked and after getting clean, gulps another 5 loads before leaving.. Will she return?
Ohana Petite #4 - Bukkake
You all voted for her and she's back - Ohana Petite is now going to swallow even more than in her previous bukkakes - she's set for a new personal record! She starts with showing her slim body as she looks extremely sexy today in an elegant cocktail dress which instantly makes everyone in the room feel horny..
Ohana Petite #4 - Bukkake - First Camera
Despite she knows how to treat a dick, Ohana doesn't suck for too long as the guys want to unload their cum into her tiny mouth as quick as they can. Staying on her knees, she accepts all the incoming tens of cumshots, some of which land on her pretty face as the sperm spurts are too huge and strong..
Ohana Petite #4 - Bukkake - Second Camera
Having gulped 85 cum loads, Ohana feels quite enough but the lads do not.. With a trembling chin, she puts her naive face under the thick jizz jets and gets plastered with a dense layer of cum which gets deep into her eyes. She can't keep them open but manages to do that when the cum counter reaches a hundred.
Sapphire #1 - Interview before Bukkake
Sapphire the busty babe is 29 but by her age she's not well acquainted to sperm and going to open a whole universe for herself :) Just in a few minutes she's going to be covered up with a thick layer of jizz but we may learn she still prefers it in her mouth. As a warmup, she does it with ease for three guys..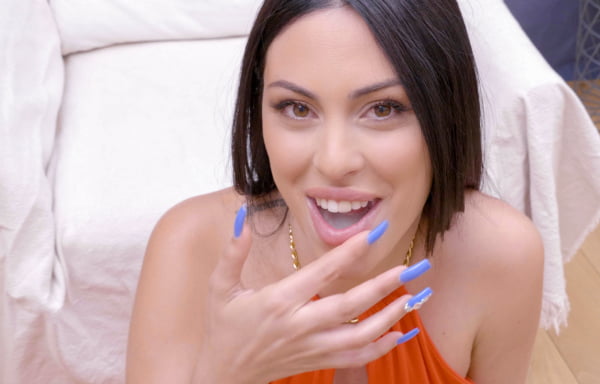 Sapphire #1 - Bukkake - Behind The Scenes
This gorgeous Spanish chick knows her body doesn't leave the guys indifferent and uses it in full power. When she poses for some nude pics and shows her boobs, 4 lads can't stand still and cum inside her mouth. Sapphire obediently swallows and continues her photo shoot..
Sapphire #1 - Bukkake - Behind The Scenes
She is having a lot of fun with cum on her face, answering some few easy questions, despite she claims she doesn't like facial cum. Nevertheless, she feels happy and goes to the shower fully nude.. After that, having gulped wholesome 95 loads, 4 more goodbye loads for her fly in easily like a kiss..
Sapphire #1 - Bukkake
Look who we have today! A gorgeous busty brunette bombshell named Sapphire! She's from Spain and she's just starting her porn career. That's more surprising seeing her in a bukkake video but we are just yet to know what drove her here ;) For now she's ready for cock-sucking and kneels down immediately..
Sapphire #1 - Bukkake - First Camera
Sapphire does the blowjobs incredibly well, she might have some experience in that field of knowledge. The guys don't make them wait for too long and start unloading their well-saved jizz shots. Sapphire stays focused and just swallows the big mouthfuls one by one. She manages to gulp 69 cumshots so far!
Sapphire #1 - Bukkake - Second Camera
The guys don't stop and eject the cumshots onto her pretty face, aiming into her beautiful eyes. Sapphire is so surprised by that but handles the facial cum bravely and breathes deeply. She gets overwhelmed as jizz goes into her eyes and feels quite enough, getting 95 loads in total. Welcome to PB, honey :)
Bella Rico #3 - Interview before Bukkake
Gorgeous Bella Rico is preparing for her third bukkake when she's asked for a short interview. She gladly agrees and answers a few questions on how she's having fun sucking dicks and gulping cumshots. Bella simply loves cum and knows no better way to prove that than taking a few loads right now to warm her up :)
Bella Rico #3 - Bukkake - Behind The Scenes
Bella knows she is beautiful and poses for a few pics with great pleasure. She is so glad when she notice a random guy being aroused too much so she kneels down and catches his strong cumshot. Two more lads step in and Bella accepts them too :) She gulps with a smile and continues her photo session..
Bella Rico #3 - Bukkake - Behind The Scenes
We can see her with cum on her face answering some more questions and feeling great about her third bukkake, then she goes to the shower and shows off her great body, slowly lathering herself. Just before her leaving, the rest of the lads unload their unspent cumshots into her mouth. Ciao, Bella, we'll miss you!