Sherry Vine #5 - Bukkake
Sherry Vine, our bukkake Queen, is back and now she's in a new location, atmospheric dungeon somewhere in France. As usual in bukkake, she starts with a blowjob action and we know that Sherry sucks with passion, so the cum loads appear quickly. She feels the sperm taste and smell from the very first loads..
Sherry Vine #5 - Bukkake - First Camera
Beautiful Sherry accepts tens of loads directly in her mouth without misses and every load makes her shiver in a wide gamma of emotions. She feels every nuance of the sperm flavor and can't hide it. She doesn't forget to fill her bowl with loads that are left from her facial cumshots.
Nikki Hill #1 - Blowbang - First Camera
All right, you asked, we deliver :) A young and pretty Ukrainian girl that's just 18 years old is here! Her name is Nikki Hill and she's adorable! Nikki starts her PB voyage with a blowbang as she claims to be a pro in this subject. Our lads circle her around with tough dicks and Nikki has to suck them all!
Nikki Hill #1 - Blowbang - Second Camera
Nikki lays on a sofa to accept the facial loads from the guys and they fill her eyes with thick white cum, then direct the sperm into her mouth and on her forehead, flooding all her face. Nikki slowly masturbates during the cumshots and has a quiet orgasm and reaches 41 loads in total with 20 swallowed. Wow!
Daisy Lee #1 - Bukkake - First Camera
Daisy Lee is from Prague and she's just 21, however she already has some experience in porn but not in bukkake! She seems to know how to suck cocks that way it looks sexy and relaxed and basically fucks her mouth with dicks. But from the first loads she's getting shockingly surprised!
Daisy Lee #1 - Bukkake - Second Camera
Daisy didn't expected the power and volume of the cumshots she would receive today. Her first try is a fail and further each time she swallows every 10-15 loads, she literally has to make an effort and push herself to gulping. But she manages well and drinks eventually 66 cum loads. And it's really impressive!
Daisy Lee #1 - Behind The Scenes
Behind The Scenes of Bukkake with Daisy Lee tells you more about Daisy Lee, her emotions and expectations from bukkake and a nice interview where she tells about her male preferences and how she loves to be in the spotlight. A photosession scene, ending with a surprise cumshot for Daisy, also here ;)
Cherry Kiss #1 - Gloryhole
Gorgeous and unique Serbian model Cherry Kiss is back again and today she has a great mood for cock-sucking in a gloryhole box! She bravely starts blowjobs and gets horny by herself, undressing till lingerie. Guys can't stand this for too long and Cherry starts catching their loads from both sides..
Cherry Kiss #1 - Gloryhole
Since Cherry is special, the guys were specially selected too, who can provide a mega load only. Each load is felt like a few normal ones and we can see her mouth full of cum after each cumshot! Cherry masterfully plays a swallow game, reaching 15 mega loads in total, gulping everything with pleasure!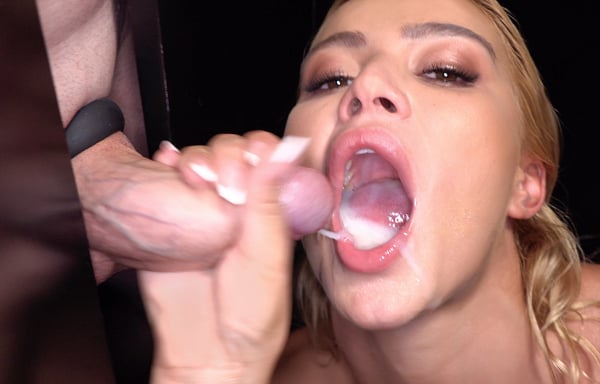 Cherry Kiss #1 - Gloryhole - Behind The Scenes
A very interesting voyeur scene where Cherry Kiss makes love with one of the bukkakeros who was waiting for her - this time it's not only a blowjob, but a real sex and it looks like Cherry really feels horny and wants the guy badly. Intimate moments, bloopers and even singing is added to this BTS, so join!
Ashley Ocean #1 - Bukkake - First Camera
Ashley Ocean, a skinny brunette with a nice ass, comes for her portion of cum. She's a bit nervous but bravely throws herself into the blowjob action and thrusts the dicks so hard that almost gags herself. When guys start to shoot the cum into her mouth, we can see that's she's not much used to it :)
Ashley Ocean #1 - Bukkake - Second Camera
Nevertheless, she continues and swallows five series of 9-14 cumshots in a row and feels quite enough after 53 loads. But guys do not stop and flood her beautiful face with thicker sperm that was saved for this moment. With some efforts, she gulps the rest from the bowl and bring the total count to 70 loads.
Ashley Ocean #1 - Behind The Scenes
This is one of those BTS footages where a model uncovers herself in real life, showing her behavior and attitude to the happening around her. You can peek her not only changing clothes or taking a shower, but watch a surprise cumshot during a photo session from a horny guy that was looking loitering around :)