Deborah Lapiedra #1 - Interview before Bukkake
It's so surprising to see how such a shy and naive looking girl may love sperm so much as Deborah Lapiedra! She practiced swallowing with her boyfriends and now she's going to expand her limits wild. No wonder she gulps the first load too quick but then feels the rhythm and gets warmed-up for bukkake :)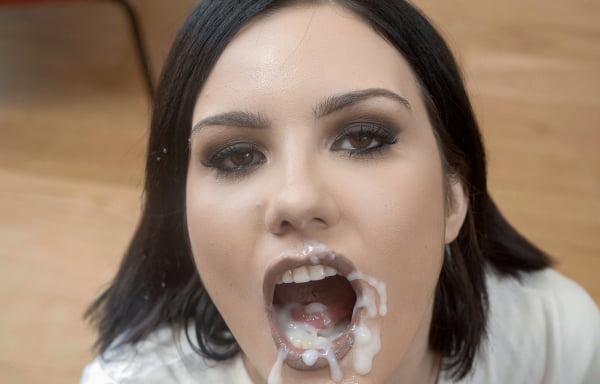 Deborah Lapiedra #1 - Bukkake - Behind The Scenes
We can clearly see how Deborah, being an actual amateur girl-next-door, just started her porn career and has not yet acquainted to that level of attention she has - thus more sexy to see her trying her best! And since she indeed loves cum, she can easily gulp three sudden loads during her photosession.
Deborah Lapiedra #1 - Bukkake - Behind The Scenes
With cum on her face and in her eyes, Deborah manages to answer questions as if it's nothing special for her! She seems to enjoy her experience and wants to reach another level of excitement, getting out to the balcony, showing her cum-glazed face to the people in the street. She enjoys herself everywhere!
Deborah Lapiedra #1 - Bukkake
Another Spanish amateur babe - Deborah Lapiedra, comes to PB for trying her cum resistance. She has not a lot of experience with cum but she knows how to suck a dick - and bravely throws herself into the action! She indeed wants all those cocks around as she feels horny among the aroused guys..
Deborah Lapiedra #1 - Bukkake - First Camera
Deborah sits comfortably and opens her mouth as wide as she can, as she wants to catch all the incoming cumshots. She gulps her first loads with a smile and licks her fingers clean with joy! With every further load, Deborah just gets hornier and she tries to gulp her mouthfuls quicker as she needs more..
Deborah Lapiedra #1 - Bukkake - Second Camera
She gets nude and starts masturbating while the guys flood her face and her eyes with thick sperm streams. Deborah enjoys herself while the jizz spurts do not stop and she looks amazing with all that cum on her face! Being cum-glazed, Deborah makes the final gulp and feels enough for today.
Noe White #2 - Interview before Bukkake
Noe White seems to be acquainted with sperm as she remembers her first experience quite clearly and now she's doing a makeup, answering the questions and suddenly gets interrupted with 4 huge cumshots which she successfully accepts and swallows. A nice warmup for this Spanish cutie before the real action!
Noe White #2 - Bukkake - Behind The Scenes
Noe's today image becomes clear after the makeup and the slutty secretary glasses suit that perfectly! When she kneels down and opens her mouth, looking in camera, she looks fantastic and the lads can't resist! She gulps the cum well and manages to continue her photoshooting as if nothing has happened :)
Noe White #2 - Bukkake - Behind The Scenes
With cum on her face, Noe manages not only to answer some delicate questions but also to gulp a couple loads in-between! And just before leaving she feels the guys become already missing her and merely attack her with their dicks atilt :) She gets a massive pack of 6 long-awaited goodbye loads!
Noe White #2 - Bukkake
Since the moment she appeared in her first bukkake, Noe White become one of the most requested babe to come back and this day has come - she's finally here and she's ready to beat her own record and swallow more than a hundred! Noe looks to have a special blowjob technique and the guys start to cum fast!
Noe White #2 - Bukkake - First Camera
The first dozen loads that land in her mouth seems quite hard to accept for Noe but after the second gulp she smiles and gulps easier, adapting to the cum taste and flavor. Sudden loads make her quickly and adorably squint but she is set for her aim today and goes well over 70 loads before just taking a breath..
Noe White #2 - Bukkake - Second Camera
Noe expects the facials but still looks so surprised by sudden jizz spurts! She looks so beautiful with cum on her face that the guys want to add more! They merely flood her eyes with sperm and she has to open her mouth to accept even more cum! Eventually she swallows everything, beating her own record!
Alyssa Bounty #1 - Interview before Bukkake
Alyssa could be a medic but she decides to work in porn instead. Is it because she loves sex or simply because of her perverted nature? We never know for sure ;) Sitting seductively in her sexy stockings, she tells us how she likes sperm in all forms and then easily gulps the first couple of warmup loads..
Alyssa Bounty #1 - Bukkake - Behind The Scenes
Beautiful Alyssa Bounty just tries to become even more pretty and apply her makeup but she is caught by a couple of horny guys in the middle. They want to get rid of their loads into her tight mouth and Alyssa indeed shows how she can handle a dick! She gulps twice and smiles charmingly..
Alyssa Bounty #1 - Bukkake - Behind The Scenes
She gets dressed as a Playboy bunny and attracts too much attention from the guys on the stage - Alyssa gets 4 more cumshots and beautifully swallows each of them one by one with a gentle smile. After the scene she goes to the shower where we can peek how she's getting her perfect body clean.. Get back, Alyssa!