Kitty Love #2 - Interview before Bukkake
Despite Kitty Love is not a first-timer as she's been shooting in porn for like three years, she still looks somehow shy when speaks about cum and even while tastes it. Anyway, she's had a small wish to drink three cumshots at once and she can do it easily before her second bukkake, mostly mouthful and facial one.
Kitty Love #2 - Bukkake - Behind The Scenes
Often girls at PB use the makeup procedure as a preparation moment to set themselves up for the real action and it's always catchy to see their true moments when they don't act.. But when Kitty Love enters the stage, she becomes a porn queen, although a bit shy one. Yet she obediently kneels down and gets a random load..
Kitty Love #2 - Bukkake - Behind The Scenes
Kitty gulps it with no questions and continues her photo session with some cum on her lips, as if cum makes her stronger.. After the bukkake she feels happy with jizz in her eyes, answers a few questions and even gulps one more load as a bonus one! She can't miss a goodbye load too, of course :) Want her back again?
Kitty Love #2 - Bukkake
Stunning Lia Ponce presents and acts as a cumscooper for beautiful Kitty Love today! Kitty returns for her second bukkake and today she feels to be more experienced for cum-swallowing. She quickly kneels down for a sensual blowjob for the guys, so they don't make them wait for eternity and start exploding!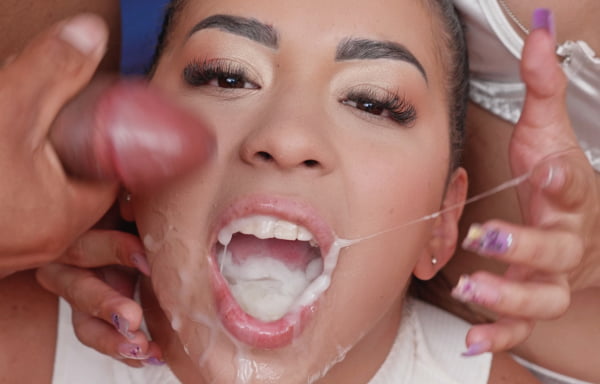 Kitty Love #2 - Bukkake - First Camera
Kitty smiles happily in anticipation and the first loads land smoothly into her mouth. She accumulates a dozen loads and gulps with joy. Although, despite that, it's seen that this time the jizz kicks in heavier than in her first bukkake. Kitty swallows another dozen loads and gets nude, showing her body for the guys.
Kitty Love #2 - Bukkake - Second Camera
The lads see her welcoming face and aim their loads straight to her eyes! Kitty doesn't mind and keeps her yes open. Her face becomes messy and she manages to collect a couple dozen loads more in her mouth. Happily swallowed the residuals, she gets a few final cumshots and finishes with a smile on her face!
Michele Anderson #1 - Interview before Bukkake
Michele Anderson has a wonderful sexual life and she's never been unsatisfied. It looks like she's been loving cum for all her life and today she beautifully shows that desire to swallow right from the very beginning of her preparation. She easily drinks a glass of cum with 3 loads and then accepts two more directly from the dick.
Michele Anderson #1 - Bukkake - Behind The Scenes
Being a true cum swallower, Michele Anderson occurs to be a regular girl next door which is clearly seen when the makeup is not applied yet. Her natural beauty is only increased when she steps onto the stage for posing for the photo session. The guys can't stand still and drop a couple of sudden loads to her mouth, she gulps instantly.
Michele Anderson #1 - Bukkake - Behind The Scenes
After the bukkake she stays on the floor naked, with cum on her face and manages to answer several questions on how she liked the event. The cum flows upon her body and tits and she looks wonderful! Being clean after the shower, Michele is not surprised she's asked for one more, goodbye cumshot and accepts it in a jiffy!
Michele Anderson #1 - Bukkake
Today we have a new beautiful girl from Colombia who adores sex but hasn't tried much cum swallowing before. Michele Anderson bravely starts with an intense blowjob and does it like a pro! She's young and beautiful and the guys surround her in a strong desire to unload their prepared cumshots into her mouth..
Michele Anderson #1 - Bukkake - First Camera
Michele gets her first dozen loads like a champ, gulping without a wink and continues the cum reception. She licks the fingers of Marina when she helps to drive all sperm to Michele's mouth and it looks like she's going to be a fine gulper! She swallows more than 50 loads and decides to show her body to the guys..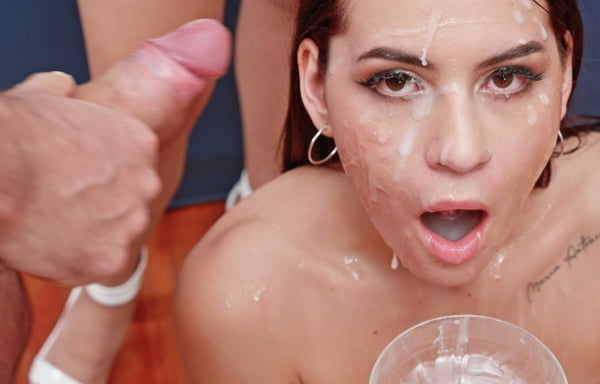 Michele Anderson #1 - Bukkake - Second Camera
Michele has nice small tits and a perfect tight body, so the guys just intensify their cumshots and drop a few dozen loads to the cum glass she holds. Michele drinks it slowly, sipping and gulping. The jizz goes massively to her face after that, so she becomes even prettier with cum on it, and then she gulps even more with a smile!
Valeria Valois #4 - Interview before Bukkake
Valeria Valois is a true gem that was discovered not at once. She's being prepared for her latest bukkake, counting how many scenes she's been filmed in, teasing the guys around. So they have no choice but to drop their loads into her cum glass. She slowly drinks that and describes the taste nuances. She's totally ready..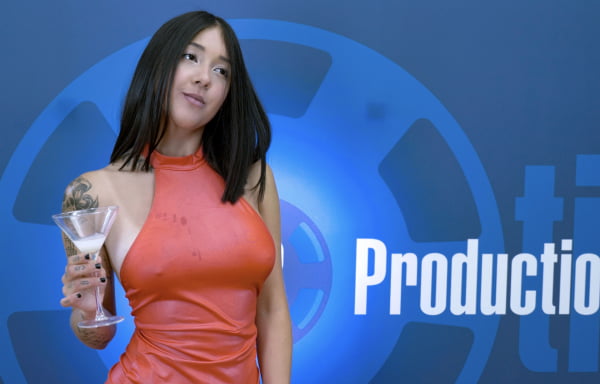 Valeria Valois #4 - Bukkake - Behind The Scenes
Valeria is beautiful even without the makeup but when she sits nude with her tits out and being prepared, she looks sexy as hell. Dressed in a tight red dress with the perky nipples seen through, she poses for a photo session and certainly catches a sudden load from a random guy. She gulps without questions..
Valeria Valois #4 - Bukkake - Behind The Scenes
After the bukkake she continues sitting naked with cum on her face and manages to answer several questions, so we see she prefers sperm directly to her mouth. She has an opportunity to be please right before leaving and so she joyfully swallows her last goodbye load and leaves the studio with a happy smile :)