Kira Thorn #1
This time, Kira Thorn falls under the pressure of very big loads, her mouth gets filled very quickly, she swallows and her mouth is filled to the limit again so she has to put some efforts to swallow it all. At the end Kira drinks a mixture of cold sperm that was gathered in her bowl...
Divina Maruuu #2 - Bukkake
Gorgeous European blonde Divina Maruuu is back for another session of cum-swallowing, maybe even more intense but she doesn't know about that yet. She looks gorgeous in her black lingerie outfit and she's desperate to extract the jizz out of the guys' dicks. They surround her and push their dicks to her mouth and she tries to please them all.
Divina Maruuu #2 - Bukkake - First Camera
She gets surrounded by a bunch of guys who literally blowbang her and she gets gagged by their dicks, trying to push even two at once. When the jizz comes out, Divina is excited to accept it as the loads are thick and powerful. Her mouth gets filled quickly and and she slowly gulps on camera with a shy smile.
Divina Maruuu #2 - Bukkake - Second Camera
Divina collects huge mouthfuls and doesn't mind that her face becomes messy with cum. She doesn't have any hard feelings about the streams of jizz being landed to her mouth and fill it to the brim. She is mildly excited about the power of cum she gets exposed to today and chugs her cum glass with no doubt. She needs more..
Divina Maruuu #2 - Interview before Bukkake
Divina Maruuu comes for a short interview after her first bukkake and claims that she loves cum swallowing and especially the bukkake she's been into. She also fantasies about what she'd like to try with us in the future and we'll surely please her ;) For now, she's offered a warmup cumshot and gulps it with pleasure!
Divina Maruuu #2 - Bukkake - Behind The Scenes
Beautiful Divina just enters the studio and from the very first step she's ready for gulping a welcome load. She smiles happily afterwards and goes applying her makeup where she gets spotted by a random guy who also wants to unload his saved cumshot to her smiling mouth. She obediently accepts it and waits while he finishes.
Divina Maruuu #2 - Bukkake - Behind The Scenes
Divina shows the cum in her mouth to the camera and goes for a photo session. She looks stunning in her black lingerie and catches the attention of two more guys who, of course, also can't miss the chance to put their dicks into her mouth :) Divina doesn't mind of a couple more loads too! After the bukkake she shows her body in a relaxing shower..
Venus On Fire #1 - Bukkake
So you love uniform outfits? Today we have a beautiful Brazilian babe - Venus on Fire - who is dressed like a slutty maid and looks gorgeous when she shoots seductive glances right to the camera. The guys are ready to stuff their dicks into her mouth and unload the jizz they've been saving for the whole week!
Venus On Fire #1 - Bukkake - First Camera
Venus makes a deep and sensual blowjob for several minutes and opens her mouth wide for the incoming cumshots. The first loads are thick and powerful and she quickly collects a big mouthful. Venus swallows with no hesitation and holds the jizz in her mouth easily. She gets instantly messed with cum but she doesn't care.
Venus On Fire #1 - Bukkake - Second Camera
Having gulped around 50 loads, she undresses and stays nude with cum strains on her, then she puts on a new outfit and comes for five dozen loads more, which go not only to her mouth, but directly into her eyes, onto her hair and all over her face. She looks marvelous with cum on her face and even makes a few gulps with eyes open!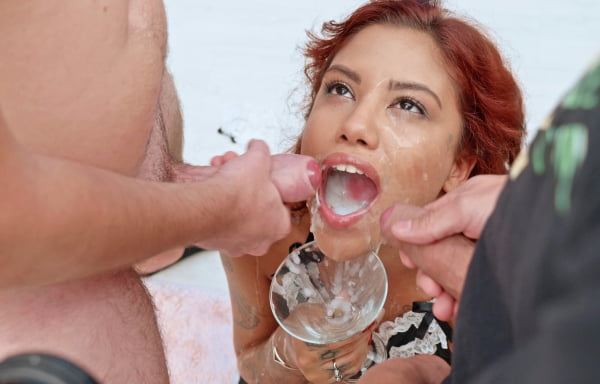 Venus On Fire #1 - Interview before Bukkake
Beautiful Venus on Fire came to us from Brazil and she's glad to be here as only in Madrid she can swallow those enormous cumshots she's been hunting for. One of the interesting things is that cute-looking babe loves to dominate in sex! Now she tries 4 loads at a time in a small bottle and feels ready for more!
Venus On Fire #1 - Bukkake - Behind The Scenes
It's always a pleasure seeing girls looking so different at their own will. When Venus on Fire comes to us, she gets warmly welcomed with a hot cumshot and classy look in glasses doesn't leave you indifferent. But as soon as she has her makeup applied and gets dressed as a seductive maid, the guys on the stage go crazy!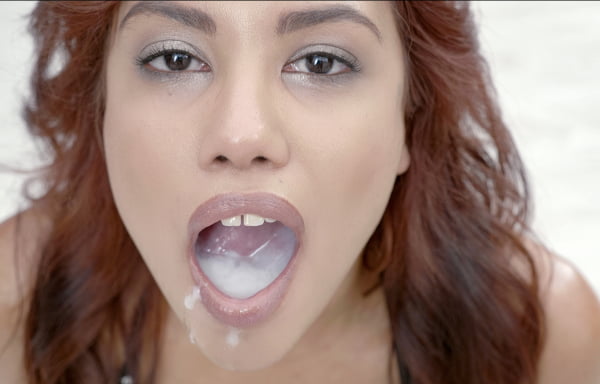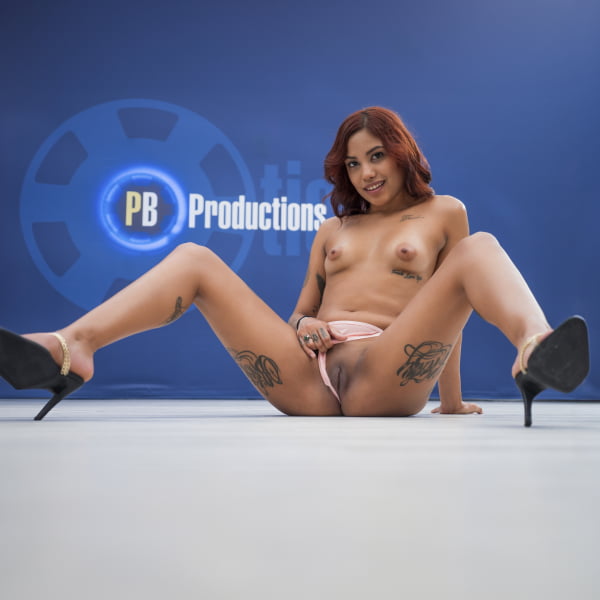 Venus On Fire #1 - Bukkake - Behind The Scenes
Three of them approach her one by one and she gulps their loads with pleasure, despite they're thick and dense. They catch her even while she's changing clothes and she again accept the random loads :) When she does another photo session, two more cumshots are gulped and certainly Venus can't miss the goodbye one!
Fanta Sie #1 - Bukkake
This is the day, when a new record is beaten - today we have a stunningly beautiful Slavic teacher babe - Fanta Sie - who came to us in a great desire to open the world of bukkake for herself. The moment can't be better than now and a big crowd of guys have been waiting for her and saving the loads for quite a while!
Fanta Sie #1 - Bukkake - First Camera
Fanta Sie does a beautiful blowjob and smoothly kneels down for the massive jizz inflow! The lads shoot cum intensely and she gulps them in dozens, one by one! She quickly becomes messed with jizz and her face and the whole outfit looks amazing, however she undresses and stays nude for more!
Fanta Sie #1 - Bukkake - Second Camera
After swallowing a hundred cumshots, Fanta becomes overwhelmed and makes a short break but returns for more, collecting another hundred in her gokkun bowl and watching it closely. Then she drinks that giant glass of cum in a few sips but slowly. Eventually she gets jizzed all over her face and eyes!