Vicky Love
Age:

32
Height:

165
Body:

80-65-89 (cup B)
Info:

Heterosexual but like nice erotic girls
Cum fact:

Looks like it was not too much :)
Total swallowed:

320
I was started adult show business 5 years ago. I'm a strip dancer, show girl, and porn actress. I'm a very exhibitionist person and I love sex. I like fashion and dance a lot and to be free in time traveling and sailing. I have a lovely husband who supports all my work and we are swinger couple in private life.
Vicky Love #3 - Gloryhole
Gorgeous Hungarian babe Vicky Love continues her very intensive gloryhole. After swallowing her first 25 loads, she feels hot and horny and removes her clothes. She continues accepting loads one by one and shows each of them to the camera..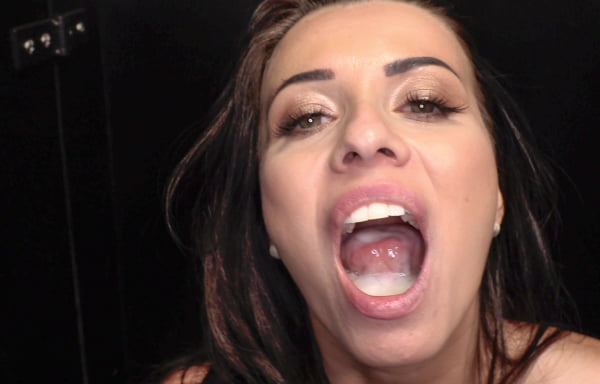 Vicky Love #3 - Bukkake - Second Camera
After swallowing the first mouthful portion she exposes her beautiful eyes under the cum streams. The dense jets of sperm descend on her face and while being cum-glazed she swallows another 18 loads that are collected in her mouth. By this moment Vicky has some doubts if she can continue and calls for Ana.
Vicky Love #3 - Bukkake - First Camera
We all love Vicky and she gives her love back. This time she wants to pass through another bukkake solely by herself without any help from Ana. She starts with gentle blowjobs for the guys around her and the sticky dense cum accumulates in her mouth. Vicky manages to collect 19 loads before first gulp.
Vicky Love #3 - Bukkake
Despite being overwhelmed by swallowing a few dozen cumshots, being facialized, sucking tens of dicks, Vicky proves herself that she's a real pro and overcomes herself. She bravely takes the cum bowl and after just a small hesitation drinks it fully, totaling 58 loads for this bukkake. Vicky, we love you!
Vicky Love #2 - Gloryhole
The long-awaited Vicky Love's first gloryhole that she tries in her life. She is a bit nervous but feels ready for swallowing some sperm in a gloryhole box. Dressed in a pink cocktail dress, she sucks the dicks very carefully and gently. Guys don't make them wait for too long and erupt into her beautiful mouth..
Vicky Love #2 - Gangbang - Behind The Scenes
Some bloopers and behind the scenes action are recorded as well and we can see how girls are kidding on a camera. Besides some short interview and photoshooting, Vicky gets a nice surprise load while posting as some guys just definitely can't pass by such a hot chick ;)
Vicky Love #2 - Gangbang - Second Camera
Vicky is sucking a dick and is being fucked in the same time when cum starts spurt to her face but she's ready to accept it. The guys flood all her beautiful face, her curly dark hair, her flawless tits and her magnificent eyes with sticky dense cum. Vicky loves the action and swallows 36 loads, wow!
Vicky Love #2 - Gangbang - First Camera
We haven't seen Vicky Love performing such a gangbang you would want to remember, so here you are - the stunning Hungarian babe comes to Madrid to be fucked by a bunch of horny guys while being fully cum-covered and being fed with sperm in the same time!