Valeria Valois
Age:

22
Height:

164
Body:

90-62-93 (cup D)
Info:

Bisexual. I like any kind of girl. I am more demanding with men, I have an infinite fetish towards black guys. I like big or thick penises and hard sex. Spanking, spanking, slapping and choking.
Cum fact:

If I'm enjoying sex I'm most likely to swallow cum, I love it. Although I might play with my tits to make him cum on them.
Total swallowed:

274
I'm Latina, Venezuelan. But I also have Asian blood. I have also lived in Ecuador. So I go around the world infecting people with my energy. I'm very sexual, grotesque and a bit creative. I will probably ask you to take your Penis out of your pants to give you oral sex somewhere public😉😅.
Instagram: Valevalois

Valeria Valois #4 - Bukkake - Behind The Scenes
Valeria is beautiful even without the makeup but when she sits nude with her tits out and being prepared, she looks sexy as hell. Dressed in a tight red dress with the perky nipples seen through, she poses for a photo session and certainly catches a sudden load from a random guy. She gulps without questions..
Valeria Valois #4 - Interview before Bukkake
Valeria Valois is a true gem that was discovered not at once. She's being prepared for her latest bukkake, counting how many scenes she's been filmed in, teasing the guys around. So they have no choice but to drop their loads into her cum glass. She slowly drinks that and describes the taste nuances. She's totally ready..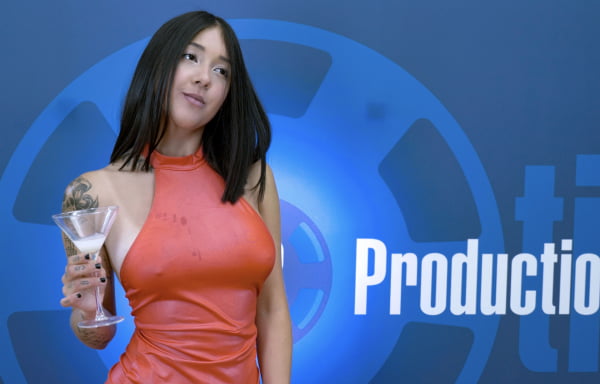 Valeria Valois #4 - Bukkake - Second Camera
The guys don't stop on that and besides spurting dozen cumshots right into her mouth, flood her beautiful face with the dense sperm streams. Valeria is wondered and surprised and she looks amazing with that cum in her eyes! She gets another pack of loads into her mouth and gulps it all with sperm on her face!
Valeria Valois #4 - Bukkake - First Camera
They slap her with their dicks and then start unloading the cumshots into the glass she holds under her chin. When she collects wholesome 27 loads, Marina helps her to drink it very slowly, showing the cum on camera. Valeria swallows with pleasure and prepares to accept the direct jizz loads into her mouth.
Valeria Valois #4 - Bukkake
Beautiful Valeria Valois returns for her another bukkake! She's dressed in a gorgeous tight red dress that just underlines the curves of her body and dives into an intense blowbang with several guys at once. She feels aroused and emanates her emotions to the guys, so the start cumming quickly..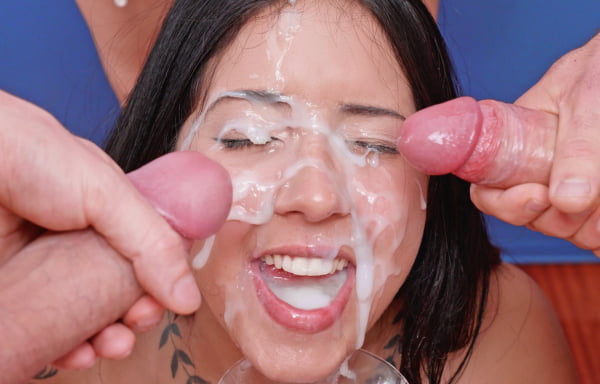 Valeria Valois #5 - Gangbang - Behind The Scenes
Valeria Valois charmingly lays on a sofa, showing her long legs and seducing body to the girls. Her booty looks stunning on camera and she definitely knows that. When she shows it to the guys, one of them can't hold himself and approaches her with a sudden cumshot which she gladly swallows with an obedient smile..
Valeria Valois #5 - Interview before Gangbang
Gorgeous Valeria Valois looks now even better than earlier! She lays on a sofa and relaxedly answers a few questions on how she likes cum and why she decided to come again. But does it really matter when such a beautiful girl swallows a couple cum loads with pleasure and then dance with a joy afterwards? :)
Valeria Valois #5 - Gangbang - Second Camera
Since she stays in motion, the jizz gets over her face, so Marina helps her to collect cum in a glass. Valeria lays on the stomach and gets more cumshots simultaneously from both sides. Her face gets muddy, she swallows in decent portions and eventually she manages to accept and swallow wholesome 50 loads!