Sapphire
Age:

29
Height:

162
Body:

94-72-92 (cup D)
Info:

Hetero, have tried sperm before - 1 guy cumming at a time only
Cum fact:

I swallowed a lot of sperm and I felt pretty good, I thought I was not going to like it so much, it was a sufficient amount of semen for my first time. It was not that difficult for me to swallow. It was more difficult to keep it in my mouth. I prefer warm sperm in my mouth. I felt very wet while the boys were cumming in my mouth. I liked the experience, I would do it again.
Total swallowed:

219
My name is Sapphire. I was born in Las Palmas de Gran Canaria. I live here. I've started my career recently in porn industry.
I like shopping, having fun with friends, good food, restaurants, I do sports, going to the gym, I like beach, I like a lot sex, new experiences, etc.
I like real men who can make you feel a real woman. I like men that love everything in sex without taboos.
I like doing black kiss and suck asshole when it's a nice butt.
Sapphire #2 - Bukkake - Behind The Scenes
After a warm up during the interview Sapphire applies a makeup and we can see how she is setting up for swallowing that hundred loads. She poses for a photo shooting with a bit serious face and accepts the first incoming loads a bit nervously and concentrated. Getting nude helps her :)
Sapphire #2 - Interview before Bukkake
Our busty long-legged guest Sapphire feels relaxed and doesn't care if it's the high time to swallow the cum but she gets ready instantly. She doesn't focus on her past bukkake too and goes easy with her first three warmup loads. That moment she doesn't guess how tough it would be for her this time..
Sapphire #2 - Bukkake - Second Camera
The guys start blowing their loads onto her beautiful concentrated face and Sapphire has to accept them in her eyes an in her hair. Some loads land into the cum glass and eventually with all her face covered in cum, Sapphire drinks from that glass and makes her final gulp! She does well today!
Sapphire #2 - Bukkake - First Camera
Sapphire has no problems swallowing the big mouthfuls today. She uses a cum bowl to save the excessive cum but doesn't use it much when swallowing her first 6 dozens of cumshots. By that moment she feels a bit on the edge and seems to want the bukkake to end but the show still goes on..
Sapphire #2 - Bukkake
Brunette bombshell Sapphire returns back for her second bukkake and she definitely knows what to expect this time - she's more relaxed and has a playful mood. She takes her tits out and starts sucking dicks selflessly. Sapphire is beautiful and the dense white cum in her mouth looks wonderful too!
Sapphire #1 - Bukkake - Behind The Scenes
This gorgeous Spanish chick knows her body doesn't leave the guys indifferent and uses it in full power. When she poses for some nude pics and shows her boobs, 4 lads can't stand still and cum inside her mouth. Sapphire obediently swallows and continues her photo shoot..
Sapphire #1 - Interview before Bukkake
Sapphire the busty babe is 29 but by her age she's not well acquainted to sperm and going to open a whole universe for herself :) Just in a few minutes she's going to be covered up with a thick layer of jizz but we may learn she still prefers it in her mouth. As a warmup, she does it with ease for three guys..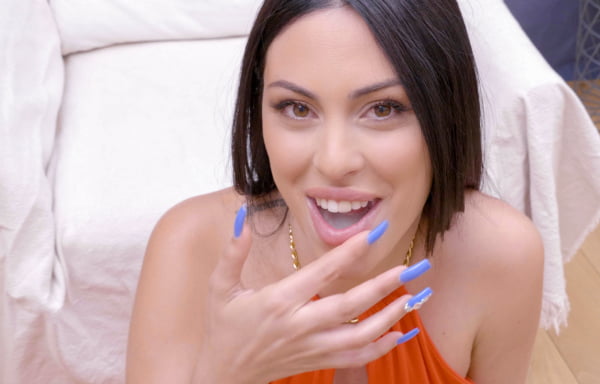 Sapphire #1 - Bukkake - Second Camera
The guys don't stop and eject the cumshots onto her pretty face, aiming into her beautiful eyes. Sapphire is so surprised by that but handles the facial cum bravely and breathes deeply. She gets overwhelmed as jizz goes into her eyes and feels quite enough, getting 95 loads in total. Welcome to PB, honey :)