Safira Yakkuza
Age:

24
Height:

154
Body:

91-64-90- (cup G)
Info:

I like to experiment with new things in sex
Cum fact:

I love sperm on my face, on my boobs and to swallow it
Total swallowed:

30
Hello I'm Safira, I started in porn for a proposal, I love to show my body and that people enjoy with me, I am Spanish and very playful, I love sex and experiencing new things
Safira Yakkuza #1 - Bukkake - Behind The Scenes
Despite Safira Yakkuza is a beginning porn starlet, she's just a regular next door girl in her soul :) But when she gets onto the stage and dresses up, she transforms to a slutty busty lady. When she sits on the floor, invitingly opening her legs, the guys can't miss a chance to drop a load in her welcoming mouth.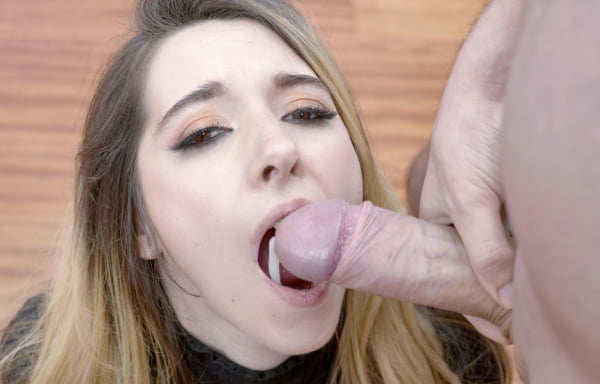 Safira Yakkuza #1 - Interview before Bukkake
It turns out that Safira Yakkuza has been swallowing sperm from her boyfriends for the last several years, so she has to know how to do that properly. She's a trained girl but it looks like each gulp is taken by her with some effort. Nevertheless, she takes three ones as a warmup and gets ready for her bukkake.
Safira Yakkuza #1 - Bukkake - Second Camera
So far, the guys switch to her beautiful face and this experience only adds some charm to her mimics. She smiles, however cum gets into her eyes and she wrinkles, trying to sway it over. But a dense pack of 25 more cumshots makes a thick white mud on her face, finalizing this bukkake with an awesome picture!
Safira Yakkuza #1 - Bukkake - First Camera
Safira kneels down and catches their cumshots. It doesn't look like she's fond of the cum taste as she reacts to each cumshot like it's spicy or bitter. Nevertheless, she gulps, although in small portions and moves forward. The sperm overwhelms her already when she swallows bare 25 loads and she feels enough..
Safira Yakkuza #1 - Bukkake
Safira Yakkuza is not a newbie and gets straight to the action right from the very first moment she sees the guys dicks. This is actually her second bukkake, so she already knows what to do. This busty porn starlet sucks dicks like a real pro and the guys start to erupt cum with quite a pleasure.