Miss Olivia
Age:

18
Height:

165
Body:

90-62-89 (cup C)
Info:

There is nothing cooler than being a good slut for a dominant. I love it when they hurt and pleasurable at the same time. I also like sex and experiments in general, Bukakke has become one of them
Cum fact:

I like to take cum in absolutely all my holes or on any part of the body, so I feel even more like a whore who must obey. I never ate as much as on Bukkake, but it was tasty enough to make me want more.
Total swallowed:

246
I am Ukrainian, I love to show myself, my body, so I became a porn actress, what a thrill to realize that a lot of people are looking at you, I also like to travel, learn and try something new, I am very impulsive in terms of ideas how to brighten up my leisure time) I also like to read and discuss what you read) a great exercise for the brain) I love the atmosphere of sex around me😌
Miss Olivia #3 - Bukkake - Behind The Scenes
Gorgeous Miss Olivia is dressed in a kinky latex dress and a tight red top to drive the guys mad and she knows how to do that pretty much! She poses, bending her body and showing it from only the best angles for the camera, so one random guy comes to her and unloads his well-saved load into her mouth..
Miss Olivia #3 - Interview before Bukkake
Stunning Olivia sits in a chair and decides how she likes to receive the cum during the interview and it looks like she wants it all in! Although she accepts them one by one, she still is very interested to continue and is totally ready for her new achievements!
Miss Olivia #3 - Bukkake - Second Camera
Olivia feels happy about the incoming cum spurts and doesn't even think about stopping! Yet, when the counter ticks over 60 loads, the guys direct their cumshots to her pretty face, so it gets messed with dense cum quite heavily, including her beautiful eyes, which she tries to hold open. Eventually, Olivia swallows everything!
Miss Olivia #3 - Bukkake - First Camera
Olivia gladly accepts and holds as many as 20 loads in her pretty mouth and it doesn't seem too little for her - she's barely capable to hold that amount. Yet she gulps it with seeming pleasure! She continues to accept more loads and another huge mouthful of 18 loads gets collected and gulped by her!
Miss Olivia #3 - Bukkake
Miss Olivia, beautiful redhead babe from Ukraine, is back for her third and maybe her last and most intense bukkake that she's ever had. She's happy about the action she's going to pass through and lets Marina to present her properly. She kneels down for sensual blowbang, and the cum flows quite quickly!
Miss Olivia #2 - Bukkake - Behind The Scenes
You can clearly see that Miss Olivia is a regular teen girl before she applies makeup but as soon as she gets her hair and face done, she transforms into a sexy redhead bombshell! Her alluring smile and genuine posing don't leave a chance for the guys to stand and not to cum, and she gulps gladly..
Miss Olivia #2 - Interview before Bukkake
Miss Olivia looks so naive when she talks about sperm and its taste but she definitely doesn't mind of drinking a glass of jizz with a charming smile. She clearly enjoys cum and claim it's reminding her a taste of milk with water. But certainly she prefers a cumshot directly from a dick and awaits her second bukkake..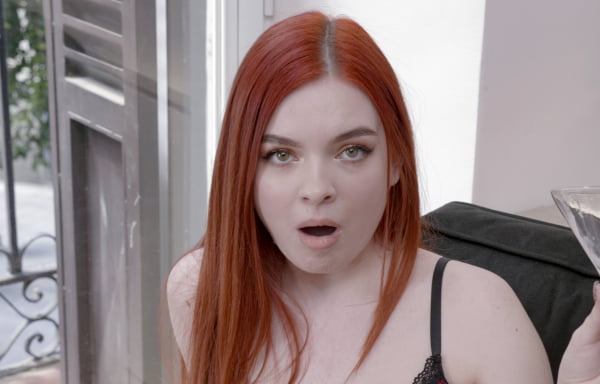 Miss Olivia #2 - Bukkake - Second Camera
Then she removes her elegant red dress and, staying nude with her beautiful boobs out, kneels down for more jizz loads. Although, the guys quickly shift to her face, flooding it with thick white streams that get into Olivia's eyes, making her look even more sexy and alluring. That redhead foxy needs more, for sure!