Megan Venturi
Age:

30
Height:

176
Body:

75/62/90 (cup A)
Info:

Heterosexual, tried sper before.
Cum fact:

The cum taste is not so bad but it was too much. I certainly was impressed with that amount of sperm, it was hard not to close the mouth when it was full and I wanted to gulp quicker. Anyway I liked to be filmed in bukkake!
Total swallowed:

95
Hello everyone, my name is Yana, I am 30 years old, my height is 176, weight 52 kg, hobbies for sports and walking in the forest, I am also fond of martial arts such as boxing and karate, I relate to swallowing sperm no problem, it's true when there's a lot of it, it's a little different, but I'll try and then tell you how it is in practice.
Megan Venturi #2 - Bukkake - Behind The Scenes
Long-legged brunette from Ukraine, Megan Venturi loves her body and doesn't mind showing it off. She's posing and teasing while taking pics and shows her small titties without any shyness. One guy can't stand himself and drops a load to her welcoming mouth. Megan eagerly gulps is.
Megan Venturi #2 - Interview after Bukkake
It was quite a tough bukkake but Megan Venturi has done it. After the show she's being asked a few questions and it turns our she likes to drink sperm more from the cup and not accept it from the dick directly. Probably it's the first time a lady prefers cum from a glass..
Megan Venturi #2 - Bukkake - Second Camera
Megan gets nude and barely holds the incoming cumshots, however, smiling welcomely to the guys, which makes them go crazy! They shoot the sperm to her face, flooding it down from the very forehead to her cheeks with a thick layer of jizz. Megan still can hold her last big mouthful, show it on camera and swallow!
Megan Venturi #2 - Bukkake - First Camera
The first loads land everywhere - in her mouth, on her face and in the cum glass she uses to collect the residuals. Megan makes the first gulps with some efforts but continues. Each swallow seems to be hard for her but she bravely goes on and holds dozens of loads in her mouth. Marina adds some more from the glass..
Megan Venturi #2 - Bukkake
Megan Venturi is ready to continue her cum-swallowing venture with us and without any excessive words gets on her knees and starts sucking the dicks around. With a shy smile but a straight look she quickly makes the guys to erupt cum in her mouth. From the very start she's getting shocked by the power of the cumshots..
Megan Venturi #1 - Bukkake - Behind The Scenes
Megan Venturi is not just a regular type of girl next door, she's a bit into a kinky side. She is fully concentrated on her makeup, getting prepared for her first big event, how suddenly a guy around wants to drop his load into her mouth. Surprised, she eagerly gulps it with pleasure and continues her makeup..
Megan Venturi #1 - Interview before Bukkake
Megan Venturi has not performed in a real bukkake before but, oh boy, she does have that experience of gulping cumshots "in her personal life" - she's been gangbanged earlier and the way she talks about that is priceless! She quickly gets a jizz load from a random guy and gulps it with a slutty smile :)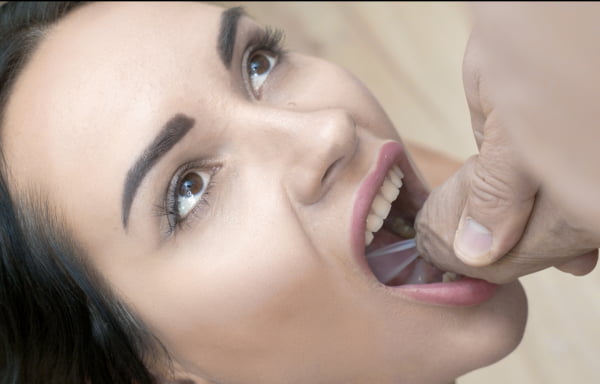 Megan Venturi #1 - Bukkake - Second Camera
The first bukkake is not that easy for Megan but she puts her will and bravely looks into the camera with her mouth being constantly filled with more and more cumshots. When she counts over 40, she barely can handle that and the guys switch to her face. All messed in cum, Megan Venturi gulps her proud 48 loads.