Katrina
Age:

21
Height:

165
Body:

80-65-95 (cup A)
Info:

Bisexual
Cum fact:

I love sex, and I am a sex adventure lover
Total swallowed:

82
My name is Katrina c I am from Dominicana republic, and I came to madrid to work. I found out I can accomplish my bukkke fantasy thanks to a friend.
Twitter and Instagram: @katrina021021
Katrina #1 - Bukkake - Behind The Scenes
Curly Katrina searches for her ideal pose when trying to get depicted on the photos - she gets quickly spotted by a couple of guys on the stage who can't stand a temptation to drop a load in a beautiful mouth. She swallows both cumshots with no hesitation and a modest interest..
Katrina #1 - Interview before Bukkake
Katrina appears nude in a bathroom and shyly hides her tits but still gives replies to a few questions. Katrina loves dancing and traveling but hasn't got a lot of swallowing experience and just slowly uncovers her inner talents by gulping her first warmup loads. She dreams about sex in the airplane, btw ;)
Katrina #1 - Bukkake - Second Camera
The guys don't stop and unload around 60 loads into Katrina's mouth when she feels she's better gets nude and put her beautiful face under the thick cum streams. Guys aim to her eyes which she tries to keep open and Katrina gets purely overwhelmed with that cum flood upon her but finishes the bowl. Wow!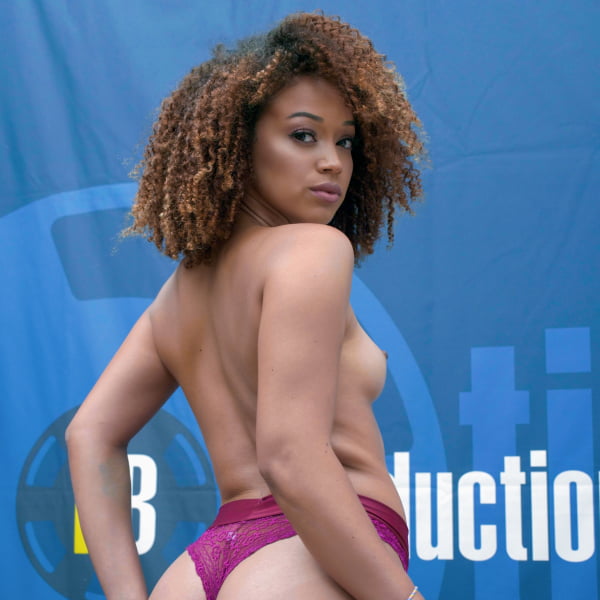 Katrina #1 - Bukkake - First Camera
She opens her mouth wide so the guys could aim properly but eventually her curly hair turns to be all spotted with thick drops. She doesn't care and just tries to concentrate on holding the big mouthfuls. Safira helps her to get cum into the mouth while Katrina gulps on command with some strong emotions.
Katrina #1 - Bukkake
From the first glance Katrina looks like an elder sister of petite Safira who has already had her first bukkake with us, but now it's turn for Katrina. The exotic brunette treats the dicks with respect and gently sucks all of them popping around. She's seriously set to stretch her cum gulping limits today..