Deborah Lapiedra
Age:

27
Height:

166
Body:

80-63-88 (cup B)
Info:

Heterosexual, have tried sperm before - 1 guy cumming at a time maximum, he cummed 5 times
Cum fact:

I loved it. A lot, until my stomach hurt 😂 but I don't care because it's something I like and I loved the experience. I love sperm. Maybe a little more difficult to keep in the mouth, but also fine with swallowing. For me, better in the mouth than in the bowl. It makes me very horny to see so many guys cumming for me. There were some guys that seemed more attractive to me, but when recording they all turned me on.
Total swallowed:

70
My name is Debora La Piedra. I was born in Spain. Living in Madrid.
I recently started my career in the porn industry. I like practicing pole dance, I love the nature, listening to the music, Animals... I've been vegetarian since 10 years ago. I love hard sex, being slapped, spit on me, to be squirted really good.
Deborah Lapiedra #1 - Bukkake - Behind The Scenes
We can clearly see how Deborah, being an actual amateur girl-next-door, just started her porn career and has not yet acquainted to that level of attention she has - thus more sexy to see her trying her best! And since she indeed loves cum, she can easily gulp three sudden loads during her photosession.
Deborah Lapiedra #1 - Interview before Bukkake
It's so surprising to see how such a shy and naive looking girl may love sperm so much as Deborah Lapiedra! She practiced swallowing with her boyfriends and now she's going to expand her limits wild. No wonder she gulps the first load too quick but then feels the rhythm and gets warmed-up for bukkake :)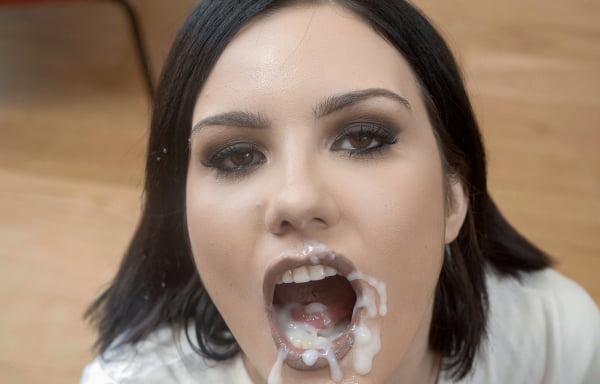 Deborah Lapiedra #1 - Bukkake - Second Camera
She gets nude and starts masturbating while the guys flood her face and her eyes with thick sperm streams. Deborah enjoys herself while the jizz spurts do not stop and she looks amazing with all that cum on her face! Being cum-glazed, Deborah makes the final gulp and feels enough for today.
Deborah Lapiedra #1 - Bukkake - First Camera
Deborah sits comfortably and opens her mouth as wide as she can, as she wants to catch all the incoming cumshots. She gulps her first loads with a smile and licks her fingers clean with joy! With every further load, Deborah just gets hornier and she tries to gulp her mouthfuls quicker as she needs more..
Deborah Lapiedra #1 - Bukkake
Another Spanish amateur babe - Deborah Lapiedra, comes to PB for trying her cum resistance. She has not a lot of experience with cum but she knows how to suck a dick - and bravely throws herself into the action! She indeed wants all those cocks around as she feels horny among the aroused guys..