Asia Vargas
Age:

32
Height:

172
Body:

90-64-95 (cup B)
Info:

I usually drink cum of my couples and I also usually use it as a beauty mask, it has a lot of antioxidants and nutrients, so it helps to keep my skin rejuvenated and illuminated.
Cum fact:

This experience is new to me, but I have been delighted at all times, being the Goddess in the middle of a male Olympus. I believe that all women should have this experience at least once in their life.
Total swallowed:

114
I am mixed race, my mother is Japanese and my father is African Colombo. I'm a model, writer, and painter, and I'm currently starting my career as a porn actress. Personally considered that every great pornstar should get immersed in the great bukkake experience at least once in their career.
Asia Vargas #2 - Bukkake - Behind The Scenes
Behind the curtains we can see Asia smiling when she poses for a photo shooting. She welcomes a couple of guys that loitering around and drop their loads into her ready mouth. She gulps and wants more :)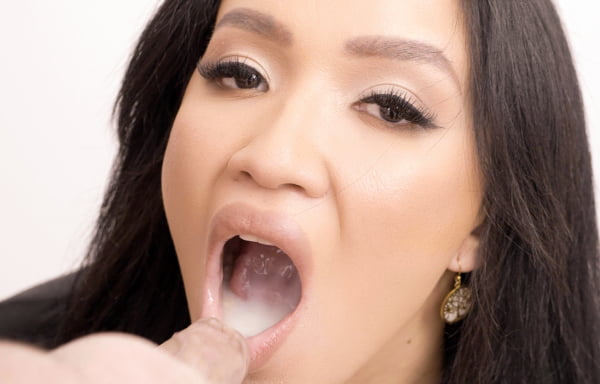 Asia Vargas #2 - Interview before Bukkake
Asia Vargas shares her feelings about her first bukkake and gets prepared for the second one. She's optimistic and seems to want it harder than the last time. No problem, Asia, as you wish :) She also swallows a couple of loads to warm herself up before the main action..
Asia Vargas #2 - Bukkake - Second Camera
After 40 loads being swallowed, Asia puts her calm face under the cum brooks from both sides and since that moment she starts looking totally different! She tries to keep her eyes open but it's quite hard for her. So she takes her cum bowl and being fiercely cum-glazed, finishes it till the end. Wow!
Asia Vargas #2 - Bukkake - First Camera
The loads that Asia receives are quite big and the bouncy cum streams land on her face eventually, despite she tries to catch them with her open mouth. Asia helps herself but some cum gets left in the bowl. She swallows without any hesitations and feels very set to gulp everything!
Asia Vargas #2 - Bukkake
Wonderful Asia Vargas is back! She is glad to return and welcomes the guys with a warm smile. Getting on her knees, she doesn't bother much into blowjobs and gets ready to accept cum as the guys have been waiting for her. She uses her cum bowl as a precaution measure and actually refers to it quite often..
Asia Vargas #1 - Bukkake - Behind The Scenes
While Asia wanted to keep the face during the main bukkake shooting, we can clearly see she's the most beautiful when smiles behind the scenes, taking a photo shoot and posing for camera. She accepts a few cumshots during the photosession and gets undressed, showing her natural tits for the camera..
Asia Vargas #1 - Interview before Bukkake
Dressed in a sexy silky pajama with a seductively open cleavage, Asia Vargas gives an interview and tells how she uses jizz in her cosmetic procedures :) She seems to be well practiced in orgies and swinger parties but never swallowed more than 3 loads. Let's see if she can repeat it with a bottle..
Asia Vargas #1 - Bukkake - Second Camera
After she has more than 40 loads swallowed, she takes her bowl, finishes it with one sip and puts her beautiful face under the thick sperm brooks that guys prepared for her. With cum on her face, Asia makes the final gulp from the bowl and looks to be much happier now! The sperm was spent wisely for her ;)