Annie Reis
Age:

25
Height:

156
Body:

85-67-95 (cup A)
Info:

Bisexual, have tried sperm before many times
Cum fact:

I don't remember exactly when was the first time I got cum in my mouth, but I have been doing it for years. I like to know if the guys semen tastes good or not, that's why I always swallow.
Total swallowed:

115
My name is Annie, I am 25 years old, I am from Argentina (I know I don't look like) I live in Spain from 2002, and I work as a porn actress and an Onlyfans model. I was proposed to do this huge bukkake and I think it was fun!
Annie Reis #1 - Bukkake - Behind The Scenes
For the true lovers of insider content it's especially intriguing to see the person behind a character and this piece of Behind The Scene video shows that beautifully. Annie Reis indeed may be different but what stays with her is the eager to accept and swallow cum in any moment - and the guys use it often!
Annie Reis #1 - Interview before Bukkake
We don't know much about Annie Reis, so she has a chance to talk about herself before the main event and get set up to expand her cum swallowing limits. She easily agrees to try to match her own record of a mere couple of loads at once :) She is yet to know what to expect on her first big bukkake..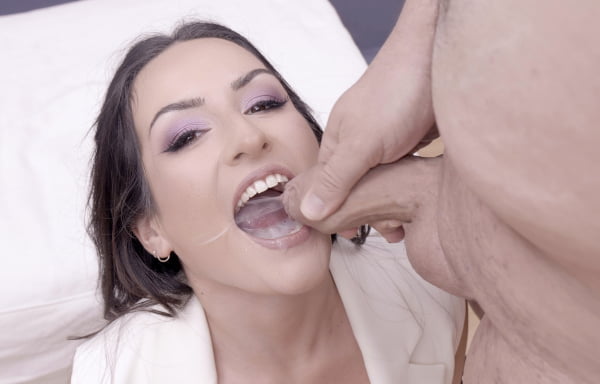 Annie Reis #1 - Bukkake - Second Camera
Rebeka sits down nearby and while Annie is being flooded with cum upon her face, she collects a bunch of cumshots to save again and transfer to Annie so she could swallow them too! Annie Reis looks to be one of the strongest cum-swallowers we've seen as a whole hundred loads don't make her blink an eye :)
Annie Reis #1 - Bukkake - First Camera
Annie continues getting cumshots with a smile and seems she's indeed enjoying it! she swallows fully relaxed with her eyes wide open and Rebeka behind her just collects all the cum from her face so Annie could gulp it fully. The guys are generous today, providing 78 loads before switching to her face seriously..
Annie Reis #1 - Bukkake
The new girls always trigger our attention and here we have Annie Reis who says she loves sperm but still has no experience in bukkake. That's why Rebeka Brown comes to show how to accept cumshots before Annie takes her seat as the main guest. Rebeka transfers the cum to Annie and she makes the first gulp..