Angela
Age:

20
Height:

177
Body:

90-60-90 (cup: 2)
Info:

Heterosexual. I never tried sperm before. I'm still a virgin..
Cum fact:

I liked swallowing but not hold in mouth or be shot on face and eyes
Total swallowed:

200
I was in American magazine Playboy. I love travel around the world and meet new people. I never did sex, I wait for the moment when the man of my dreams comes to my life but nowadays i still virgin. I decided to try bukkake because i really like have new experiences and finally i think that i like to swallow sperm.
Angela #3 - Second Camera
She manages to do that perfectly, and as if it wasn't enough, she laps the rest of cum from the bowl, like a kitten laps its milk, to express her satisfaction with the Bukakke action.
Angela #3 - First Camera
18 groups of 3, 4 or 5 cumshots put her mouth and throat to work, as she does her best to swallow all sperm until the last drop goes down her throat...
Angela #3 - Best Scenes
Red tight lingerie leaves lots of delicious young body to our eyes. Angela, young blond girl with long hair and angelic smile, is going to pass another Bukakke exam, measuring the volume of her mouth and her ability to swallow big portions of sperm...
Angela #2 - Second Camera
She then continues with more series of creamy cum, moaning hard and undulating while in the same time leaving the sperm to drip all over her face and lips, cutie ending by swallowing some out of a bowl while smiling.
Angela #2 - First Camera
She shows off with her nice tits exposed and black lingerie to cover only her nipples, ready to start sucking like a goddess and deal as many big dicks as possible. With the first 20 loads in her mouth and another 10 splashing her face and sexy eyes, she moans and undulates, enjoying another 10 loads deep in her throat, swallowing them in the same time...
Angela #2 - Best Scenes
Angela looks like a true angel. During her second bukkake porn experience, she endures more than 69 huge loads of fresh cum blasting in her mouth and down her face. She is a young hottie which sure loves cum, with golden hair and sweet face, nice lips and a passion for black outfits and sexy trikini...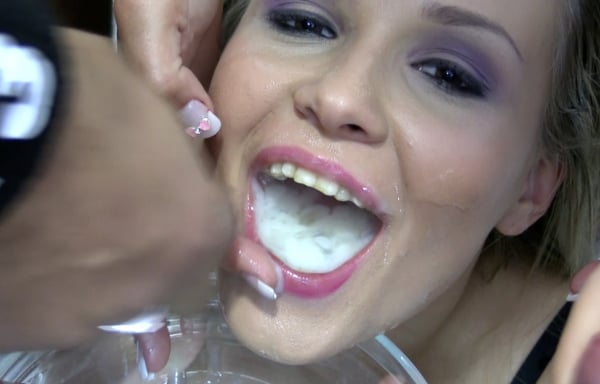 Angela #1 - Second Camera
She drinks the seed as if she has been doing this for years. Angela swallows big portions of semen at once. All the time this splendid babe has wonderful mood. This is what we call a real pro.
Angela #1 - First Camera
90 cumshots is what waits her in this gokkun video. She must take everything in her mouth, and drink the leftovers from the bowl. The talented virgin is covered in jizz. Her eyes are under the warm sperm coating...