Yenifer Chacon
Age:

24
Height:

173
Body:

87-65-101 (cup B)
Info:

Regarding sex, I consider myself a sexual explorer (I like to try new things and see what I like and what I don't. What would I repeat and what would definitely not)
Cum fact:

I swallowed too much sperm, it was more than enough. Swallowing was difficult, especially the first mouthful. It was harder for me to swallow than to hold it in my mouth. I prefer to swallow the sperm from the mouth than from the bowl. But hey, I liked trying the new bukkake experience.
Total swallowed:

156
Hi, I'm Yenifer Chacón. I am from Merida Venezuela but I currently live in Colombia. I started in the industry as a webcam model a year and a half ago and I have been in Porn for a year.
I like physical activity, my favorite is hiking, swimming, climbing. I love traveling and dancing.

Yenifer Chacon #3 - Bukkake - Behind The Scenes
Despite we know that Yenifer can look like a cold Snow Queen, she's just a young fresh babe who wants to be beautiful and gulp some jizz. When she poses for a photo shooting, she shows her delicious body with naked pierced tits to the guys, so one of them merely can't stand and suddenly drops a cumshot to her mouth..
Yenifer Chacon #3 - Interview before Bukkake
Stunning Yenifer Chacon has come for swallowing cum with her friend Lia Ponce and they basically compete with each other - who swallows more :) While they share their plans and discuss the cum nuances, they both try to accept and gulp a single cumshot each and both feel pleased with that. Seems Yenifer is ready :)
Yenifer Chacon #3 - Bukkake - Second Camera
She looks beautiful with cum on her lips and cheeks when it pours down to her mouth. Staying handcuffed, Yenifer helps herself with a cum glass which gets filled too. The guys make a jizz mess with her face and Yeni has to swallow the last cumshots and the residual cum from the glass being facialized. Amazing!
Yenifer Chacon #3 - Bukkake - First Camera
Yenifer gets the very first cumshots right on her face when the guys try to aim to her mouth but Lia helps to direct all the cum where it's needed. Yenifer obediently collects wholesome 20 loads and makes the first gulp with full focus. She's not a big fan of gulping hot cum from the dicks but still does it.
Yenifer Chacon #3 - Bukkake
Drop dead gorgeous Yenifer Chacon is back for her third, the most intriguing bukkake. She's presented by Lia Ponce who holds her on a chain so the elegant submissive brunette has no other choice than to do blowjobs handcuffed. Her perfect perky tits are pierced and look wonderful as she doesn't hide them.
Yenifer Chacon #2 - Bukkake - Behind The Scenes
Yenifer is happy to be on the stage and she's fully aware of how stunningly beautiufl she looks in that transparent dress, so the passing by guys can't stand still and want to drop another couple of loads into her mouth. And when she gets nude, she even tries to seduce the cameraman with her open pussy..
Yenifer Chacon #2 - Interview before Bukkake
That's a fairy informative interview with Yenifer Chacon and it turns out she's a truly conscious person. Not surprisingly, right after the moment she intentionally swallowed her first cumshot she began trying different things which came here here, to swallow hundreds of loads. She starts with two, though :)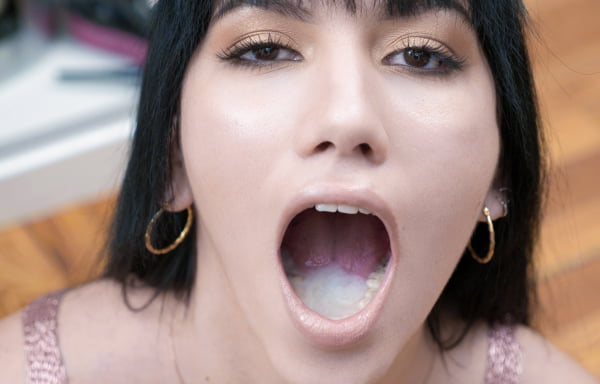 Yenifer Chacon #2 - Bukkake - Second Camera
Despite that, she overcomes herself and swallows two giant mouthfuls with like 15 loads each. She collects more cum in her mouth when the lads shift their aim to her eyes. Yenifer becomes fully glazed with a thick jizz mask. With all her eyes filled with cum, she makes the last big gulp. Challenge is done :)