Victoria Daniels
Age:

24
Height:

170
Body:

90-65-89 (cup B)
Info:

I love sex with many men and females and eat sperm is for me quite pleasurable.
Cum fact:

I went to madrid because my school mate convenced me and told me to try to swallow one hundred cums
Total swallowed:

141
I live alone in Prague with my dog, and my dream is to open a Beauty Saloon. I hope have a big big family one day. Im not complicated, happy nature, and mostly I get alone with anyone. is very rare that somebody is not confortable to stay with me. I love cooking and going to nature and make some sport. Fitness, running, bike. I don't have boyfriend, more called sex friend.
I'm near 4 years working in porn Bussiness and I love this job. I love to try new sexual experiences in my life and I'm not scared of anything.
Victoria Daniels #2 - Behind The Scenes
We can see Victoria when she's out of her image and thus catch those true original emotions and reactions we seek for so often.. Victoria is very cute when she's natural and not pretending :) Lovely babe!
Victoria Daniels #2 - Bukkake
Gorgeous Victoria Daniels returns for some blowbang bukkake action and gladly welcomes guys' dicks on her face. Starting slow with 10 loads in her mouth, she increases her dosage to 15 and then to 20 huge loads! Filling her cum bowl with ten more, she drinks it and feels like she's enough. Well, not al all :)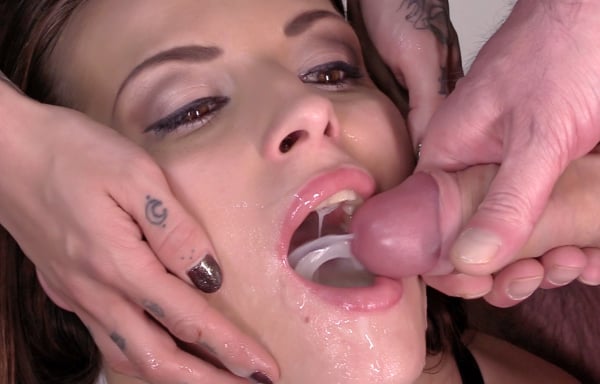 Victoria Daniels #1 - Behind The Scenes
Victoria doesn't look exhausted after her beautiful bukkake and shares her emotions and impression about the scene. We definitely have to look at this girl once again!
Victoria Daniels #1 - Bukkake
A famous Czech pornstar, a blonde and simply a beautiful girl, Victoria Daniels comes to try the original Premium Bukkake experience. From the first gulps she can't hide her emotions that swallowing is not that easy for her. Nevertheless, she manages to swallow 48 huge cum loads with 15 of them being shot to her face!