Silvana
Age:

22
Height:

170
Body:

85-70-95 (cup: 2)
Info:

Heterosexual open-minded. I tried sperm many times before.
Cum fact:

Sperm smell is nasty and taste is always different depending of man. I hate cold sperm.
Total swallowed:

298
I love tattoos: "las palabras sobran" means "actions speak louder than words" under my left tit; that's me! I have a little poodle. I'm an amateur porn actress. In this bukkake party I started with a few guys and every time I was saying to myself: "this is last time"! because sperm's taste is "nasty" but Silvana always come back.
Silvana #6 - Second Camera
Gathering strength, Silvana makes several confident mouthful gulps and drinks all those 99 cum loads up to the end. What a lovely girl!
Silvana #6 - First Camera
Silvana is shocked when she sees two goblets full of still warm jizz. However, not at all embarrassed, she tries from each glass and finds a difference in taste...
Silvana #6 - Best Scenes
Our famous Spanish pornstar Silvana is back on stage. Today she's going to drink an incredibly huge amount of sperm...
Silvana #5 - Second Camera
When about 40 loads is collected, the guys start to shoot their shoots right on Silvana's vivid face with bright emotions. She looks beautiful with the cum on her forehead flowing through to her eyes. Fully facialized, she drinks the bowl up till the last drop!

Silvana #5 - First Camera
She masterfully drives into the blowjob action and the guys hold their breath while Silvana sucks the cum out of them. First tens of loads are quite mixed for her, she's gargling and playing with sperm and directs it into a bowl..

Silvana #5 - Best Scenes
Silvana has never been so amazingly beautiful as today. We truly believe this is her best performance at PremiumBukkake. Today she's a brunette again and wants to drink a lot of cum..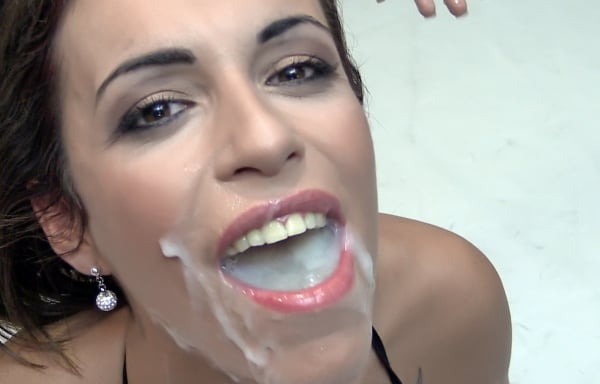 Silvana #4 - Second Camera
The next series of ten cumshots each seem difficult for this young girl to swallow in time. Final five loads of cum spurting into her mouth make Silvana want to run away, as soon as she swallows it.
Silvana #4 - First Camera
First ten guys come shortly after she starts sucking their big cocks; she holds cum in her mouth for a while, and adds some jizz from the bowl. Her mouth is full of sperm now, and she has to put some efforts to swallow it all at once; it takes time and the girl looks disgusted...