Sherry Vine
Age:

28
Height:

172
Body:

88-70-90 (cup C)
Info:

Bisexual. Used to try sperm.
Cum fact:

Shooting was quite successful, in some places it was very tasty. And I liked it!
Total swallowed:

480
I like to cook, I study different national dishes. I spend my free time in the summer time in my garden. In the winter I am fond of embroidery. a kind woman, a loving wife.
Sherry Vine #5 - Bukkake - Second Camera
Being cum-glazed with like 20 loads more, Sherry has a bowl of cum to drink and she prepares herself for this, breathing and focusing and finally she drinks a dozen loads more, totaling 70 swallowed loads. Sherry is simply amazing, as always!
Sherry Vine #5 - Bukkake - First Camera
Beautiful Sherry accepts tens of loads directly in her mouth without misses and every load makes her shiver in a wide gamma of emotions. She feels every nuance of the sperm flavor and can't hide it. She doesn't forget to fill her bowl with loads that are left from her facial cumshots.
Sherry Vine #5 - Bukkake
Sherry Vine, our bukkake Queen, is back and now she's in a new location, atmospheric dungeon somewhere in France. As usual in bukkake, she starts with a blowjob action and we know that Sherry sucks with passion, so the cum loads appear quickly. She feels the sperm taste and smell from the very first loads..
Sherry Vine #4 - Gloryhole
Elegant Russian lady, Sherry Vine simply loves doing blowjobs in a gloryhole box. She's already become a pro in this subject and today she's going to confirm her skills. Sherry masterfully manages to caress around 20 dicks during a blowjob warmup and prepare the guys to shoot their sperm..
Sherry Vine #4 - Blowbang - Behind The Scenes
In a very special BTS scene you can see not only Sherry making up and preparing for the blowbang, but a fantastic moment when she's going out for a public walk with sperm on her face! Sherry feels a bit weird but seems to love this action and enjoys each second on the street :)
Sherry Vine #4 - Blowbang - Second Camera
The prepared huge thick loads jump on her marvelous face and even by 8th cumshot Sherry is facialized fully but guys continue. She lays on a sofa and slowly masturbates while guys shoot cum on her face from above, aiming the loads both in her eyes and into her mouth, making her swallow 14 shots in the end.
Sherry Vine #4 - Blowbang - First Camera
This time Sherry Vine wants to try herself in multiple simultaneous dicksucking and starts with a warmup of 10 minute blowjob for the guys. When they get hornier, Sherry sits down on her knees and guys push their dicks to her mouth from 5 sides at once. Sherry tries to please everyone and so guys start cumming..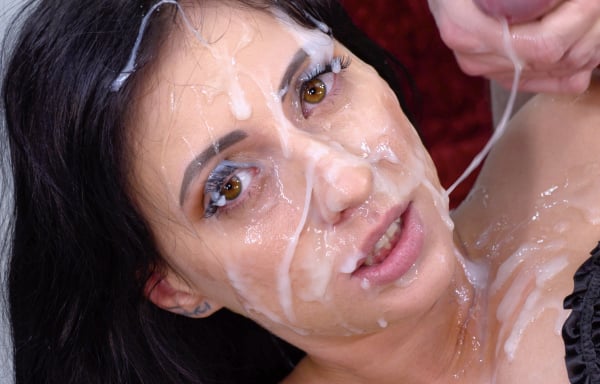 Sherry Vine #4 - Behind The Scenes
In today's BTS footage you can peek how Sherry behaves herself in the real life and while doing a photosession and changing clothes. Her lively mimic and natural reactions are priceless. But you still can see them ;)