Sherezade Lapiedra
Age:

25
Height:

168
Body:

85-59-90 (cup B)
Info:

Hetero, tried sperm before - 1 guy cumming at a time maximum
Cum fact:

I thought that it was going to be more complicated that it was going to be harder. but it has been funny and different experience. i've been very comfortable. it was a mixture of flavors. some of them stronger and others more easy to swallow. The smell was very intense, it was very concentrated.
Total swallowed:

164
My name is Sherezade. I was born in Girona, Spain. Living in Barcelona.
I started in porn industry August last year but it was very quite since then and now I'm back.

I like sports, Reading, music, beach...

I like public sex with my partner, when I'm in a relationship.
Sherezade Lapiedra #2 - Interview before Bukkake
Slim and beautiful Sherezade simply loves white color, that's why she chooses a bride dress and today's outfit ;) You can see her explaining her excitation from the previous bukkake and telling how she likes jizz in reality. She has to admit that she started to love it :) And does a small warmup :)
Sherezade Lapiedra #2 - Bukkake - Behind The Scenes
Sherezade knows she's cute but doesn't skip a chance to look prettier :) After applying makeup, she poses on her knees for the photographer when some random guy comes and drops a strong load into her mouth. The taste seems very strong for the girl but she continues and undresses, showing us her tits..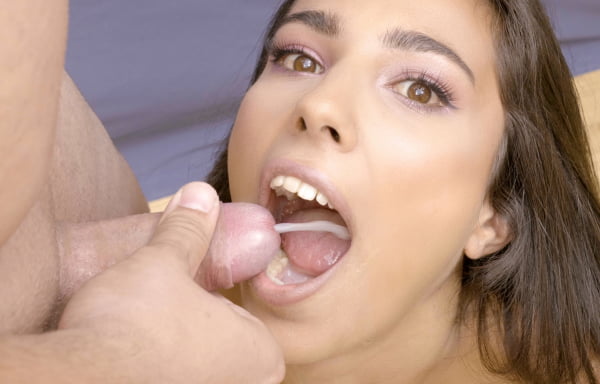 Sherezade Lapiedra #2 - Bukkake
Our new cum addition Sherezade Lapiedra is no longer a naive amateur, she wants more jizz and more Spanish guys not only to feed her with their well-prepared cumshots but also to fuck her in a beautiful two-way gangbang after she gulps her first 22 loads and then has to suck the dicks and to enjoy them from behind!
Sherezade Lapiedra #2 - Bukkake - First Camera
Sherezade continues and takes her cum bowl which she uses to collect the excessive cum. The spurts land on her face and hair but a cum-scooper girl helps her to direct all the sperm in her mouth ;) Sherezade swallows a lot as no drop is lost and she has to sip from her bowl to surely having a mouthful..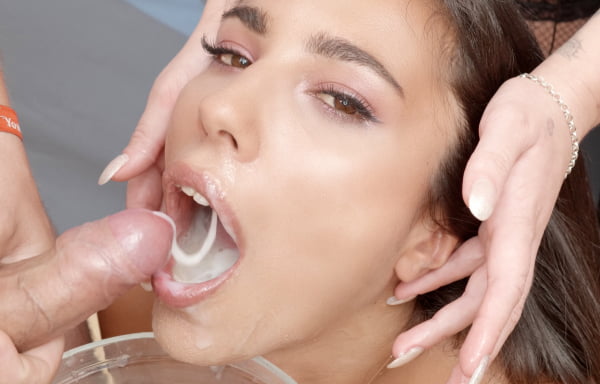 Sherezade Lapiedra #2 - Bukkake - Second Camera
Having swallowed around a 70 cumshots, beautiful naked girl stays on her knees and puts her marvelous face under the dense and tight jizz streams, keeping her eyes open and accepting cum this magnificent way. With cum on her face, she makes her final gulp and finishes the bowl. She outdid herself!
Sherezade Lapiedra #1 - Interview before Bukkake
Amazing - it turns out that our beautiful slim babe Sherezade is literally a runaway bride! She took her wedding dress from her supposed wedding and decided to try other men's cum instead of her regular partner. She gets warmed up with a couple of cumshots in a martini glass and find herself ready for bukkake!
Sherezade Lapiedra #1 - Bukkake - Behind The Scenes
Sherezade continues to warm up and gulps a couple more cumshots from a martini glass, then slowly undresses and seductively poses for a photo session. She has some fun with Marina Gold while being cum-glazed and she tries to answer a few question with cum on her face.. She feels really good and wants more..
Sherezade Lapiedra #1 - Bukkake
It's a truly amazing bukkake right from the start - stunning Sherezade Lapiedra hasn't experienced not only bukkake in her life. She hasn't even tried swallowing more than one cumshot at a time! And this amazing porn starlet is wearing a wedding dress and sucking dicks, shyly but seductively!