Sherezade Lapiedra
Age:

25
Height:

168
Body:

85-59-90 (cup B)
Info:

Hetero, tried sperm before - 1 guy cumming at a time maximum
Cum fact:

I thought that it was going to be more complicated that it was going to be harder. but it has been funny and different experience. i've been very comfortable. it was a mixture of flavors. some of them stronger and others more easy to swallow. The smell was very intense, it was very concentrated.
Total swallowed:

207
My name is Sherezade. I was born in Girona, Spain. Living in Barcelona.
I started in porn industry August last year but it was very quite since then and now I'm back.

I like sports, Reading, music, beach...

I like public sex with my partner, when I'm in a relationship.
Sherezade Lapiedra #3 - Bukkake - Behind The Scenes
Gorgeous Sherezade Lapiedra almost doesn't change her look after applying the makeup as her natural beauty is stunning. The guys around notice that and one of them barely holds his load in a desire to drop it in her mouth. Sherezade replies instantly and swallows that sticky load, with some effort though..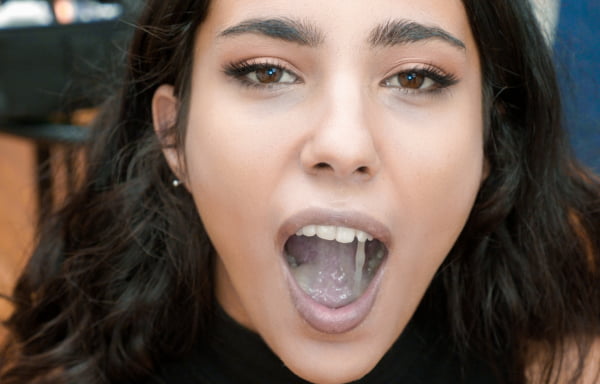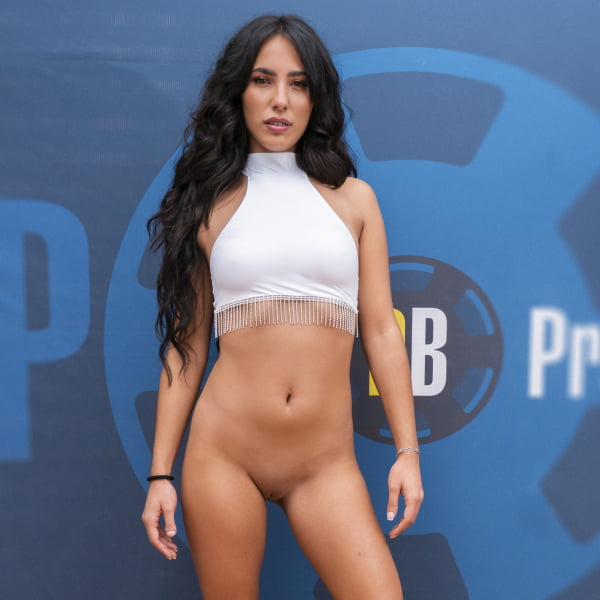 Sherezade Lapiedra #3 - Interview after Bukkake
It's all mixed up for Sherezade Lapiedra during her last bukkake - the jizz is everywhere - on her face, in her eyes, on her body. Being fully cum glazed, she's smiling and wishing to know what's next. Making the real final sip from the cum glass, she plays a super-game to pass the swallow turn to another girl..
Sherezade Lapiedra #3 - Bukkake - Second Camera
Having swallowed around 30 effortful loads, Sherezade feels she's ready for the thickest facial flood in her life. The guys have prepared more loads and merely transform her face to a thick white glaze mask which actually makes Sherezade look even more beautiful! She's never experienced that before for sure!
Sherezade Lapiedra #3 - Bukkake - First Camera
So the cum starts to flow in Sherezade's open mouth and the very first loads have a very strong taste for her but with the help of her cum glass she makes the first gulp and goes on, accepting the loads one by one and having her lips messed in cum as there's no scooper behind her - she's sucking cocks, btw ;)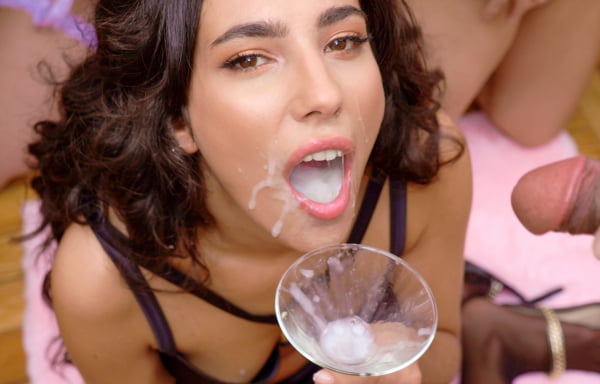 Sherezade Lapiedra #3 - Bukkake
Three beautiful girls came one day to swallow cum but only one of them is to be chosen this time. The world famous game Yan Ke Po, you know, should solve that complex question. And the winner is - Sherezade Lapiedra! Such a strong concentration of femininity in one place can't let the guys stand long enough..
Sherezade Lapiedra #2 - Bukkake - Behind The Scenes
Sherezade knows she's cute but doesn't skip a chance to look prettier :) After applying makeup, she poses on her knees for the photographer when some random guy comes and drops a strong load into her mouth. The taste seems very strong for the girl but she continues and undresses, showing us her tits..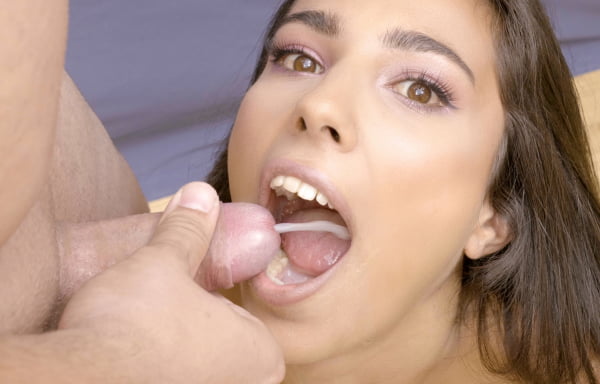 Sherezade Lapiedra #2 - Interview before Bukkake
Slim and beautiful Sherezade simply loves white color, that's why she chooses a bride dress and today's outfit ;) You can see her explaining her excitation from the previous bukkake and telling how she likes jizz in reality. She has to admit that she started to love it :) And does a small warmup :)
Sherezade Lapiedra #2 - Bukkake - Second Camera
Having swallowed around a 70 cumshots, beautiful naked girl stays on her knees and puts her marvelous face under the dense and tight jizz streams, keeping her eyes open and accepting cum this magnificent way. With cum on her face, she makes her final gulp and finishes the bowl. She outdid herself!