Rebeka Brown
Age:

19
Height:

160
Body:

90-65-90 (cup B)
Info:

Tried sperm before - I swallowed 2 cumshots at a time.
Cum fact:

I was excited about seing all those men cuming for me, but also a little nervous just in case swallowing all those loads was too much for my stomach. Finally I had fun and could go until the end.
Total swallowed:

85
I just turned 19 two weeks ago, I'm from Madrid, and I have always liked sex since I am a teenager, so porn actresses always were fascinating to me. When I had the chance to enter this world I took it, so now I can pay my stydies doing something I love. Doing huge bukkakes is my favourite thing to do for my fans.
Rebeka Brown #2 - Bukkake - Behind The Scenes
Stunning young Rebeka shows all her juicy tits and tight ass when posing for a photo session.. She's so serious and tuned up for her upcoming bukkake so she gets relaxed only after the first sudden cumshots that spot on her from all the sides.. She accepts and swallows them with a smile..
Rebeka Brown #2 - Interview before Bukkake
Adorable Rebeka Brown tells us about herself and it turns out she's an insatiable cum addict who loves sperm and has a great expectations from the upcoming bukkake! She distincts the cum taste nuances and with no hesitation goes for a sip from an offered bottle and finish it in just two gulps! What a start!
Rebeka Brown #2 - Bukkake - Second Camera
After swallowing 45 cumshots, Rebeka puts her beautiful face under the jizz streams and has it fully covered in thick white semen.. She takes out the rest of cumshots from her cum bowl with her fingers and merely eats it! Being cum-glazed, she gets a couple finishing cumshots and gulps them with a smile!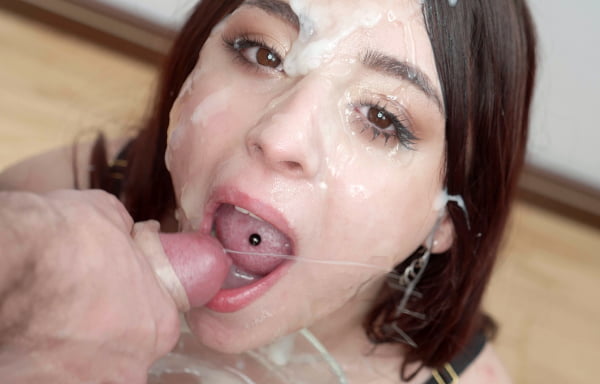 Rebeka Brown #2 - Bukkake - First Camera
Rebeka tries very hard to give pleasure to the guys and they spurt their loads into her mouth in return.. She tries to scoop the cum into her mouth and helps herself with the fingers, awaiting for a command to swallow.. She happily gulps twice and smiles, obediently expecting for more cum..
Rebeka Brown #2 - Bukkake
Well, gentlemen, you asked and we delivered - Rebeka Brown is finally having a bukkake today! She's a bit nervous as she's so young and naive but after just a few seconds of her consideration she throws herself into cock-sucking action! Rebeka stuffs herself with the dicks and gets ready for cum flow..
Rebeka Brown #1 - Gangbang - Second Camera
Ana Spears comes to help Rebeka and licks some cum from her neck and face, sharing the experience with her friend and gulping a bit of sperm too! Rebeka eventually swallows around a dozen cumshots, however we see it's a big challenge for her, although she submissively accepts it and goes through well!
Rebeka Brown #1 - Gangbang - First Camera
Rebeka looks to be so newbie and her sucking skills are not that perfect but she almost gags herself with some dicks trying hard. Guys want more and penetrate her from behind while she continues a blowjob. Eventually guys start cumming and we can see sperm spurts interacting with a metal barbell in her tongue..
Rebeka Brown #1 - Gangbang
Another Spanish amateur teen Rebeka Brown wants to break her cum resistance and tries her first steps. She is not very acquainted to cum swallowing but loves to fuck. Getting undressed, she instantly gets surrounded by a pack of horny lads with naked dicks who push them into her mouth..