Rebecca Volpetti
Age:

20
Height:

160
Body:

81-56-81 (cup A)
Info:

I'm Italian, I'm crazy about sex, I can have a lot of orgasms, I love to do porn
Cum fact:

In fact I swallow sperm everyday
Total swallowed:

219
I was always dreaming to do a extreme bukkake and I'm so happy having doing it with PB and beating the record with 116 swallowing cumshot, I hope next time I will beat my own record
Rebecca Volpetti #2 - Behind The Scenes
Unbelievably cute and innocently looking Rebecca may seem to be a naive teen when she's staying under a shower, embarrassingly drooping her eyes. But when she's made up, she turns into a fateful glamorous lady. Watch for all these metamorphoses by yourself in the Behind The Scenes action ;)
Rebecca Volpetti #2 - Second Camera
Rebecca tries to fill her mouth up to the limit, shuddering from an effort of holding 20 loads at a time. When she swallows, she can't do it at once and has to make up to three gulps as the cum volume is too huge for her little mouth. But she bravely finishes the cum bowl and feels exhausted but happy..
Rebecca Volpetti #2 - First Camera
After setting an all-time record of 115 loads, Rebecca Volpetti wants to go for quality instead of quantity. She passionately breaks into the sucking action, trying to gag herself with two cocks from both sides with a smile of her face. Guys reply with sloppy cumshots, flooding Rebecca's face with cum..
Rebecca Volpetti #2 - Gloryhole
Rebecca Volpetti returns to PB for more cum swallowing and gets it right from the first second! Just when she enters the gloryhole room, she instantly throws herself towards the popping dicks. She licks and sucks them with a frenzy, almost gagging herself to choking. She's a natural beautiful cock slut!
Rebecca Volpetti #1 - Behind The Scenes
You may find how this cute Italian girl uncovers her personality while not being on a hot spot of the camera light. Her charming smile and naive teenage look may melt your heart and make you forget all she's just have done. ;) Welcome, bukkake princess, to our PB family!
Rebecca Volpetti #1 - Second Camera
She almost eats the sperm while swallowing, feeling the whole palette of guys' tastes and showing us her surprising emotions. After 80 loads the guys start cumming to her eyes, flooding them with sperm but facialized Rebecca bravely gulps her cum bowl and totals 115 swallows, breaking the PB record!
Rebecca Volpetti #1 - First Camera
Oh, Rebecca loves to suck cocks! This slender petite babe unexpectedly tries so hard to make a deepthroat blowjob for everyone, so she sometimes forgets to breath. When guys start to erupt, Rebecca swallows first series of 7 loads a few times, then increases to 15 but finds her optimal at ten loads at a time..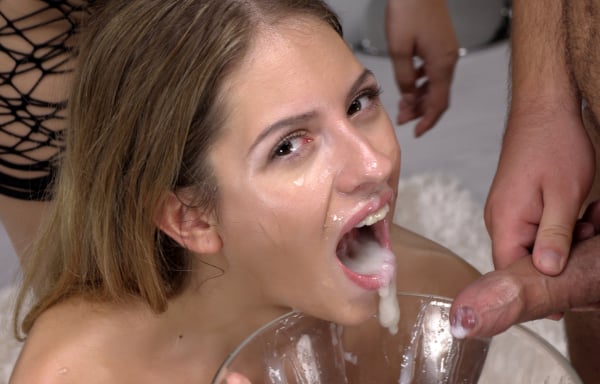 Rebecca Volpetti #1 - Gloryhole
Rebecca Volpetti looks to be a gloryhole first-timer, so we have a chance to surprise her. Immediately she starts sucking the popping out dicks with a great passion, almost choking herself while taking them too deep. She loves doing that and enters the rage, dedicating herself to the blowjob totally..