Queen
Age:

21
Height:

173
Body:

89-71-99 (cup C)
Info:

I love sex especially and when I learn new things and do new practices.
Cum fact:

I really like hard vaginal scenes, I also love spankings and especially when the men are ready to ejaculate and I get it all over the place.
Total swallowed:

110
My name is Queen and I started in porn very recently I've been doing this for 5 months and I love my job more than anything, which gives me unforgettable experiences and that I travel more for the work, it's just fabulous. I also love watching my videos when they come out and tell me there are going to be a lot of men going to satisfy on them and all of that turns me on.

Twitter: @thequeen01j
Instagram: @thequeen02j
Queen #2 - Bukkake - Behind The Scenes
Queen looks like she doesn't need a makeup at all. She's beautiful by her nature and, probably, she might not even know how cool she is. However, when she poses for a photo session and shows her great body, a couple of guys approach her to drop their loads and she easily swallows each of them, looking at the guys..
Queen #2 - Interview before Bukkake
That Queen is amazing. She sits in a cafe, fully clothed and charmingly answers the questions with her French accent, theorizing about sperm tastes and sex preferences. She is eager to try and drink the full bottle of sperm she's given and does that with a smile! Looks like she indeed loves cum!
Queen #2 - Bukkake - Second Camera
Having swallowed around 40 loads, she feels hot and removes her underwear and by that moment her cum-scooper has to help directing more intense cumshots to her mouth. Queen becomes feeling enough but still bravely continues. She smiles and the guys unload their jizz onto her face, and Queen drinks all the cum afterwards.
Queen #2 - Bukkake - First Camera
She kneels down and gets ready for accepting cum. Queen looks relaxed and welcoming the first spurts landing to her mouth. The first gulps go easy and she just smiles. With further jizz being landed to her mouth, Queen still shows no signs of dislike and it looks like she's just and obedient cum-swallower.
Queen #2 - Bukkake
The beautiful French amateur model Queen is back on stage for her first in the life bukkake. She is set with a good mood and feels brave about swallowing a lot of cum today. Queen thrusts fat dicks into her mouth and gets surrounded by the guys quite quickly, finding herself among an intense blowbang action.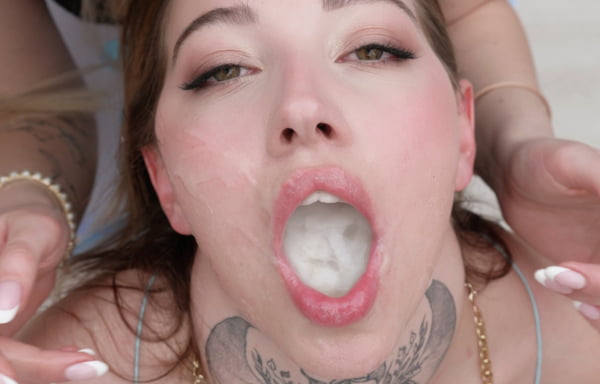 Queen #1 - Gloryhole - Behind The Scenes
Our newcomer Queen has got a great body and she knows that and tries to show it from the very favorable sides during her photo session. She has a nice ass and firm tits and exposes her body fully. The guys on the stage approach her and unload their saved cumshots to her mouth. One of them holds her head..
Queen #1 - Interview before Gloryhole
So that French amateur babe is getting ready for her first gloryhole and she claims she loves sucking dicks and swallowing sperm, despite she's never tried gloryhole! Where did she learn all that? We might know this in the future and for now Queen casually tastes a bottle of jizz and assures she loves it!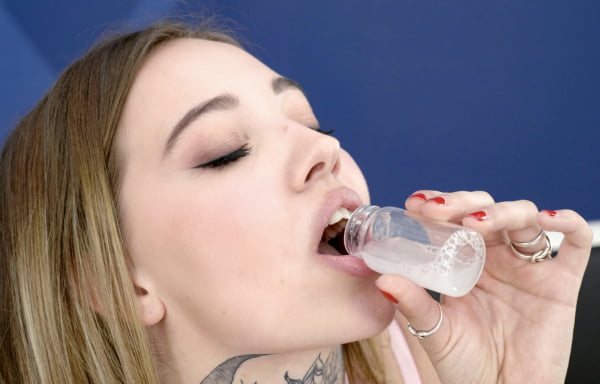 Queen #1 - Gloryhole
Today we have a new babe - Queen, just Queen ;) She's a hot blonde from France and she's eager to try her cum-swallowing abilities today and starts with a gloryhole! She slowly enters the box and smoothly starts sucking the dicks, slowly, gently but effectively. So the cum starts to flow quite quickly.