Pris Angel
Age:

20
Height:

161
Body:

82-65-86 (cup C)
Info:

Bisexual, daring, playful and kinky
Cum fact:

I can stand semen, I enjoy its texture and taste
Total swallowed:

288
I am Priscila and I am Colombian, I have been in Spain for 2 years and 7 months, I am a dancer and I like to read, I am an open-minded and overly liberal girl, I am always open to new experiences.
Pris Angel #4 - Bukkake - Behind The Scenes
Pris Angel has a great holiday mood and poses for a photo shooting near the Christmas tree. She lies down comfortly when one lad notices her and wants to drop a load in her mouth. She accepts easily, so another one uses such an example and drops another cumshot, even more thick. Pris swallows everything..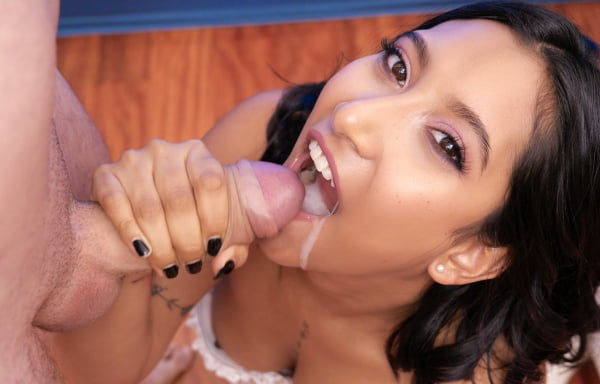 Pris Angel #4 - Interview before Bukkake
Beautiful Pris with a glass of cum appears in front of us, showing her beautiful ass. She theorizes about new improvements she would like to see in our bukkake videos and actually it's sex for her, more cum and more cute guys :) She tastes the sperm accurately, shows on camera and beautifully swallows, laughing..
Pris Angel #4 - Bukkake - Second Camera
She takes a sip from her cum glass and frees her gorgeous body from a tight corset, staying fully nude. The guys switch their cumshots to her face, so miss Angel becomes brutally facialized, including her wonderful eyes. Being full in cum, she makes the final gulp from the glass and is still smiling!
Pris Angel #4 - Bukkake - First Camera
The cumshots are thick and heavy and Pris is used to such flow of cum. She helps herself to direct all the cum into her mouth but despite that her beautiful face gets messy. She manages to hold more than 20 loads of cum in her mouth before gulping! Pris clearly enjoys the action and smiles each time she swallows..
Pris Angel #4 - Bukkake
So, you wanted her back and here she is - Pris Angel returns for some more cum swallowing action, this time even more lovely and joyful. She pleases the guys at first, sucking their dicks for a while, and then gets down on her knees to extract all the jizz they've prepared for her this New Year's eve :)
Pris Angel #2 - Bukkake - Behind The Scenes
Pris wants to find her ideal look and does some experiments with her makeup. She changes her clothes and gets nude, so a random guy passing by drops a thick sloppy cumshot right into her mouth. She happily swallows it but it's clear she's tried better ;)
Pris Angel #2 - Interview before Bukkake
Strong confessions from Pris Angel about how bukkake changed her intimate life may be exciting, especially when she shares some details about her sexual partners.. She instantly agrees to swallow a random warmup cumshot when offered and it looks like she can swallow cum almost of any taste nowadays! :)
Pris Angel #2 - Bukkake - Second Camera
The guys increase the cum load and eject several dozens cumshots on Pris' face, covering it with a glossy mask, making it even more beautiful as well as her body with streams of cum crossing over it. Pris makes a deep breath and chugs the last portion with a pleasant smile. She handles her hundred loads again!