Pris Angel
Age:

20
Height:

161
Body:

82-65-86 (cup C)
Info:

Bisexual, daring, playful and kinky
Cum fact:

I can stand semen, I enjoy its texture and taste
Total swallowed:

113
I am Priscila and I am Colombian, I have been in Spain for 2 years and 7 months, I am a dancer and I like to read, I am an open-minded and overly liberal girl, I am always open to new experiences.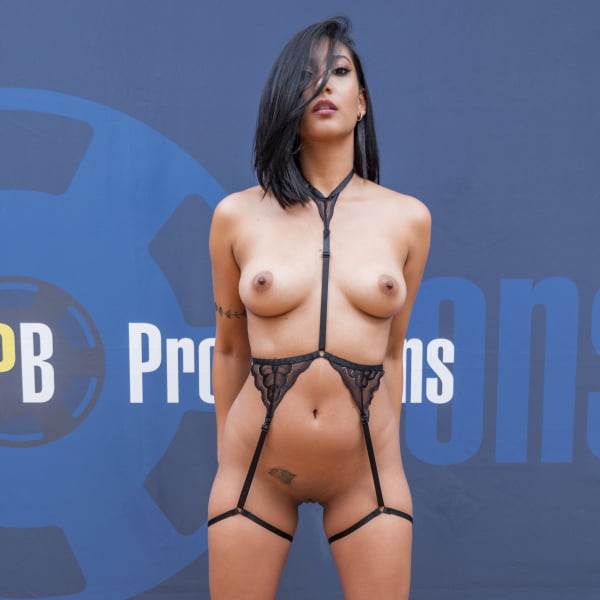 Pris Angel #1 - Interview before Bukkake
Pris Angel seems to love having her dose of fresh air at the balcony and gladly answers a few questions about herself. She thinks she's too innocent for a bukkake as she only tried to swallow cum from her boyfriends. Nonetheless, she quickly kneels down and accepts three warmup loads with no doubt..
Pris Angel #1 - Bukkake - Behind The Scenes
Sexy Pris is just trying to have her makeup ready but the horny guys around don't let her finish the process and interrupt her several times with their cumshots. She just smiles and opens her mouth for their thick loads.. Later on, fully nude and with cum on her face, she sits near Marina Gold and..
Pris Angel #1 - Bukkake
An extravagant brunette from Colombia, Pris Angel has not a lot of experience in porn and this is her first bukkake. She's dressed like a kinky high-school student and starts from a little tease, showing her pussy and tits. The guys stand in a row and she sucks their dicks, crawling on her knees..
Pris Angel #1 - Bukkake - First Camera
The sperm flows unexpectedly but Pris is ready to accept it. The first loads are quite intense and she barely holds her first big mouthful, although, making an effort, she gulps and continues. It's clearly seen Pris doesn't swallow cum too often as she gets surprised every time she has to gulp.
Pris Angel #1 - Bukkake - Second Camera
Pris gets nude and collects more than 70 huge loads with a smile when guys decide to ejaculate on her pretty face. The cumshots are distinctively thick this time and the sperm is so sticky that it stays on her face as a glossy mask. She plays with her pussy, enjoying the facial cumshots.. And that's not all!