Prim
Age:

21
Height:

160
Body:

80-64-93 (cup C)
Info:

Bisexual. But prefer men.
Cum fact:

What I like more about sex is to swallow sperm, I like to taste it for a while, being watched with it. I get excited about the smell and taste
Total swallowed:

297
My name is Prim, I am from Venezuela, I came to Madrid to work and study. I became aware of the shooting because I used to be one of the fluffers.
Prim #4 - Bukkake - Second Camera
Yet she continues and tries to feel joy but the jizz loads wash away her smile. The cum covers her face and pours over her cheeks with heavy streams. Prim takes her last gulp from the bowl and finally laughs in relief. With thick white mask on her face she even answers a few questions about how much she likes it ;)
Prim #4 - Bukkake - First Camera
From the very first loads the guys spurt them to her face, so she has to wrinkle due to cum in the eye. She swallows the first 16 loads with a lot of efforts, barely going on with the gulp, but continues. The cumshots are very intense today and Prim has already swallowed a lot just recently..
Prim #4 - Bukkake
Amazing Prim has come to her fourth bukkake with us and this time she doesn't even expect how massive it's going to be! To have some warmup, she goes sucking the dicks quite gently and thoroughly but quickly gets ready for accepting cum to her mouth. The taste seems not to be the best for her but she just prepares her mouth..
Prim #3 - Bukkake - Behind The Scenes
Although Prim has worked out with her body quite a lot, internally she's still the same naive amateur girl trying to explore her inner sinful nature and expose it to the public. She magically transforms to a sexy lady with the help of makeup and instantly catches a load from a random guy passing by..
Prim #3 - Interview before Bukkake
Charming Prim is getting ready for the interview and milks three guys with her hands and lips.. She enchantingly watches for the cum loads to pour into the glass. Prim has improved her body a lot with exercises and shows how she beautifully does them on camera. She catches another load from a dick directly and feels ready.
Prim #3 - Bukkake - Second Camera
Suddenly some rapid spurt lands into her eye and a few more cum sprouts make her face messy.. Prim stays ready and gets further cumshots with that jizz mask on her face, totaling more than 40 loads accepted and gulped altogether. Not that much but so intense! She provides wonderful joyful emotions that are pleasant to watch.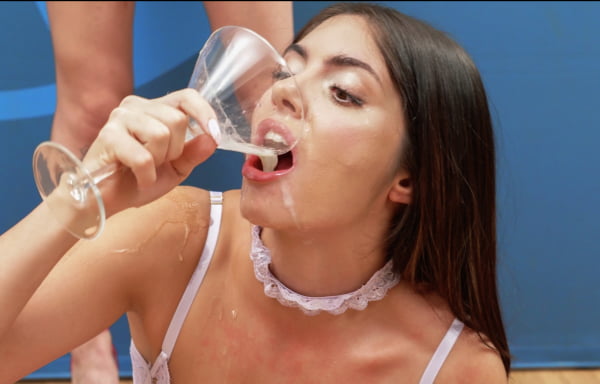 Prim #3 - Bukkake - First Camera
The guys reply with thick loads but Prim is eagerly ready to accept all of them. She opens her mouth wide and swallows the first load just to meet the cum taste. She holds further loads and collects a dozen, plays with cum in her mouth and then gulps with a smile. She looks to the camera when accepting the cumshots..
Prim #3 - Bukkake
So, you wanted this beautiful Spanish babe to return - and she's back here - Prim is trying her third bukkake today! Dressed in a white lingerie, she happily throws herself against male dicks, sucking them with passion and devour, stuffing her mouth full! Prim, probably, has never been so lovely at doing blowjob..