Ohana Petite
Age:

19
Height:

158
Body:

75-60-75 (cup B)
Info:

Haven't tried so much sperm before
Cum fact:

I really enjoyed the experience of swallowing such amount, it was better than what I have expected
Total swallowed:

128
My name is Ohana Petite, I am from Madrid, Spain. My hobbies are acting, mostly everything related with art and trying new experiences. I am really enjoying this experience, so I can say it's one of my hobbies now!
I like small tattoos and I have medium length dark red hair
Ohana Petite #3 - Bukkake - Behind The Scenes
Adorable Ohana elegantly poses in front of the camera and really enjoys the process. The guys around see her posing and can't hold themselves to drop a load into her little mouth. Ohana just helps herself to direct cum into her mouth and obediently gulps. She's charmingly beautiful these moments..
Ohana Petite #3 - Interview before Bukkake
Ohana explains how easy it is for her to do a bukkake, that's why she's decided to go for the third time. She feels an empowered Cum Princess and describes the smallest nuances of cum taste and smell. She really becomes a pro at swallowing and easy proves it by gulping a couple of loads with ease..
Ohana Petite #3 - Bukkake - Second Camera
She seems to be testing herself as how far she can go towards sperm. Ohana puts her face under endless cumshots and the guys cover her face with a thick layer of cum which pours into her eyes and onto her cheeks. Ohana smiles, gulps one more load and states she likes swallowing more than facial.. OK :)
Ohana Petite #3 - Bukkake - First Camera
Beautiful Ohana looks adorably into the camera when holding cum in her mouth and it's truly a mesmerizing view. Her tongue trembles when she holds a big mouthful and she swallows on command. Ohana manages to hold and swallow four big gulps by ten loads each and feels fine! This girl has something in her..
Ohana Petite #3 - Bukkake
We all wanted her back and this day has come - stunning Ohana Petite returns for another massive bukkake! She's just turned 20 but for us she's still a naive redhead teen who in fact has become a cum swallowing Princess during her prior bukkake experience :) Now she's on her knees accepting hot cum..
Ohana Petite #2 - Bukkake - Behind The Scenes
Miss Ohana knows she is beautiful and fully understands how men look at her - she uses every second of being filmed to show off her stunning body with perky nipples, teeny hips and a nice tight ass - and we actually can have pleasure to see all this in our Behind The Scenes footage. Have fun!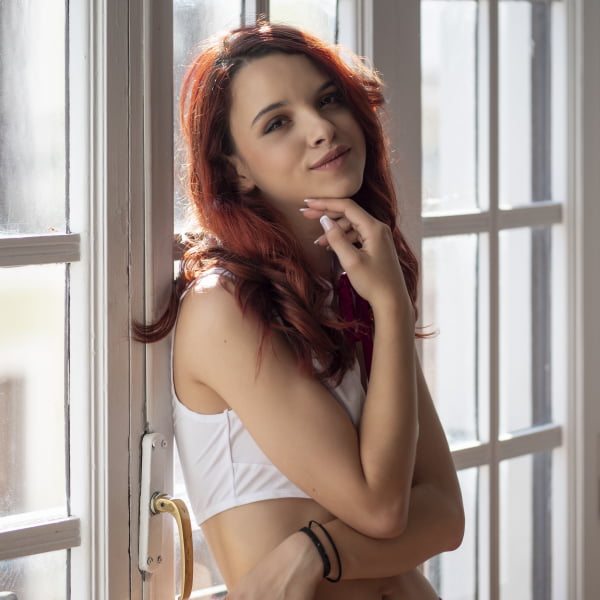 Ohana Petite #2 - Bukkake - Second Camera
She swallows in portions of 8-10 loads and smiles each time she does that! After having 40 loads, Ohana exposes her pretty face to the cum spurts from different angles - and the guys aim to her eyes, trying to fill them with cum. Amazing Ohana enjoys the moment with a happy smile and melts from pleasure..
Ohana Petite #2 - Bukkake - First Camera
Our lovely Spanish redhead Ohana is back for more sperm as she decides to test her limits. She goes into caressing guys' dicks from the very beginning with an adorable smile and does it so gently the guys start cumming quite early and intensively and Ohana eagerly collects and holds the cum in her mouth..