Ohana Petite
Age:

19
Height:

158
Body:

75-60-75 (cup B)
Info:

Haven't tried so much sperm before
Cum fact:

I really enjoyed the experience of swallowing such amount, it was better than what I have expected
Total swallowed:

348
My name is Ohana Petite, I am from Madrid, Spain. My hobbies are acting, mostly everything related with art and trying new experiences. I am really enjoying this experience, so I can say it's one of my hobbies now!
I like small tattoos and I have medium length dark red hair
Ohana Petite #5 - Bukkake - Behind The Scenes
Miss Ohana is beautiful even without a makeup but when she makes her hair and eyes, she becomes drop dead gorgeous. When she poses for the photo shooing and shows her ass and tits, the guys can't stand this and run cumming to her mouth. She just gladly swallows and continues her seducing show :)
Ohana Petite #5 - Interview before Bukkake
It looks like Ohana has not been shooting recently, so she's decided to come back to us first, what ah honor! :) Today she's going to overcome her limits and swallow more than the last time. She collects three loads in a martini glass and drinks them with a smile then adds one more from a dick. Looks like she's fully ready!
Ohana Petite #5 - Bukkake - Second Camera
She feels enough but still continues, saving the cumshots in her gokkun glass. She looks a bit shy and embarrassed but having around 30 loads in a glass, she gulps it with some efforts! The guys have no choice but to flood her pretty face with thick cum loads and Ohana makes final gulps with jizz upon her face and in her eyes..
Ohana Petite #5 - Bukkake - First Camera
She starts collecting the loads one by one, gradually swallowing them in couples, and does this for around 30, then the portions increase to 5-7 and she gulps them too but feels a bit enough. Although she collects quite a big mouthful for her tiny mouth, she swallows that dozen cumshots in one gulp.
Ohana Petite #5 - Bukkake
Probably, some of you have been waiting for this for quite a long :) Lovely Ohana Petite returns for her fifth event and today she's even more beautiful than earlier. Her gentle blowjob drives the guys crazy, so they want to drop their loads to her petite mouth badly. Ohana doesn't mind and obediently kneels down with a charming smile..
Ohana Petite #4 - Bukkake - Behind The Scenes
Sexy Ohana knows what exactly drives guys around crazy about her body, so she knows how to present herself from the right side.. She obediently kneels down as soon as she sees guys with hard dicks around while being pictured during a photo session. The lads can't miss a chance and unload their sperm into her..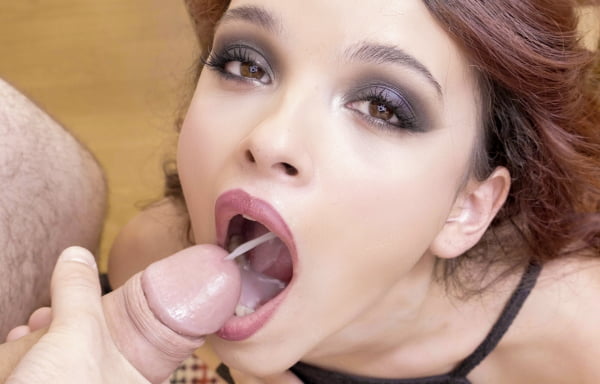 Ohana Petite #4 - Interview before Bukkake
Ohana is a bit nervous before her fourth bukkake despite she's well prepared and she's willing to swallow more than a hundred loads. She knows everything already and can even share some short feedback about the smell and taste of the first three loads in a row while still having them in her tiny mouth..
Ohana Petite #4 - Bukkake - Second Camera
Having gulped 85 cum loads, Ohana feels quite enough but the lads do not.. With a trembling chin, she puts her naive face under the thick jizz jets and gets plastered with a dense layer of cum which gets deep into her eyes. She can't keep them open but manages to do that when the cum counter reaches a hundred.