Victoria Nyx #1 - Bukkake
She's just 19 but she already loves cum - what a beautiful gem she can become! Victoria Nyx comes for her first bukkake from Italy - and she only looks so shy, as when she starts sucking dicks, she shows her acquaintance and devoting to the process :) Her blowjob skills are excellent, so the cum flows fast..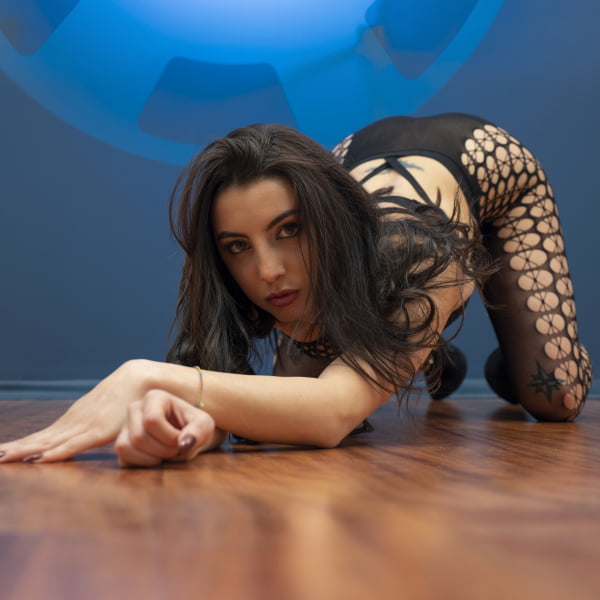 Victoria Nyx #1 - Bukkake - First Camera
Victoria is watching attentively for the guys who cum in her mouth, she is focused on the process and tries to hold cum in her mouth without sudden gulps. When she has to swallow, she does that with an alluring smile and it looks like the taste is indeed good for her! This way she gulps a few dozen loads..
Victoria Nyx #1 - Bukkake - Second Camera
Her cum-scooper almost doesn't intervene the process, so Victoria's face becomes quite messed with jizz but she doesn't mind at all. The guys want more and start shooting their cum streams all across her face so the cum pours down on her neck and naked tits.. Quite aroused, Victoria swallows all till the last drop!
Yenifer Chacon #2 - Interview before Bukkake
That's a fairy informative interview with Yenifer Chacon and it turns out she's a truly conscious person. Not surprisingly, right after the moment she intentionally swallowed her first cumshot she began trying different things which came here here, to swallow hundreds of loads. She starts with two, though :)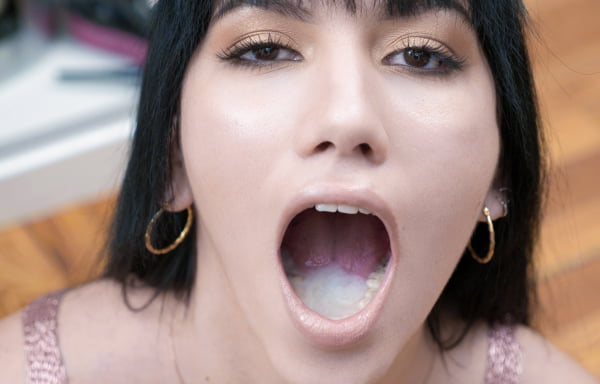 Yenifer Chacon #2 - Bukkake - Behind The Scenes
Yenifer is happy to be on the stage and she's fully aware of how stunningly beautiufl she looks in that transparent dress, so the passing by guys can't stand still and want to drop another couple of loads into her mouth. And when she gets nude, she even tries to seduce the cameraman with her open pussy..
Yenifer Chacon #2 - Bukkake - Behind The Scenes
After the bukkake Yenifer manages to answer a few questions and she feels really happy about her performance. It turns out she likes warm cum in her mouth but even thick facial cum doesn't upset her! However, she goes showering with a real pleasure and finishes off that hard day for her with a cheerful smile :)
Yenifer Chacon #2 - Bukkake
You might remember Yenifer Chacon who was a slutty secretary first time she came to us. Today she's dressed in a pinkish transparent dress and her perky nipples drag attention of the guys. Safira helps her to warmup the guys with a gentle blowjob and then Yenifer kneels down to accept all their sperm..
Yenifer Chacon #2 - Bukkake - First Camera
Yenifer opens her mouth wide and looks straight into the camera. She accepts loads as a challenge for her as she can't expect how much it would be in the end. The guys cum brutal and her pretty face gets messed in cum quite quickly. Yenifer swallows on command and it's clearly seen it's tough for her..
Yenifer Chacon #2 - Bukkake - Second Camera
Despite that, she overcomes herself and swallows two giant mouthfuls with like 15 loads each. She collects more cum in her mouth when the lads shift their aim to her eyes. Yenifer becomes fully glazed with a thick jizz mask. With all her eyes filled with cum, she makes the last big gulp. Challenge is done :)
Pris Angel #4 - Interview before Bukkake
Beautiful Pris with a glass of cum appears in front of us, showing her beautiful ass. She theorizes about new improvements she would like to see in our bukkake videos and actually it's sex for her, more cum and more cute guys :) She tastes the sperm accurately, shows on camera and beautifully swallows, laughing..
Pris Angel #4 - Bukkake - Behind The Scenes
Pris Angel has a great holiday mood and poses for a photo shooting near the Christmas tree. She lies down comfortly when one lad notices her and wants to drop a load in her mouth. She accepts easily, so another one uses such an example and drops another cumshot, even more thick. Pris swallows everything..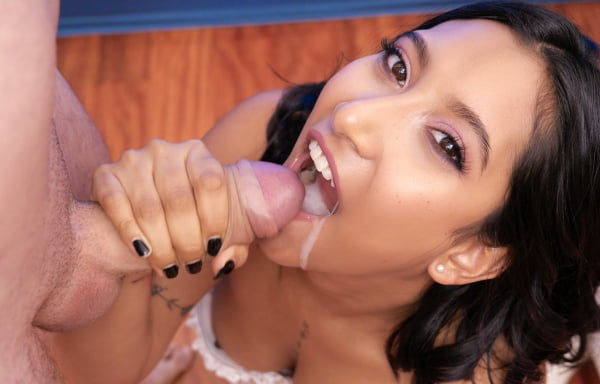 Pris Angel #4 - Bukkake - Behind The Scenes
She barely can see after her bukkake as the sperm gets into her eyes. Pris answers a few questions despite that and goes showering. She feels great after that.. Oh btw, there's also a nice blowjob scene that she took part in and pleased a happy guy with a slow gentle sucking that finished with a ruined orgasm :)
Pris Angel #4 - Bukkake
So, you wanted her back and here she is - Pris Angel returns for some more cum swallowing action, this time even more lovely and joyful. She pleases the guys at first, sucking their dicks for a while, and then gets down on her knees to extract all the jizz they've prepared for her this New Year's eve :)
Pris Angel #4 - Bukkake - First Camera
The cumshots are thick and heavy and Pris is used to such flow of cum. She helps herself to direct all the cum into her mouth but despite that her beautiful face gets messy. She manages to hold more than 20 loads of cum in her mouth before gulping! Pris clearly enjoys the action and smiles each time she swallows..
Pris Angel #4 - Bukkake - Second Camera
She takes a sip from her cum glass and frees her gorgeous body from a tight corset, staying fully nude. The guys switch their cumshots to her face, so miss Angel becomes brutally facialized, including her wonderful eyes. Being full in cum, she makes the final gulp from the glass and is still smiling!