Michelle
Age:

23
Height:

178
Body:

90-65-92 (cup: 2)
Info:

Heterosexual. I never tried swallow sperm before.
Cum fact:

oven
Total swallowed:

215
I'm a teacher of German language. I had sex for the first time in the university campus room with my boyfriend when I was 18. We used to watch porn movies together and I always dreamed to play in one of this porno tapes like an actress.. Now my dream comes true. Bukkake orgy is the strongest experience in all my life.
Michelle #3 - Second Camera
Michelle's face with cum on her lips and cheeks and semi-closed eyes transforms and looks totally different. Sometimes she remembers where she is when jizz overflows her mouth, but in a few moments she's back willingly accepting huge loads to her eyes and all her face. The scene becomes ecstatic and after 74 loads collected, Michelle heroically drinks the whole cum bowl till the end. What a good girl!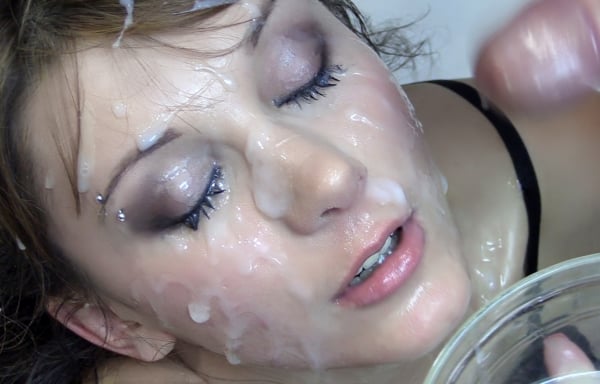 Michelle #3 - First Camera
At first she looks a bit scared when guys start poking her with their dicks, but just after a few minutes she blows with a smile. When the cum gets into her mouth, Michelle concentrates on holding her mouth open and in a while we see trying to get pleasure from the action. She saves all cum in a bowl till the end...
Michelle #3 - Best Scenes
Dainty brunette with long legs in black stockings - Michelle is back for another 74 loads of hot cum from our lads. This petite girl looks so shy that we can't believe she can even accept cumshots to her tiny mouth. But she does can!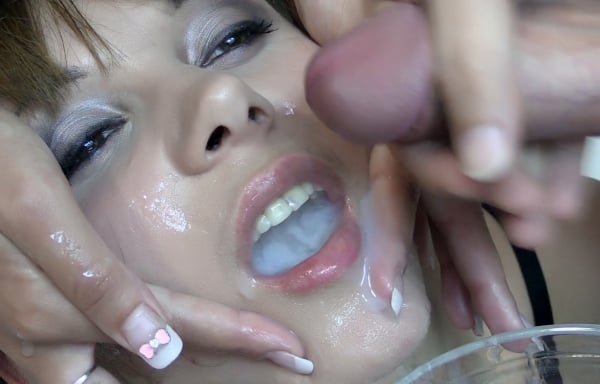 Michelle #1 - Second Camera
She has to spit some cum into the bowl after she takes two loads of 5 cumshots in a row. However, she manages to swallow smaller series of 2, 3, 4 or 5 cumshots. In the end, she empties the bowl, full of sperm. Looks like Michelle was completely exhausted this day.
Michelle #1 - First Camera
Now this skinny girl is pretty tall, and looks astounding in her sexy black lingerie, sucking several big cocks one by one. First portion of cum she takes is very serious: 32 men ejaculate into her mouth in groups of one, two, three, four or five men at a time. It is difficult for the girl to endure the sperm rain for the first time in her life, so...
Michelle #1 - Best Scenes
Young and inexperienced Michelle did not know what to expect from her first Bukkake show. Can she take all the 83 cumshots up her mouth and down her throat?..
Michelle #2 - Second Camera
She pleases every single dick in the room by trying out huge cum blasts and getting down sticky man juice down her throat. Michelle is a real gokkun star with creative approach.
Michelle #2 - First Camera
In fact, to the surprise of everybody in the room, this brave and dexterous babe eats more than 70 loads and succeeds in swallows more than 20 cumshots at one time. It is really exciting to watch her struggling with big portion of jizz in her mouth. In the end, Michelle never disappoints...