Melania Dark
Age:

23
Height:

165
Body:

85-61-85 (cup B)
Info:

Bisexual, tried sperm before, 3 cumshots in a row
Cum fact:

I love cum not that I was satisfied in sex without a good cumshot in my mouth or on my body
Total swallowed:

70
My name is Melania Dark . I was born in Colombia . Living in Madrid. I've always feel attracted by the porn industry, but never decided to give a try. When I was offered to try Premiumbukkake I thought it was the best opportunity I could have to start this job.
Melania Dark #1 - Bukkake - Behind The Scenes
After applying makeup, an amateur babe transforms into a business lady who proudly poses for a photo shooting with respect to her new image. In a matter of a few moments she kneels down and 5 lads surround her, pushing their dicks to her face and Melania basically does the blowbang, sucking each of them!
Melania Dark #1 - Interview before Bukkake
Melania confesses she loves the taste of cum since her youth and her first bukkake is not only her first real porn shoot, but a giant leap in the amounts of cumshots she has ever taken! We can't miss a chance to give the girl a try of two heaviest cumshots Melania could expect today and she likes them!
Melania Dark #1 - Bukkake - Second Camera
After swallowing 45 loads, she is ready for the facial part and the guys don't hesitate to unload the thickiest sticky loads right into her eyes, so the cum stays on her cheeks and slowly pours to her mouth. Amazingly being cum-glazed, Melania makes the final gulp from her bowl, keeping her eyes open. Wow!
Melania Dark #1 - Bukkake - First Camera
Melania eagerly accepts and holds her first dozen cumshots and gulps by command, licking her fingers clean afterwards.. She seems to enjoy the taste and gets relaxed, collecting more cum loads with a smile. Melania holds a cum bowl but barely uses it as she directs all the cum into her mouth by herself!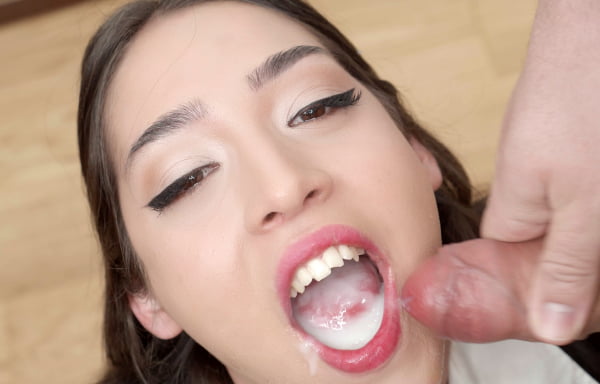 Melania Dark #1 - Bukkake
Young and beautiful Melania Dark has never done porn shooting before. Thus surprising, how she decided to start with a bukkake but we surely appreciate this choice! She doesn't bother too much about sucking dicks and excitingly anticipates the cum swallowing action. So the guys start cumming!