Marina Gold
Age:

18
Height:

160
Body:

86-67-86 (cup A)
Info:

Heterosexual, have tried sperm before many times
Cum fact:

I really liked holding lots of it in my mouth and then swallowed it easily.
Total swallowed:

199
My name is Marina Gold, I am from Cali, Colombia. My hobbies are sex and sexting. And out of that, regular plans like studying at university, going out with friends and trying out new restaurants every time. I have short brown hair, green eyes and one small rose tattoo in my left arm.
Marina Gold #4 - Gangbang - Second Camera
She accepts the loads with a sheer smile and kneels down to collect the jizz into her mouth. The guys compete for her plumpy lips and Marina just loves that, so catches everything! She holds a dozen loads and then gulps them at once, collects a dozen more and also swallows them with a pure pleasure!
Marina Gold #4 - Gangbang - First Camera
Marina goes into dick-sucking as soon as she sees one. She's already horny, so a guy just gets in from behind and fucks her properly. Marina changes partners like gloves in this scene, trying various poses with different angles and definitely gets the pleasure. The guys cum at will, so she gets random loads quickly..
Marina Gold #4 - Gangbang
Stunning Marina Gold is a close friend of PB in Madrid and we know she likes cum. Although, today she wants to get a bonus by being fucked by a bunch of guys, so why not :) She definitely deserves that and the guys don't mind of fucking a hot babe with a tight round ass too!
Marina Gold #5 - Bukkake - Behind The Scenes
Marina is a young, fresh and not yet spoiled girl. Well, just a bit, maybe. By her age she swallowed a few hundred loads already but she simply can't miss a chance to do that again and again! When she poses teasingly for the photo session, she eagerly accepts a sudden load from a guy nearby.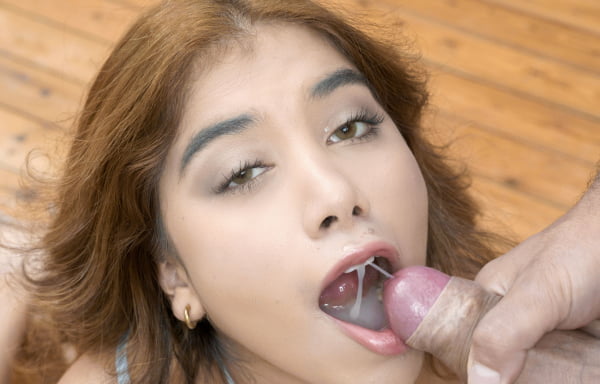 Marina Gold #5 - Interview before Bukkake
Marina Gold purely emits the energy when speaks about cum and how she loves swallowing it. She's the true gem and she feels it from inside. It could be her secret but it's felt through the screen. Every time Marina swallows cum, she feels a bit happier :) She smiles in anticipation of her new bukkake..
Marina Gold #5 - Bukkake - Second Camera
Safira is the cum-scooper for Marina today and she helps her to swallow all cum till the last drop. She pours the cum glass into Marina's mouth twice so Marina has no other chance but to swallow her well-prepared half hundred loads. She feels happy about that and thus can be called a real Cum Princess :)
Marina Gold #5 - Bukkake - First Camera
The guys aim to her mouth but some sudden spurts get into her eyes and nostrils. Marina ostentatiously wrinkles but still smiles and puts her beautiful face under dicks popping out from both sides. She drops short glances to the guys when they cum and tries not to gulp reflexively..
Marina Gold #5 - Bukkake
It's a pleasure to see girls having fun and this time Marina Gold wins her turn to become the main bukkake hero! With a joyful anticipation, she kneels down and quickly gets ready for incoming cumshots. She seems to be glad to every new dick she sees! Marina holds almost 20 loads and gulps at once..