Maria Teen
Age:

20
Height:

153
Body:

90-65-90 (cup B)
Info:

Bi curious, I like to try new challenges
Cum fact:

I prefer not see what I'm swallowing and that it goes directly through my throat.
Total swallowed:

241
I try to accomplish new challenges and try that nothing falls outside the bowl.
I never did a bukkake until now, and it not so unpleasant as i though.
I am ready for new challenges!
Maria Teen #5 - Bukkake - Behind The Scenes
Maria is beautiful. She knows it and seems to love herself. With a charming smile while being applied her makeup, she gulps a random load and shows it on camera. Maria shows off her body seductively during the photosession and accepts two more sudden loads gladly..
Maria Teen #5 - Interview before Bukkake
Well, Maria Teen is not actually a real teen anymore, so she tells us a story of her name change which reflects her inner personality. She proves that instantly by swallowing three huge jizz loads in a row and answering a few more questions with cum in her mouth. Being pleased, she swallows everything..
Maria Teen #5 - Bukkake - Second Camera
Being spotted in cum all over, she licks her fingers in anticipation of more cum inflow. The guys have been well prepared today and splash the jizz loads to her face now, while Maria tries to avoid cum getting to her eyes. Despite that, with cum in eyes, she drinks her cum bowl and sets her own cum gulping record!
Maria Teen #5 - Bukkake - First Camera
Maria accepts and gulps her first mouthful pack easily and just smiles, awaiting for more. She openly looks into the camera while the guys unload the cumshots, making her face messy with cum but she carefully puts the jizz back into her mouth and innocently smiles. She doesn't get tired even after 80 loads!
Maria Teen #5 - Bukkake
Welcome back Maria Teen, bukkake veteran who is just 20 :) She always wanted to swallow more but was fed only with just several dozen loads. Now she's ready for her hundred and with no delay she throws herself into blowjob action. Guys don't make them wait for too long and erupt the sperm for her..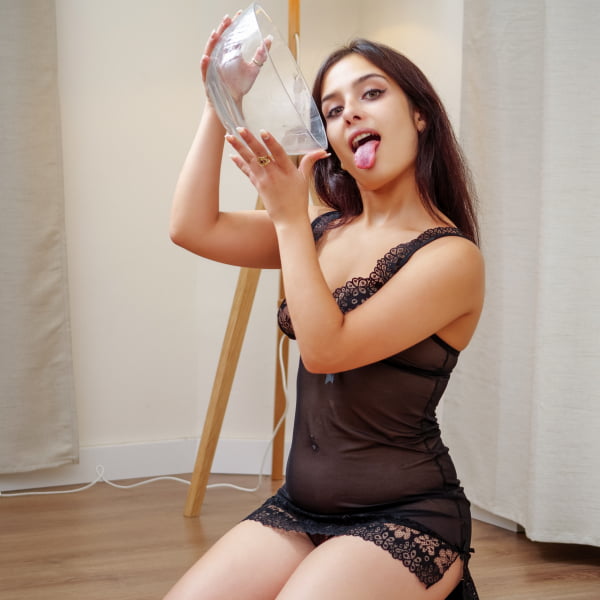 Maria Teen #4 - Bukkake - Second Camera
Eventually Maria collects and swallows several big mouthfuls, totaling 59 huge cumshots and she doesn't even use her cum bowl as all cum loads get directly into her mouth. Fine work, Maria, come back for more!
Maria Teen #4 - Bukkake - First Camera
She holds the sperm in her mouth and patiently awaits while the mouth is filled up and then gulps. Maria beautifully smiles when she has to use her fingers to scoop the cum to swallow. She looks so naive but we know she's a pro at swallowing ;)
Maria Teen #4 - Bukkake
Welcome back, Maria Teen, we've been missing you a bit :) Young Spanish cum lover breaks into the scene with a soft but intense blowjob and guys don't make them wait for too long and start cumming. Maria is surprised from the very first load. The lads gently help Maria to direct the cum into her mouth..