Linda
Age:

27
Height:

175
Body:

89-63-88 (cup: 2)
Info:

Heterosexual. I tried sperm once before.
Cum fact:

I liked swallowing until first 20 loads, then it became difficult.
Total swallowed:

189
I'm learning English language. I love having sex with dark-haired men with a big dick. I like to feel the reactions of guys when I'm sucking and I only swallow sperm when I'm in love with the boy who comes into my mouth. This bukkake orgy was very difficult for me; too much huge loads and too many men around me made me feel shocked.
Linda #3 - Second Camera
At the end this gorgeous lady meets a challenge - she's going to drink all those 73 loads our lads have collected for her. With a cum on her forehead and a bowl full of jizz, she looks unforgettable.
Linda #3 - First Camera
The guys are shooting huge cumshots to her pretty face and into her cute mouth. At this moment she prefers not to swallow. She's funny surprised when a sperm spirt comes upon her nose though. The sperm amount is growing and she uses a bowl to save the surpluses...
Linda #3 - Best Scenes
One of our most favorited models Linda is back on stage. This long-legged beautiful brunette comes into the scene and drives into the action instantly. Her round tits are bouncing lightly when she's making blowjobs with a gentle smile...
Linda #2 - Second Camera
It is not her first time doing bukkake but 65 loads seems to be too much for this nasty cum slut! She nearly cries with tears running down her sexy face when we make her drink everything that remains in her bowl. But Linda is not a quitter and she manages to gulp it all for your viewing amusement!
Linda #2 - First Camera
This gorgeous slut smiles and giggles while stroking and blowing more and more dicks, but as soon as they start to pour hot jizz on her pretty face, Linda's smile disappears. Now this brunette struggles to swallow all loads and you can see the pure expression of disgust on her face...
Linda #2 - Best Scenes
Stunning brunette Linda is back and she looks so damn seductive in her sexy black lingerie and stockings! But she'd better take it all off before it gets drenched with cum. You can tell that Linda loves sucking on hard cocks but the taste of cum is far not her favorite thing!..
Linda #1 - Second Camera
Hot European babe smiles to every opportunity of being covered in sperm. In the end, her hair is a real mess and her tits are in in thick layer of jism too. Linda admits that she has never received so much cum on her face and mouth, and most of it is of terrible taste!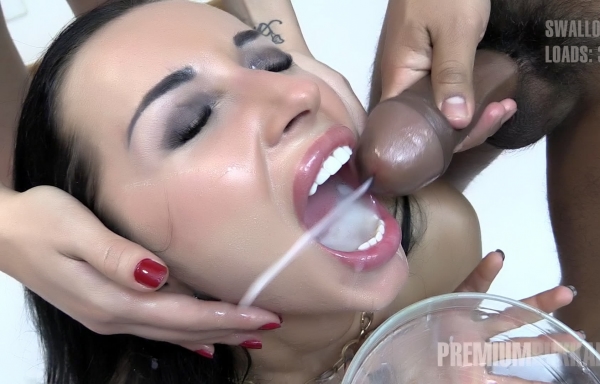 Linda #1 - First Camera
Linda has the right attitude and the perfect mood for the dirty deed! Smiling European girl is on her knees with naked breasts and ready to be covered in warm sticky cum. She takes more than 50 cum shots on her pretty face. The guys holds their dicks straight and point them right into her mouth. She doesn't swallow jizz right away. She saves every drop until her mouth can't take it anymore and she has to swallow every drop...