Lia Ponce
Age:

24
Height:

153
Body:

87-66-74 (cup B)
Info:

Bisexual, have tried sperm before several times
Cum fact:

I felt super good swallowing a lot of sperm today. I didn't have any bad symptoms. the volume was enough for my 1st bukkake. However, it was difficult to swallow. I find either swallowing or keep it in the mouth same difficulty. I prefer warm sperm in the mouth. I felt wet when some of the guys where cumming in my mouth. I loved the bukkake, it was lots of fun. There were several guys who I liked :)
Total swallowed:

137
My name is Lia Ponce I was born in Colombia I live in Medellín.  I have been in the industry for 1 and a half years as a model and adult entertainment actress. I have filmed with several production companies in Colombia and Brazil. In my free time I like to read books, going out to party or just hang out with my family. As for the sexual topic, I like threesomes, boy-girl, girl-girl, anal among others.
Yenifer Chacon #3 - Interview before Bukkake
Stunning Yenifer Chacon has come for swallowing cum with her friend Lia Ponce and they basically compete with each other - who swallows more :) While they share their plans and discuss the cum nuances, they both try to accept and gulp a single cumshot each and both feel pleased with that. Seems Yenifer is ready :)
Lia Ponce #2 - Bukkake - Behind The Scenes
Lia Ponce has come from far away, so she can tell a lot of stories to her makeup artist, but instead she just humbly awaits while becoming even more beautiful than she is by her nature.. Only to get on the stage to expose herself!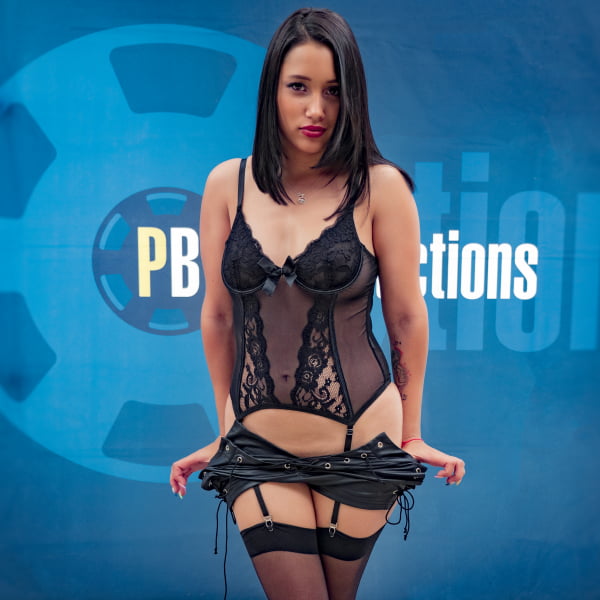 Lia Ponce #2 - Interview after Bukkake
Looks like Lia Ponce is having fun during her second bukkake! With cum on her face, holding her cum glass with a couple of loads, she collects two more, holding Yenifer on a chain.. She dominates over her and removes her clothes.. Lia states she likes everything, gets another couple of loads and finishes her drink.
Lia Ponce #2 - Bukkake - Second Camera
With all her face being covered with cum, she accepts around 40 loads when the guys switch their cumshooting aim to her eyes, not forgetting to drop some loads for her jizz glass that she's going to drink later. With cum on her face and in her eyes, Lia Ponce takes the last sips and the final cumshots happily!
Lia Ponce #2 - Bukkake - First Camera
She is definitely ready to set her own cum gulping record today and doesn't mind her face being messed from the very beginning, as soon as the guys fill her mouth full from the very first loads as they're damn huge! Lia just wants more and looks straight into the camera, inviting the guys to cum..
Lia Ponce #2 - Bukkake
Well, you asked for Lia Ponce to return and here she is, sucking dicks with a brave smile, preparing to perform her second bukkake, with Yenifer Chacon in chains behind her, both standing on the knees.. When the first cum streams start to erupt, Lia welcomes them with a greedily open mouth..
Lia Ponce #1 - Bukkake - Behind The Scenes
Lia Ponce barely can finalize her makeup while she's being interrupted with a guy who wants to shoot a load into her mouth. She obediently swallows and continues, until another horny lad drops another one while she's posing for a photo session.. She smiles them seductively and shows off her body..
Lia Ponce #1 - Interview before Bukkake
Lia Ponce has tried sperm several years ago and she claims she likes that. We can't miss a chance to check it and feed her with two warmup loads that were carefully saved for a week. Does she really feels the taste difference or just wants to gulp as much cum as possible today? Let's see ;)