Kristy Black
Age:

24
Height:

161
Body:

81-57-92 (cup A)
Info:

I'm a common Czech girl, I like experiments in sex and all dirty stuff
Cum fact:

I like swallowing but more to have sperm all over my body
Total swallowed:

125
I do porn for nearly 3 years, I like books, cooking, pc gaming and cats. I've got a boyfriend for more than 5 years now, he's the love of my life. I'm a common girl who loves any dirty stuff and experiments in sex.
Kristy Black #2 - Behind The Scenes
Beautiful Kristy reveals the parts of her character that were not exposed during the main shoot. Her cutiness is overwhelming and in real life she looks even hotter than on stage :)
Kristy Black #2 - Bukkake
Welcome back, Kristy Black! Dressed in a striped outfit, she makes a massive blowjob with serious face, sucking two dicks at a time. Guys shoot cum unexpectedly, flooding her face while trying to cum to her mouth. She swallows cum in series of 15-20 loads, totaling 52 huge thick mouthful cumshots..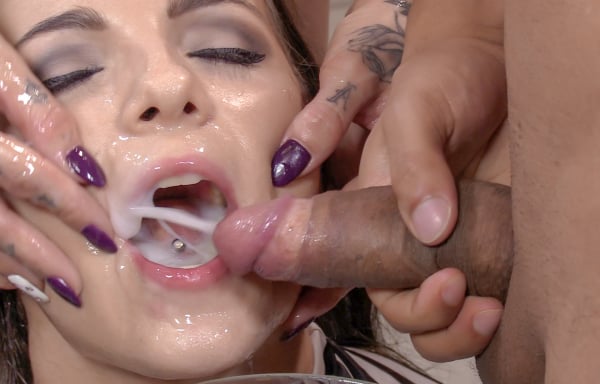 Kristy Black #1 - Behind The Scenes
Pure contrast between this teen-looking lady on the stage an in her real life makes us fall in love with this pretty girl. She looks naive and innocent and if we didn't see how she swallowed more than 50 loads, we wouldn't believe she would capable of this at all.
Kristy Black #1 - Bukkake
Miss Black, cum-loving chick, tries to know her limits with as much cum as she can handle. After swallowing first 14 huge loads she admits it's quite hard for her but bravely continues. With 43 cumshots on the score Kristy gets facialized with cum in her eyes which flows to the bowl and she drinks that cold 100ml of semen!