Kate Rich
Age:

22
Height:

165
Body:

88-70-90 (cup B)
Info:

I love dancing, singing and doing sports. I'm writing a book and I hope to release it this year.
Cum fact:

I love having sex with multiple guys and a lof of sperm.
Total swallowed:

445
I love sperm, it's tasty and it's sweet often. I love that feeling of sperm on my face and in my mouth. Every morning I eat sperm for my breakfast.
It gives a lot of energy and courage. The sperm is the best face mask. I love playing with sperm in my mouth.
Kate Rich #3 - Gangbang - Behind The Scenes
Teenage looking Kate Rich changes her clothes and becomes even more innocent in her white shirt and lingerie. She gladly poses for the photographer when horny guys come closer to her to shoot their cum, do that one by one and Kate obediently swallows their huge loads, showing each of them on camera. Wow!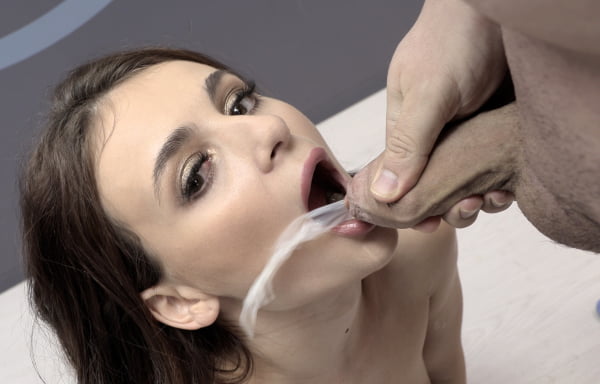 Kate Rich #3 - Gangbang - Part 2 - Second Camera
She lays on a couch and tries to keep her eyes open when the guys shoot big loads onto them. It's not that easy for her but she goes well through this. Being totally fed up, she gulps her last mouthful of cum with around 20 loads and feels she's enough, getting to 108 loads. That is a huge gangbang!
Kate Rich #3 - Gangbang - Part 2 - First Camera
After swallowing 44 loads Kate Rich stays fully covered in sperm and continues being fucked by the guys shooting their cum on her beautiful face and into her mouth. She gulps a few dozens of cumshots more while being gangbanged and then goes for a more comfortable position..
Kate Rich #3 - Gangbang - Second Camera
Kate gets fucked by several tens of guys who continue shooting cum onto her face, aiming into her beautiful eyes, and while she holds the sperm in her mouth and has multiple moaning orgasms, she's being fucked and cum-glazed in the same time. Kate feels overwhelmed, gangbanged but ready to continue..
Kate Rich #3 - Gangbang - First Camera
Kate swallows a few cumshots and the guys start undressing her. She feels being wanted and gets horny. Her tight ass and pussy allure the guys and they can't wait fitting their cocks into her little hole. Kate loves that and eagerly jumps on the dicks, not forgetting to gulp the cum while being fucked..
Kate Rich #3 - Gangbang
Our lovely adorable innocently looking Russian babe Kate Rich is now to have her third bukkake but this time it's a real gangbang! The guys compete to put their dicks into her mouth for gentle sucking as Kate knows well how to please a man. She accepts the first cumshots and looks into the camera..
Kate Rich #2 - Bukkake - Behind The Scenes
Kate stays the Queen even behind the scenes as when she poses for a photo shooting, some guys can't stand watching her pussy peeking out from the skirt and spurt a couple of cum loads right into her beautiful face! She's surprised as the loads so huge the cum drips from her cheeks but she goes on.. Oh dear!
Kate Rich #2 - Bukkake - Part 2 - Second Camera
Being glazed with thick white cum, Kate swallows several dozens of loads more when the cumscooper pours the semen from the bowl to fill her mouth. She gulps everything, confirming her newly acquired status of the Bukkake Queen that could swallow enormous 156 loads in one single evening. Viva Kate!