Jessy Jey
Age:

30
Height:

160
Body:

85-62-90 (cup C)
Info:

Bisexual, have tried sperm before - 5 guys cumming at a time maximum.
Cum fact:

In the beginning it was OK but then it became harder
Total swallowed:

337
My name is Jessy Jey, I am from Pietra Ligure, Italy.
My hobbies are cooking, eating, sport, wellness, arts, music, theater, having sex with new people, making money, i like fetish, foot, anal sex, group sex, fisting, lesbo, big dildos...
I have dark brown hair, brown eyes. i don't have tattoes because i want natural. i like tattoes in other people.
I like acting like a real actress in a film or a movie. I Like to Make true Fantasy of people.
Jessy Jey #4 - Bukkake - Behind The Scenes
Jessy Jey has a wonderful body and she's not shy at all about showing it off. She tries to find an ideal cumshot taste and the guys compete whose sperm is tastier, even without knowing it :) With cum in her eyes, Jessy tries to open them and manages to do that, getting a few more loads right that moment..
Jessy Jey #4 - Interview before Bukkake
Jessy Jey is in a playful mood and answers a few questions with a happy smile. She shows off her gorgeous tits and teasingly undresses for the camera. Jessy is charmingly obedient today and accepts 4 loads at a time as a warmup. She even tries to describe her emotions with cum in her mouth too! :)
Jessy Jey #4 - Bukkake - Second Camera
Some loads purely shock Jessy with their taste but she doesn't dodge and helps herself to direct everything into her mouth, until she gets a direct cum in eye flood. Jessy looks totally overwhelmed with that cum on her face but she's strong enough to finish the job and gulp everything from the bowl too!
Jessy Jey #4 - Bukkake - First Camera
From the very beginning she gets cumshots across all her face but she tries to keep it clean, showing the guys to aim in her mouth. They satisfy her request and stuff her with 89 huge cum loads and she eagerly swallows all the jizz in series of 7-10, however, the further the harder, though..
Jessy Jey #4 - Bukkake
If you ever have had any doubts if Jessy Jey loves or can at least swallow a lot of sperm at a time - today she's going to make those doubts vanish! Jessy bravely enters the scene and does a beautiful blowjob warmup, making the guys feel ready to erupt.. But even the first pack of cumshots makes Jessy go slower..
Jessy Jey #3 - Bukkake - Second Camera
After gulping over 40 loads, Jessy puts her beautiful face under the cum streams and feels happy about that but not for too long until cum gets into her eyes.. Despite that, she tries to keep her eyes open and finishes off her cum bowl. A true genuine smile appears on her face and Jessy feels free to go:)
Jessy Jey #3 - Bukkake - First Camera
Chaque éjac supplémentaire devient plus difficile pour Jessy et elle pointe les gars vers sa bouche pour qu'ils ne manquent pas, mais le sperme coule et son menton devient blanc. Elle avale docilement, tenant son bol de sperme prêt. Elle effectue plusieurs cycles de collecte et de déglutition et a l'impression d'être totalement remplie.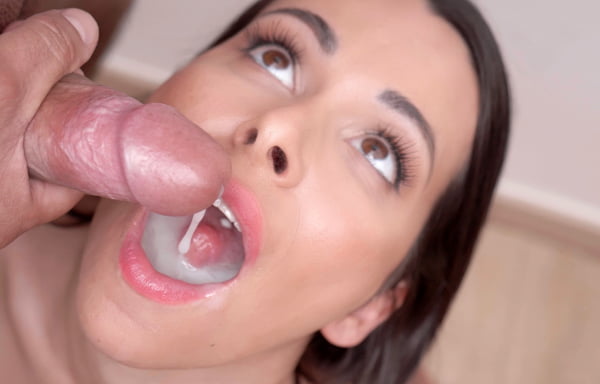 Jessy Jey #3 - Bukkake
Since Jessy Jey has already tried bukkake, she knows what to do and instantly starts with accepting cumshots. Guys unload their shots from both sides and Jessy emotionally reacts to almost each of them. She swallows her first 10 loads with some efforts but continues standing on her knees with mouth wide open..