Jessy Jey
Age:

30
Height:

160
Body:

85-62-90 (cup C)
Info:

Bisexual, have tried sperm before - 5 guys cumming at a time maximum.
Cum fact:

In the beginning it was OK but then it became harder
Total swallowed:

101
My name is Jessy Jey, I am from Pietra Ligure, Italy.
My hobbies are cooking, eating, sport, wellness, arts, music, theater, having sex with new people, making money, i like fetish, foot, anal sex, group sex, fisting, lesbo, big dildos...
I have dark brown hair, brown eyes. i don't have tattoes because i want natural. i like tattoes in other people.
I like acting like a real actress in a film or a movie. I Like to Make true Fantasy of people.
Jessy Jey #1 - Bukkake - Behind The Scenes
Beautiful Jessy poses for her photo shooting and shows her gorgeous body from various angles, bending around and putting her pussy in front of camera. Guys can't wait and push their dicks to her mouth trying to unload their cumshots first - Jessy accepts three at a time and swallows instantly..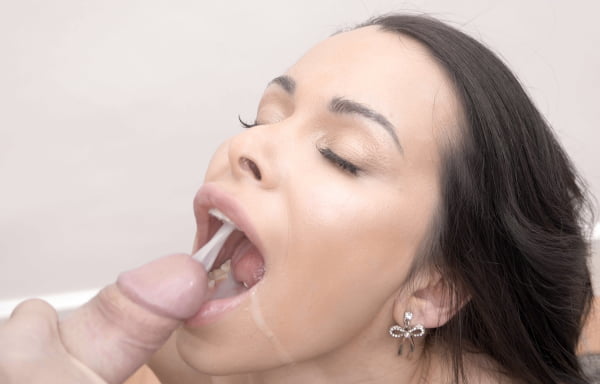 Jessy Jey #1 - Interview before Bukkake
Jessy Jey has come to us from Germany and tells us about her bukkake innocence - by her age she's trying so much sperm for the first time! Jessy's theorizing on her future bukkake performance and tells some intimate things about herself. And then she tries her very first cumshot in Madrid to get started!
Jessy Jey #1 - Bukkake - Second Camera
Jessy Jey is totally overwhelmed by the huge sticky cumshots she receives today. She manages to get over 94 loads when she feels enough and filled up to the limit. The guys have more unused jizz for her and fiercely flood her face with thick dense white jets. Her life will never be the same again!
Jessy Jey #1 - Bukkake - First Camera
She continues getting loads from both sides and just after a couple more dozens she already feels amazed by the amount and properties of cum that she never tried before. She gulps and licks her fingers after helping to scoop the cum into her mouth but it doesn't even seem close to an end now..
Jessy Jey #1 - Bukkake
This may be one of the best bukkake this season! Jessy Jey, an experienced brunette bombshell from Italy, comes to Madrid for testing her limits for cum resistance. She's dressed as an office lady and it suits her so much! She starts with energetic blowjob and the first 7 huge loads go in easily..