Jane
Age:

26
Height:

158
Body:

88-58-90 (cup: 2)
Info:

Heterosexual, tried sperm before.
Cum fact:

I like sperm if it's sweet. I want to try as much cum as possible.
Total swallowed:

212
I go to gym regularly 'cause I'm a professional competitive fitness girl performing at the events. I love to have orgasms during training sessions.

I came here for a new experience and want to try a lot of sperm. Swallowing and bukkake arouses me so much. I have received intense orgasms at the third bukkake session.
Jane #3 - Second Camera Part 2
Being facialized and getting an orgasm, she finally decides to drink all that cum surplus that is left in her cum bowl. Having time for a quick interview and discussing the today's sperm taste, she finally drinks all the jizz with a beautiful joyful smile on her face… A dream lady!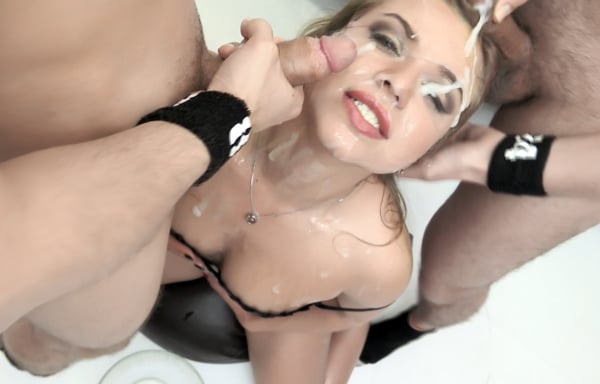 Jane #3 - First Camera Part 2
So she begins to masturbate and the guys get hornier and hornier from this action, their sperm gets thicker and stickier. Jane stimulates her tits and clit, moaning from the pleasure..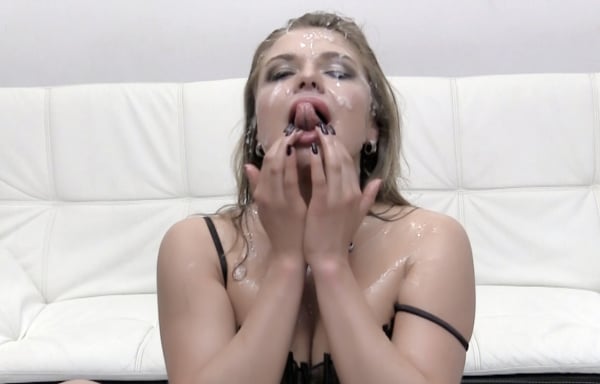 Jane #3 - Best Scenes Part 2
This is truly the most amazing set PremiumBukkake has by now. Our beautiful fitness model shows her talents explicitly this time. Sitting on a rubber ball, Jane accepts tens of thick cum loads right on her beautiful face and gets aroused so much…
Jane #3 - Second Camera Part 1
Jane holds a cum bowl and the sperm surplus is collected there. With a bowl in her hands and cum spurting into her eyes, Jane doesn't look helpless at all, instead she radiates joyfulness around her and positive vibrations. After swallowing her 67th load, she appetizingly licks her lips and laughs. Truly positive girl!

Jane #3 - First Camera Part 1
When Jane is ready to swallow, she prefers doing so in series of 7-10 cum loads that get on her face and flow to the mouth. She accepts sperm with a smile and keeps her mouth full. When sudden cumshots get into her eyes, she winces a little and continues to enjoy the sperm flow…

Jane #3 - Best Scenes Part 1
Our beautiful fitness model who likes to masturbate incognito in gyms - is back! Today she's going to drink more than 60 huge cumshots. She starts with a self-presentation, showing her tight ass and long sporty legs. Well-known Silvana helps her to get aroused and plays some lesbo action with her ass…

Jane #1 - Second Camera
So far, Jane finally tries her drinks and discusses a taste of sperm and how she likes it or not. Another gokkun bukkake for a pretty girl like Jane ends successfully with empty glasses.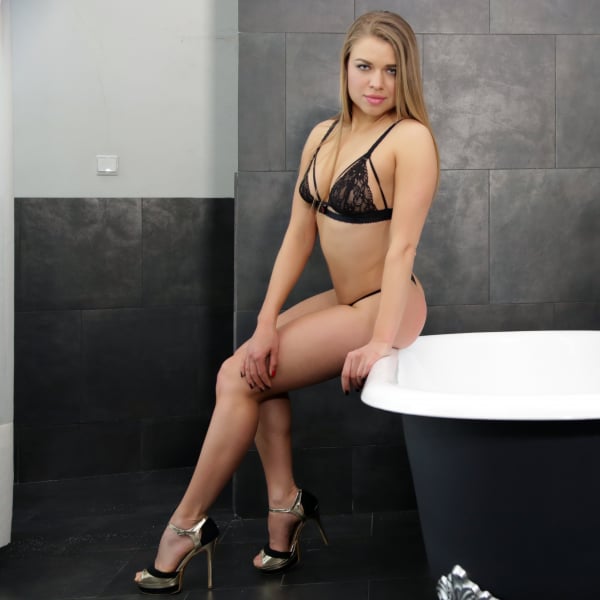 Jane #1 - First Camera
And who do you think we gonna call? Silvana! Tens of guys are getting milked by this famous Spanish chick who is blonde today and looking well. The guys' loads are being directed into pretty goblets. The guys are happy to be jerked off by girls hands and trying to cum harder..