Hellen V
Age:

21
Height:

175
Body:

92-63-90 (cup B)
Info:

Heterosexual. It was easy to swallow everything.
Cum fact:

I like sperm more from my lovely ones
Total swallowed:

93
I like fishing and cooking tasty food :) Wanted to try bukkake to see if I need it in the future and test myself, whether I can do that.
Hellen V #1 - Behind The Scenes
A wide spectrum of emotions is reflected on Hellen's face when she's not on the stage. You would certainly want to know why she feels this or that way when she's not doing her main job - swallowing cum :) Anyway, she looks gorgeous in every moment - whether she pose for a photo or taking a shower. Enjoy!
Hellen V #1 - Bukkake - Second Camera
She feels the taste of sperm so finely that wants to lick the cumscooper girl's fingers to collect each drop. Her straight look into the camera can't leave you cold-minded and her vivid natural mimic and big beautiful eyes will surely melt your heart. She's a true Diamond in our necklace of sweet cum-swallowers!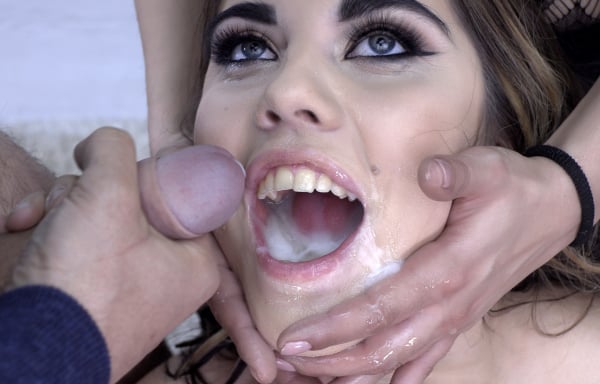 Hellen V #1 - Bukkake - First Camera
Charming Russian cutie Hellen V takes no time for preparation before her first in the life bukkake and breaks into the scene with an open mouth ready to accept Spanish sperm. She increases the gulp counter at 6, 15 and 29 loads with ease and doesn't seem to be tired at all, continuing in that pace!
Hellen V #1 - Gloryhole
Another gem in our collection, Hellen V, a stunning Russian babe, enters her bukkake journey with a gloryhole warm-up. Her plumpy lips look beautiful over a male dick and we can see some sensual blowjob action at start. She is a real newbie and does the gloryhole for the first time in her life, so she's learning on the go.