Esa Dicen
Age:

26
Height:

180
Body:

85-63-95 (cup B)
Info:

Had first time at 16
Cum fact:

First time did not like semen as I was 18 years old when the first time I tried it.
Total swallowed:

146
Studious, professional tour guide, I like art, live in Medellin.
Twitter: @esadicen
Instagram: esadicen
Esa Dicen #3 - Bukkake - Behind The Scenes
Beautiful Esa Dicen not only knows she is beautiful but also is able to present herself in the most favorable light. When she poses in front of the camera and shows her long legs and tight ass, a guy on the stage just comes to her and she obediently kneels down, catching his impulsive cumshot. She swallows with a smile..
Esa Dicen #3 - Interview before Bukkake
There are just a few minutes left before Esa Dicen has her third bukkake and she thinks of pleasing someone before that by sucking his dick. And there are two guys who are gladly ready to unload their jizz loads to her mouth. Esa can't tell the difference of the taste of their cumshots but swallows unquestioningly.
Esa Dicen #3 - Bukkake - Second Camera
She maintains a direct eye contact with the camera, so we can see her enchantingly looking at us while collecting jizz loads. The guys make a mess on her face with the cum but she just smiles and eventually collects and gulps another huge mouthful of 19 loads, finishing the cum bowl too. She's happy about that :)
Esa Dicen #3 - Bukkake - First Camera
She doesn't smile this time but just stay focused while the guys unload their quite big cumshots from both sides. She collects an amazingly huge mouthful of 19 loads and gulps it with one move. The cum kicks in instantly and Esa feels joy about that it's going easier than expected.
Esa Dicen #3 - Bukkake
Esa Dicen comes back for her third bukkake. The previous one was not so easy for her, so she's a bit suspicious about how she's going to swallow cum today, but eagerly starts sucking the incoming dicks, carefully but persistently. She seems totally read to accept the cum when it lands into her mouth suddenly.
Esa Dicen #2 - Bukkake - Behind The Scenes
Some time ago she thought to become Miss Colombia and even started up her fashion career. Today we can enjoy Esa Dicen posing and showing her great body in front of a photo camera. She accepts a cum load from a random guy with a smile and while coming out of the studio, she joyfully gulps another one as a goodbye.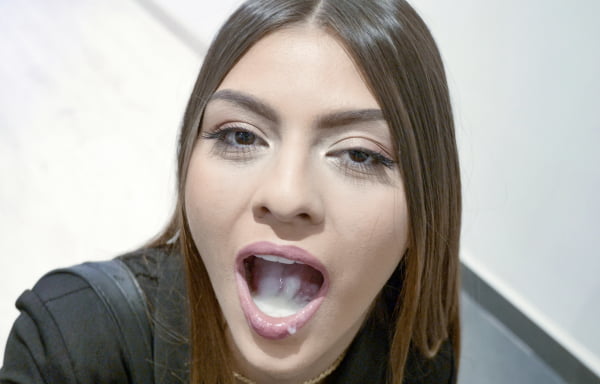 Esa Dicen #2 - Interview before Bukkake
Stunning fashion model from Colombia - Esa Dicen - gets prepared for her second bukkake and sits on a couch, collecting a few cumshots from the guys into a cum glass. She tells a story of how she felt herself during and after her first bukkake and it's understandable she has had a really hard time..
Esa Dicen #2 - Bukkake - Second Camera
She holds big mouthfuls of more than 10 loads at a time without any signs of worry but each gulp is accompanies with some efforts. Eventually she takes her cum bowl with the residuals and drinks everything from it with a charming smile. She seems to be capable of swallowing more and surely should return, huh?