Dayana Teen
Age:

23
Height:

162
Body:

95-70-95 (Cup C)
Info:

Heterosexual. I don't like sperm because the flavor is digusting
Cum fact:

In my personal life I don't drink semen because I don't like the taste or the texture. I think I have an allergy to sperm because every time I drink it it makes me feel sick.
Total swallowed:

65
My name is Dayana Teen, I am from Venezuela, I live in Spain. My hobbies are playing Fortnite every day, listening to music (dance & latin music), going shopping, watching movies and series, going out with my friends, and one of the things I like the most is to eat ice-cream in winter.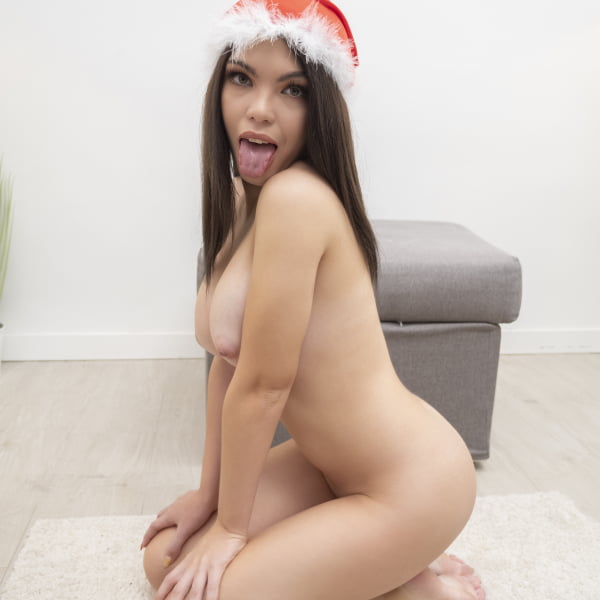 Dayana #1 - Bukkake - Behind The Scenes
It's a pleasure to watch Dayana moving as her body and vivid mimic is exposed well live :) She tells about her feelings and what she thinks about all the sperm she's swallowed and then goes having a shower.. Will she return or just stay a Christmas mystery? You decide :)
Dayana #1 - Bukkake - Second Camera
First two big mouthfuls of a dozen loads each go well and Dayana licks her own fingers not to loose any single cum drop. Closer to 40th loads it gets much harder for her but she still swallows 64 loads with vivid emotions! The stickiest pack of cum loads lays on her pretty face and Dayana feels enough..
Dayana #1 - Bukkake - First Camera
So far, Christmas holidays are ongoing and today we have Dayana Teen coming up for her first ever in life bukkake, dressed as a slutty Miss Santa. The new girl have tried sperm in the past but has a strange reaction to it and she's going to check her cum resistance today!