Darsi Devil
Age:

30
Height:

170
Body:

93-64-95 (cup B)
Info:

I love experiments in sex. I love sex with girls, with men, with toys. I get great pleasure from anal sex and bukkake
Cum fact:

I love it when they shoot cum on me, I like to rub it all over myself and take it inside
Total swallowed:

113
I am Ukrainian, I am 30 years old. I love my body and want to show my body to all. I think that in porn I can fully realize myself and still get crazy pleasure from it.
https://twitter.com/darsidevil
Darsi Devil #2 - Bukkake - Behind The Scenes
Probably it's exactly that case when the makeup changes a girl's face so drastically! So Darsi Devil transforms from a regular girl next door to an elegant vamp lady, wishing to suck the male juice from our lads. Well, well, she starts off posing in her strict office outfit and eventually catches a sudden cum load..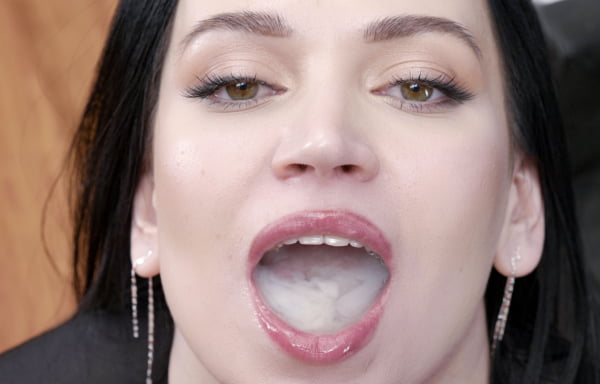 Darsi Devil #2 - Interview before Bukkake
Looks like Darsi Devil cannot get what she really wants - or she's intentionally surprised with either a direct dick sucking or drinking from a bowl. She makes quite an intense sensual blowjob during her interview and gets three wholesome loads to swallow them all. So, she wants a cum glass for her second bukkake? Ok, Darsi!
Darsi Devil #2 - Bukkake - Second Camera
The lads go for more loads for the cum glass but just in a couple of minutes they decide to add some fun and unload the thickest and most dense cumshots onto Darsi's face, aiming to her eyes, which is quite surprising for her but she maintains the load well. With a thick cum mask on her face, she makes the final drink.
Darsi Devil #2 - Bukkake - First Camera
Darsi holds her cum glass and the guys shoot their loads very actively, while she's watching them and looking to their dicks and into their eyes, mesmerized with the action right in front of her face. She collects around 30 loads and drinks it with a few sips. Oh it was her wish but it gets SO intense! Yet she continues..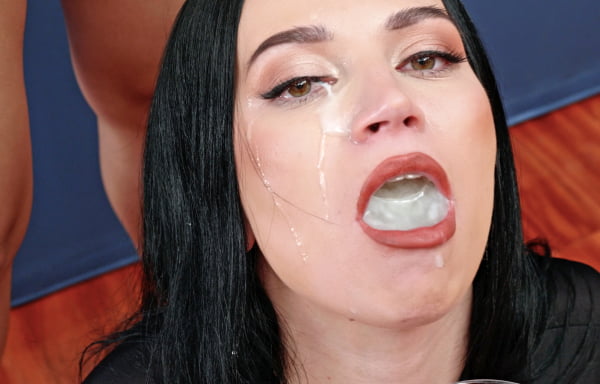 Darsi Devil #2 - Bukkake
Do you remember the elegant brunette from Ukraine who came to us first time and was surprised with all that cum she had to swallow? Darsi Devil returns now with a strong desire to drink all the sperm from a cum glass and we surely let her do that, although, with a small surprise ;)
Darsi Devil #1 - Bukkake - Behind The Scenes
Darsi is one of those girls who merely don't need makeup. Although she's very serious about everything and about her look as well. When she poses for a photo session, she wants to look great and puts a lot of efforts in posing. This allures some guys and so Darsi's going to gulp a load from a guy who was around..
Darsi Devil #1 - Interview before Bukkake
Darsi Devil has a very specific taste of humor and actually she's a very talented and artistic girl, and besides that she's become a porn actress recently. Combining her talents together, she doesn't mind tasting a glass of cum with three loads and she thinks she'll handle the whole bukkake, judging by this little glass ;)
Darsi Devil #1 - Bukkake - Second Camera
Darsi manages to handle cum in her mouth quite steadily and the following gulps are taken by her with signs of relief, as if the cum kicks in, relaxing her. However, sudden facial spurts add vivid reactions and the further Darsi gulps, the harder it gets for her. Eventually, she opens up a new genre for herself today. :)