Cherry Kiss
Age:

26
Height:

172
Body:

70-60-80 (cup B)
Info:

Love anal :))) only anal forever anal :))) Love older guys and cartoons
Cum fact:

Swallowing sperm is something what l liked always but this is different - it's like you get proteins for the whole lifetime :)
Total swallowed:

180
First porn star from Serbia. I always wanted to know where my limits are and honestly I still search to see what it will be. I've never experienced so many guys in one set. My opinion is that u really need to like to drink sperm (as me) to enjoy this shooting cuz we have here a lot of fun and without enjoyment it will not be the same energy.

I am so happy to be part of something what people usually don't have balls to experience.
But life is only about making yourself happy , no matter which way and experience as much u can.

Love u all and l can't wait u to see me being a trash of sperm for so many guys what is definitely turning me.
Cherry Kiss #2 - Bukkake - Second Camera
Cherry Kiss receives a dozen loads more after the big gulp and shows a nice mouthful so we can see how she beautifully does two more gulps. She gives a nice interview after her bukkake and we have Behind The Action scenes too where she prefers to swallow another cumshot instead of water. She just loves cum!
Cherry Kiss #2 - Bukkake - First Camera
The Slavic cutie gets fully covered in sperm - enormously thick cum spurts flow across her cheeks and chin while she tries to see something with her eyes flooded with jizz also. She manages to accept 58 cum loads and drinks all the sperm from her bowl. The guys just can't stop that and continue..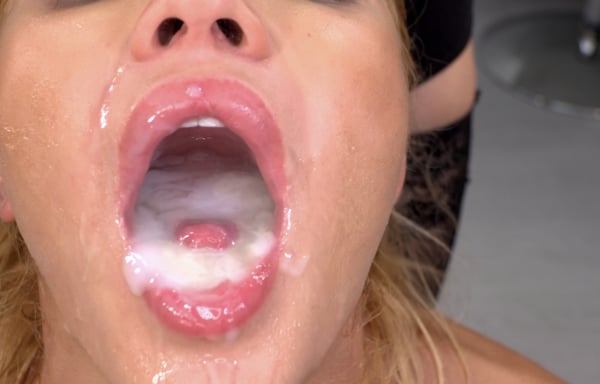 Cherry Kiss #2 - Bukkake
This time Cherry Kiss wants it big. She instantly throws herself into intense dicksucking which can't get long enough as the guys feel so horny about Cherry so they start cumming right in a few minutes. Cherry swallows with pleasure and the guys continue spurting their loads on her face and into the open eyes..
Cherry Kiss #2 - Blowbang - Behind The Scenes
Cherry doesn't stop with that facial blowbang and goes out to the street for a walk, where people can see her being covered in sperm and get shocked.. Cherry is amazingly brave and charismatic girl with a strong character and this BTS footage is all for you to rest assured ;)
Cherry Kiss #2 - Blowbang - Second Camera
They shoot cum all over her face, flooding it instantly with a thick white sperm layer while Cherry's laying on a couch. She swallows first 12 loads while being licked in the same time. Cherry gets pleasure and cum in her eyes in the same time. She manages to satisfy all 28 guys in the room individually!
Cherry Kiss #2 - Blowbang - First Camera
Remember our Serbian goddess - Cherry Kiss? Today this gorgeous blonde babe is going to suck dicks with pleasure and extract cum from each of them. The guys don't get enough with stuffing their cocks into Cherry's mouth but finger her to reach orgasm. And then she asks for their cum so they can't resist..
Cherry Kiss #1 - Gloryhole - Behind The Scenes
A very interesting voyeur scene where Cherry Kiss makes love with one of the bukkakeros who was waiting for her - this time it's not only a blowjob, but a real sex and it looks like Cherry really feels horny and wants the guy badly. Intimate moments, bloopers and even singing is added to this BTS, so join!
Cherry Kiss #1 - Gloryhole
Gorgeous and unique Serbian model Cherry Kiss is back again and today she has a great mood for cock-sucking in a gloryhole box! She bravely starts blowjobs and gets horny by herself, undressing till lingerie. Guys can't stand this for too long and Cherry starts catching their loads from both sides..