Blaze
Age:

24
Height:

170
Body:

83-63-78 (cup B)
Info:

I'm a very passionate,sensual and sexual person and since I have memory there's always been a little pervy side in me.. my curiosity brought me in to porn, so I started my career in August 2021 in Prague.
Cum fact:

I love cum, is like my favorite juice, and for me it's very important to not lose a single drop! I love to make my partner cum directly in my throat, but also in my face and allover my body! I love bukkakes because i can get loaded with cum and having my face totally covered makes me loose my mind, I'm a cum freak so is like paradise to me!
Total swallowed:

114
My passion is firey so i think i can describe me as a needy girl in sexual terms because if I like you, i want to fuck for hours.. and to fuck good. In the sheets i become very slutty and I love to give pleasure almost more then receiving, especially by giving blowjobs, it crazily turns me on..
Blaze #2 - Bukkake - Behind The Scenes
Blaze seems to be a clever intellectual girl, at least not because she looks so but she definitely knows how to present herself for the camera. The poses she takes during the photo session are quite seducing and you wouldn't tell she's a pro model and learned how to pose. Yet when she shows her ass..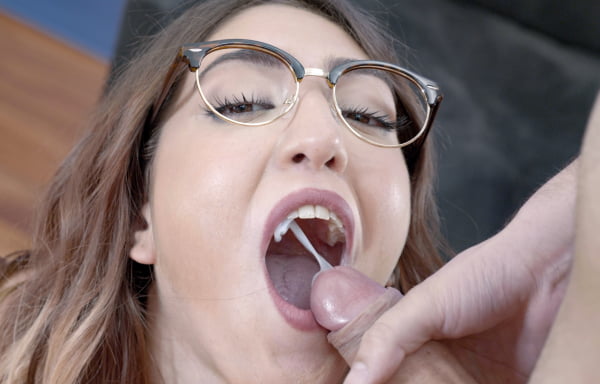 Blaze #2 - Interview before Bukkake
Since Blaze didn't want to get a lot of cum on her face and directly into her mouth, she decides to train herself against cold cum in a glass. Sitting in a soft chair, she tries several cumshots from a glass and getting visible pleasure from it. Looks like she's getting used to cold cum and clearly prefers it over hot one.
Blaze #2 - Bukkake - Second Camera
When the lads cum, she closely watches for their dicks, licking them and helping to ejaculate faster, getting excited with each cumshot and anticipating her drinking all that. When the cum glass is collected, she sips slowly, gulp after gulp, clearly enjoying her drink and literally savoring it.
Blaze #2 - Bukkake - First Camera
So we bring it to her. Blaze kneels down in a sincere desire to give blowjobs to the guys and almost gags herself with their dicks. She gets surrounded by 5 guys at once and enjoys cock slapping over her face. She even gulps one cumshot from the very beginning and prepares to collect her big portion..
Blaze #2 - Bukkake
Remember Blaze, a beautiful Italian who always wanted to give more pleasure to her sexual partners than to receive by herself? She's had a quite hard bukkake for the first time, having to meet both the mouthful and facial shower of sperm, so this time she wants it to be different. Cum cocktail is what she wants!
Blaze #1 - Bukkake - Behind The Scenes
Blaze could be just a regular girl next door but with our magic makeup and her black slutty little dress she becomes a sexy lady that allures men attention instantly. The guys can't stand themselves and while she poses for a photosession naked, come to her and drop their cumshots into her mouth. She just gulps..
Blaze #1 - Interview before Bukkake
Blaze confesses in her passion to sucking cocks, and she looks to be an avid cum-swallower as well, although she's still yet to uncover all of her possibilities and limits. Today she starts small with just three loads to warm-up before her first bukkake but she already knows she needs a cum shower.. She'll have it.
Blaze #1 - Bukkake - Second Camera
Having swallowed wholesome 25 loads and keeping a mouthful of cum, Blaze is subjected to massive facial flood upon her beautiful smiling face! The guys aim into her eyes and she barely can keep them open! She makes another gulp with a thick white cum mask on her face and receives another dozen mixed cumshots!