Bella Rico
Age:

23
Height:

170
Body:

85-65-90 (cup B)
Info:

Bisexual, tried sperm before and liked it!
Cum fact:

I have always wanted to try it, it was a fantasy for me. I was very excited to see all those man cuming in my mouyh and on my face.
Total swallowed:

209
I am 23 years old, I'm from León and I have always wanted to be a porn actress. It's a dream coming true. Now my new favorite thing to do is bukkake. I hope my fans enjoy a lot!
Bella Rico #3 - Bukkake - Behind The Scenes
Bella knows she is beautiful and poses for a few pics with great pleasure. She is so glad when she notice a random guy being aroused too much so she kneels down and catches his strong cumshot. Two more lads step in and Bella accepts them too :) She gulps with a smile and continues her photo session..
Bella Rico #3 - Interview before Bukkake
Gorgeous Bella Rico is preparing for her third bukkake when she's asked for a short interview. She gladly agrees and answers a few questions on how she's having fun sucking dicks and gulping cumshots. Bella simply loves cum and knows no better way to prove that than taking a few loads right now to warm her up :)
Bella Rico #3 - Bukkake - Second Camera
Bella licks her lips to ensure all cum is in her mouth and then gets ready for the facial part. The guys unload the cumshots slowly on her face, so the cum sticks to her cheeks and she looks real good. She makes the final sip from her bowl, totaling 62 cumshots and feels enough for this time. She's top notch!
Bella Rico #3 - Bukkake - First Camera
She takes a bowl to save the cum for the future and opens up her mouth. The cumshots are so huge they strike behind her face to her hair. She obediently accepts each load despite some of them having a weird taste so she wrinkles and winces from sudden spurts. She holds big mouthfuls and gulps several times..
Bella Rico #3 - Bukkake
Stunning Spanish babe Bella Rico returns for her third bukkake and she is eager to swallow everything that was prepared for her by our horny lads. She is dressed in a beautiful evening dress and some guys merely can't wait and cum just by looking at her! She kneels down and gently sucks their hard cocks..
Bella Rico #2 - Bukkake - Behind The Scenes
Bella Rico is actually having fun during the bukkake shootings! While other girls may become nervous, she feels cozy and gently poses for the photographer. She's not even surprised when two guys come and drop their thick cumshots into her eagerly prepared mouth.. She gets nude and continues posing..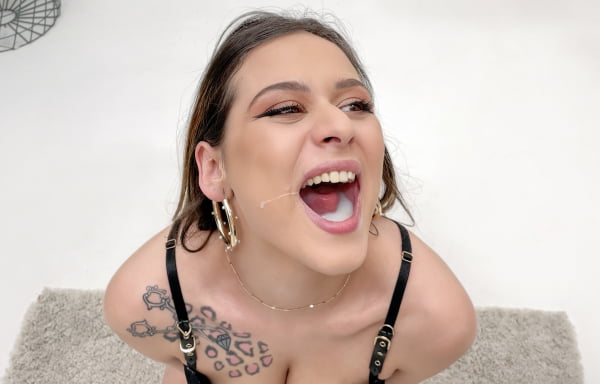 Bella Rico #2 - Interview before Bukkake
Sometimes we barely know what's happening in those cute blonde heads of those naive girls. Sometimes they just want to feel dirty and swallow tons of cum just for the sake of it. :) That's exactly Bella Rico's case and she tells in details how she prefers doing that. And then just gulps two huge sudden loads!
Bella Rico #2 - Bukkake - Second Camera
So they unload the cumshots from both sides and Bella's face becomes drenched in cum very fast as she has no time to clean it. She continues swallowing while the guys cum onto all her face, so her eyes get flooded too. Bella barely open them but eventually does that and makes the final sip. Amazing!