Barbara Bieber
Age:

26
Height:

170
Body:

94-63-92 (cup D)
Info:

Heterosexual. I tried sperm before.
Cum fact:

Its something like one kind of meal. Lol :D Good enjoying for me.
Total swallowed:

111
I am in-love with Justin Bieber. He is some kind of religion for me. Somebody believes to God and myself believes to JB. I love to many people around me. I love meets with new persons. I am very social person. Love party and afterparty - relax and chill for me. Bukkake was an especially good experience for me. And I hope that I would like to come again. See ya a next time, Bukkakeros!!!
Barbara Bieber #2 - Behind The Scenes
Behind the Scenes Barbara shows us her stunning body, nice ass and funny moments. We all know it's a lot of pleasure to see the girl in her native habitat - so enjoy :)
Barbara Bieber #2 - Bukkake
This time Barbara wants to beat her record of cumshot intensity and sperm volume she can handle. Guys start shooting facials and Barbara is able to collect the cum from her face and swallow portions of 10 and 15. The guys flood her beautiful smiling face with hot cum, totaling 68 thick cum loads!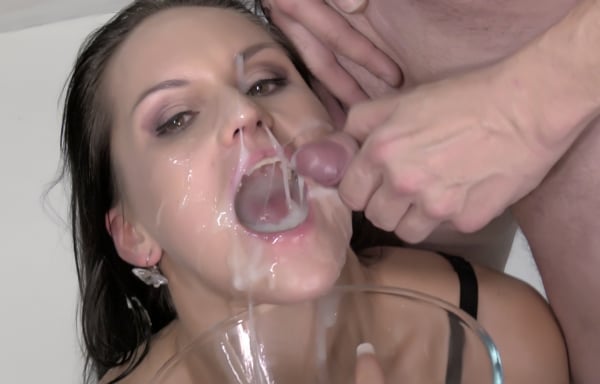 Barbara Bieber #1 - Behind The Scenes
We can see Barbara undressing and preparing to the scene and then sharing her emotions after the action, saying she doesn't wanna eat for one week or so. :) She's fed up but she will return for more!
Barbara Bieber #1 - Gangbang
But some guys are not enough with Barbara and want to fuck her from both sides. She definitely agrees and gets pounded by five fellow cocks. Each of them cums into her beautiful eyes. With a cum glazed face and shaking tits, she looks wonderful!
Barbara Bieber #1 - Bukkake
Barbara Bieber from Czechia comes for her glass of cum and gets it fully in 48 huge loads! She starts with cocks greeting and does a great active blowbang for the guys, helping them to cum faster. Thick and viscious cumshots drop on her face and Barbara swallows them all in portions of 6-8 loads. And she's not tired at all!