Andrea
Age:

21
Height:

155
Body:

90-80-70 (cup A)
Info:

Heterosexual, loves group sex
Cum fact:

Too much sperm for my first bukkake. When I had a few cumshots it was more difficult for me to swallow. Keeping it in the mouth is more difficult than swallowing, knee and neck discomfort. I prefer warm sperm in my mouth. The truth is that I got the point and felt wet during the bukkake. I quite liked bukkake but too many guys hahahahaha There was a boy that I especially liked, what happens is that I do not know his name😂
Total swallowed:

138
My name is Andrea LaPiedra. I was born in Alicante, Spain and I live in Alicante. I have been a model for 4 years. I have also posed for various fashion advertising campaigns in Alicante. I have been in the porn industry for 2 years. I like to do sports, especially those of adrenaline, such as canyoning, parachute jumping, bungee jumping, etc. I love traveling and meeting new places and people. I have 3 cats and 2 dogs. I like well-being and relaxation in general. I like threesomes, duets and orgies.
Andrea #1 - Bukkake - Second Camera
Andrea looks magnificent with cum flowing to her eyes and she feels excited! She has never experienced anything close to that and feels a bit overwhelmed. With cum on her face, she tries to make a few more gulps and even swallow what's left in the cum bowl.. Andrea does her best in her strongest effort..
Andrea #1 - Bukkake - First Camera
She looks very surprised when the first loads touch her mouth but holds them well. When she gulps, it's obvious the taste is so sharp for her she can't hide the emotions. Despite that, Andrea continues and accepts more than 50 loads before she feels the cum inside. The guys shift their aim to her face..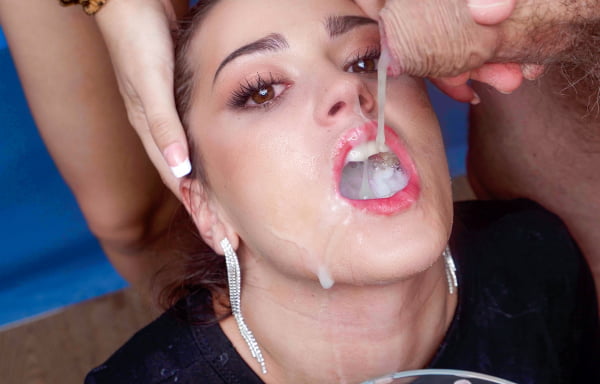 Andrea #1 - Bukkake
We got a new talent here - Andrea from Spain could be a fashion supermodel but she's here, trying to test herself against a bunch of horny lads wishing to explode their cumshots into her nervously smiling mouth. She does like group orgies but she hasn't seen so many dicks at once! Bravely she starts sucking..