Andrea
Age:

21
Height:

155
Body:

90-80-70 (cup A)
Info:

Heterosexual, loves group sex
Cum fact:

Too much sperm for my first bukkake. When I had a few cumshots it was more difficult for me to swallow. Keeping it in the mouth is more difficult than swallowing, knee and neck discomfort. I prefer warm sperm in my mouth. The truth is that I got the point and felt wet during the bukkake. I quite liked bukkake but too many guys hahahahaha There was a boy that I especially liked, what happens is that I do not know his name😂
Total swallowed:

138
My name is Andrea LaPiedra. I was born in Alicante, Spain and I live in Alicante. I have been a model for 4 years. I have also posed for various fashion advertising campaigns in Alicante. I have been in the porn industry for 2 years. I like to do sports, especially those of adrenaline, such as canyoning, parachute jumping, bungee jumping, etc. I love traveling and meeting new places and people. I have 3 cats and 2 dogs. I like well-being and relaxation in general. I like threesomes, duets and orgies.
Andrea #1 - Gangbang
Our sporty supermodel wannabe is back for something new. Andrea was impressed with lots of guys on her bukkake so today she's going to be fucked by just a pack of them. She feels a bit nervous, so with the help of Marina Gold she gets hornier and notices the incoming cocks around. She's quickly sucked in..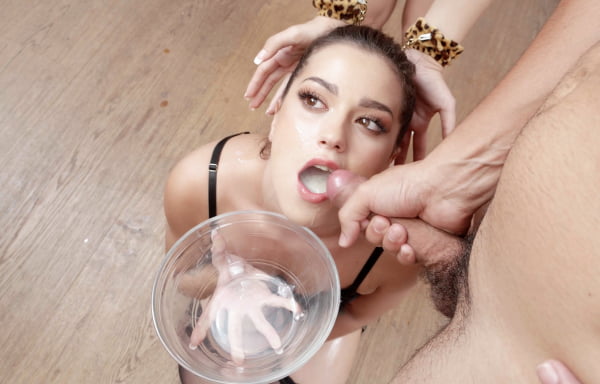 Andrea #2 - Bukkake - Behind The Scenes
It's always a pleasure to watch a girl's transformation when she applies her makeup. Andrea wants to be a sexy office lady today and puts on her pink jacket with a short skirt. She seems to grab the attention of the guys around when posing for photos..
Andrea #2 - Interview before Bukkake
Andrea remembers her first bukkake and how it was hard for her. She couldn't forecast her feelings neither before her first bukkake, nor before the second one. Yet happily anticipating, she tries two warmup loads and even manages to distinguish the taste and smell of the sperm! She gulps all, of course.
Andrea #2 - Bukkake - Second Camera
After swallowing just a couple dozen cumshots Andrea feels the mouthfuls are too big for her and she can barely hold the cum. The guys though continue to cum in her mouth and fill her sperm glass too, so in a while she has to drink it. With a lot of efforts she makes her final sip and feels enough for today.
Andrea #2 - Bukkake - First Camera
She looks at the guys with a mix of anticipation and interest of what the cum taste would be. After the first gulp she licks her palm with jizz on it and drinks from her sperm glass till the last drop. But since there are more lads to cum, she has to get back to swallowing. And it becomes harder..
Andrea #2 - Bukkake
Andrea returns for her second bukkake dressed in a pink jacket pretending to be an elegant office woman. Without a slightest hesitation, she pleases the guys with a soft but energetic blowjob and right when they start cumming, she turns to be ready for their cum. The first loads are accepted easily..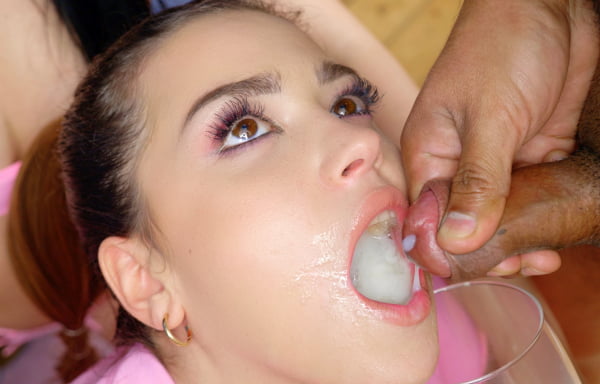 Andrea #1 - Bukkake - Behind The Scenes
Andrea barely finishes her makeup when the first bukkakero wants to drop his load into her mouth. She obediently awaits when he cums and that single huge cumshot amazes her a lot! Andrea continues to the photoshooting and since she's into modelling, her posing skills are excellent!
Andrea #1 - Interview before Bukkake
Oh wow, you might guessed that, Andrea is not that shy at all! She loves doing blowjobs on the beach and she always swallows, however, only with her boyfriends. Without any hesitation, Andrea accepts and gulps her first two warmup cumshots and feels optimistic for her first bukkake! She doesn't know yet..