Alina
Age:

29
Height:

177
Body:

90-63-90 (cup: 3)
Info:

Heterosexual. I never tried sperm before.
Cum fact:

I liked swallowing was easy for me.
Total swallowed:

119
I work in a beauty salon as a hairdresser. I love spending my spare time shopping or reading about high fashion. You could say those are my hobbies. When I'm doing hair I see my reflection in the mirror and I think I would make a great model. Premium Bukkake offered me my first job in front of the camera.

I never was in contact with sperm before and didn't know that cum was warm, I thought it's cold. Now I know well what the sperm is.
Alina #2 - Second Camera
With her eyes shut from the spunk on her face, she slowly starts drinking all of the collected sperm from the bowl.
Alina #2 - First Camera
She gets to suck on some fat dicks before 60 well-hung studs start filling up her mouth with cum. Slowly holding these loads in her mouth, she carefully spits them back out into the bowl and lets the rest of the guys give her a messy facial...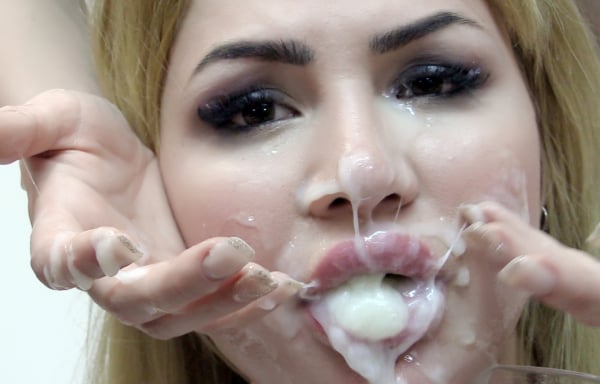 Alina #2 - Best Scenes
Horny blonde slut Alina receives massive loads in her mouth and on her cute face for incredible 65 times in this steaming hot gokkun bukkake party!..
Alina #1 - Second Camera
The particular thing is that the girl manages to get 10 cumshots in the mouth before swallowing it, and, in the last scene, she beats even this swallowing record and gets 20 cumshots down her belly before getting to what is inside the bowl. Girl's eyes are never closed the whole time, even after river of jism falls on it!
Alina #1 - First Camera
Alina is all alone and all those men prepare huge loads of tasty warm semen just for her. The curvaceous blonde has probably never received so much attention. This is what happens when you become gokkun actress! Over 60 cumshots fall on her lips and eyes, but Alina is still able to continue. The delicious jizz seeps through her teeth and onto her tongue and goes down her throat. She looks tired and ready to throw up every single second, but this wannabe gets the job done right and never misses a drop...
Alina #1 - Best Scenes
Alina, European babe with unforgettable body forms, is a glamour babe. She has mesmerizing eyes and big lips, which are surely really good for cock-sucking. Her life now takes an unexpected turn after she participates in creating bukkake masterpiece. This is a real game-changer for her. She has never had so much cum in her entire life...