Alexandra Targaryen
Age:

19
Height:

172
Body:

87-57-88 (cup C)
Info:

I am bisexual, I love sex and I have always liked the world of porn. I enjoy creating sexual content in front of a camera. I like to experience new things, but not very unusual.
Cum fact:

I have tried many types of semen, not all of them are pleasant, but most are. I like that they end up in my face, and it depends on the moment and the situation, I also really like that they end up in my mouth
Total swallowed:

235
My name is Alexandra, I live in Madrid with my dog. I love to party and have a good time.
Alexandra Targaryen #3 - Bukkake - Behind The Scenes
Alexandra Targaryen has just swallowed a few loads and still feels fresh and confident before her third bukkake. She poses as a queen on the stage, showing her beautiful long legs and round ass, so a random guy approaches her to drop a sudden load. She accepts with ease but swallows with some effort.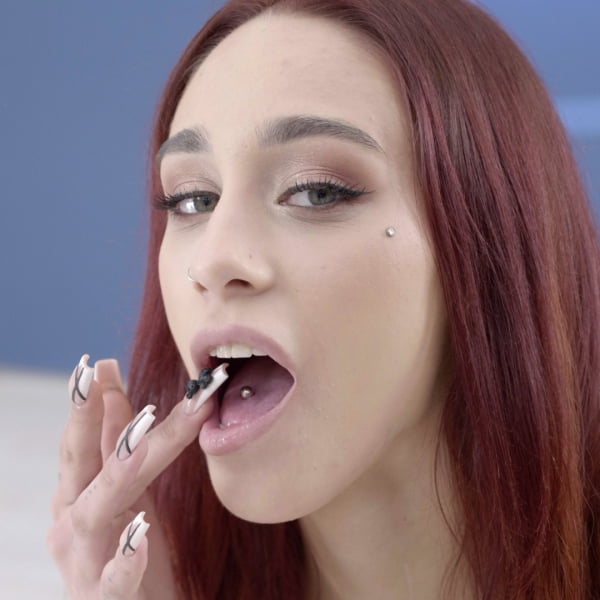 Alexandra Targaryen #3 - Interview before Bukkake
Gorgeous redhead babe with long legs - Alexandra Targaryen lays on a couch, relaxedly answering the questions before her third bukkake and doesn't even feel nervous as she thinks she can handle it. She easily accepts three loads one by one and feels warmed up, not knowing how hard it would be this time..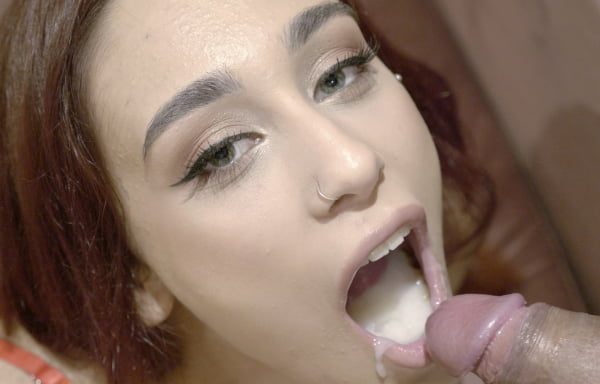 Alexandra Targaryen #3 - Bukkake - Second Camera
By the half of the bukkake she already feels that she's enough but continues to collect and swallow, directing only rare excessive cumshots to her bowl. Overwhelmed with the amount and thickness of sperm, Alexandra puts her face under the jizz streams and gets cum-glazed too! Eventually she finishes her bowl in a few gulps!
Alexandra Targaryen #3 - Bukkake - First Camera
The very first loads are so thick and heavy that Alexandra is greatly surprised and can't hide her emotions. She makes her first gulp quite early as the taste is felt sharply. The guys spew their loads quite intensely and even though she can hold a big mouthful of 15 loads at a time, she is stunned!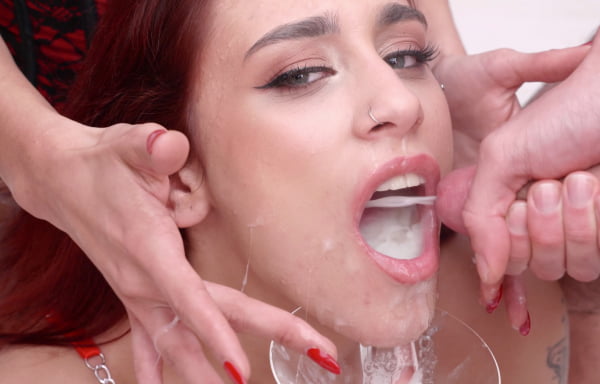 Alexandra Targaryen #3 - Bukkake
It's a special event today, the long-awaited one. Alexandra Targaryen tries to overcome her limits of cum-swallowing with the help of tens of new fresh guys who have been specially preparing for several days. She becomes surrounded by several dicks at once and barely can suck them altogether!
Alexandra Targaryen #2 - Bukkake - Behind The Scenes
When Alexandra's doing her makeup, setting up for her second scene, she's being transformed from a regular girl next door to a porn diva. Not surprisingly, she catches the attention of a random guy who approaches her during a photo session and drops his load to her mouth..
Alexandra Targaryen #2 - Interview before Bukkake
It looks like Alexandra Targaryen does only look shy and naive but in reality she's a tricky perverted foxy who's chosen a public place to drink a few loads in front of the staring people. She does that with a smile and gulps without any issues, not suspecting how hard her future bukkake would be comparing to this..
Alexandra Targaryen #2 - Bukkake - Second Camera
After swallowing more than 20 cum loads Alexandra seems to find something funny in the incoming cumshots and her mood improves, so the further loads go smoother, she gulps them easier but still with efforts. It's quite an emotional bukkake for her, she keeps balancing on the edge, providing vivid reactions :)